Hey gals! I wanted to take tonight's post in a different direction and share a Valentino Rockstud Pumps review of these heels I got towards the end of Summer. I noticed whenever I wear them in a blog post or on Instagram, I get a lot of questions and comments from you; I'm hoping by sharing a little more information and honest review I may be helpful for those of you who are considering purchasing Valentino Rockstuds or one the "Valentino-inspired" alternatives.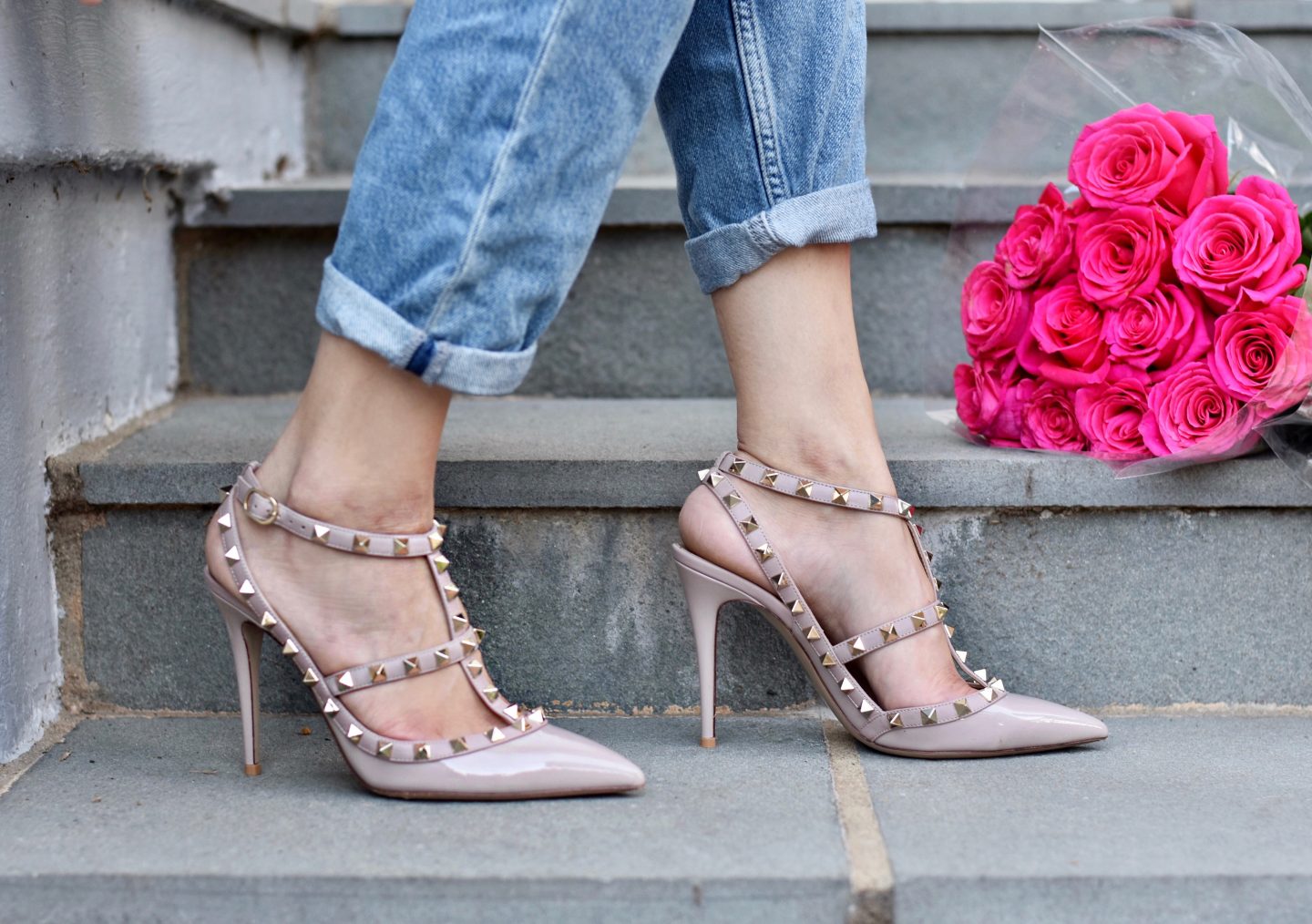 Valentino Rockstud T-Strap Pump in "Poudre" (Comes in several colors, but this and the black with blush are considered most classic)
Back in April while in Atlanta, Juliana and I wandered into the Valentino at Phipps Plaza "for fun". I've talked here and here about specific designer bags as "investment pieces" but until this point hadn't messed with footwear. Why? Because you walk in them. It's totally possible to keep a designer bag in pristine condition, but shoes? Wear them once and you'll see the difference.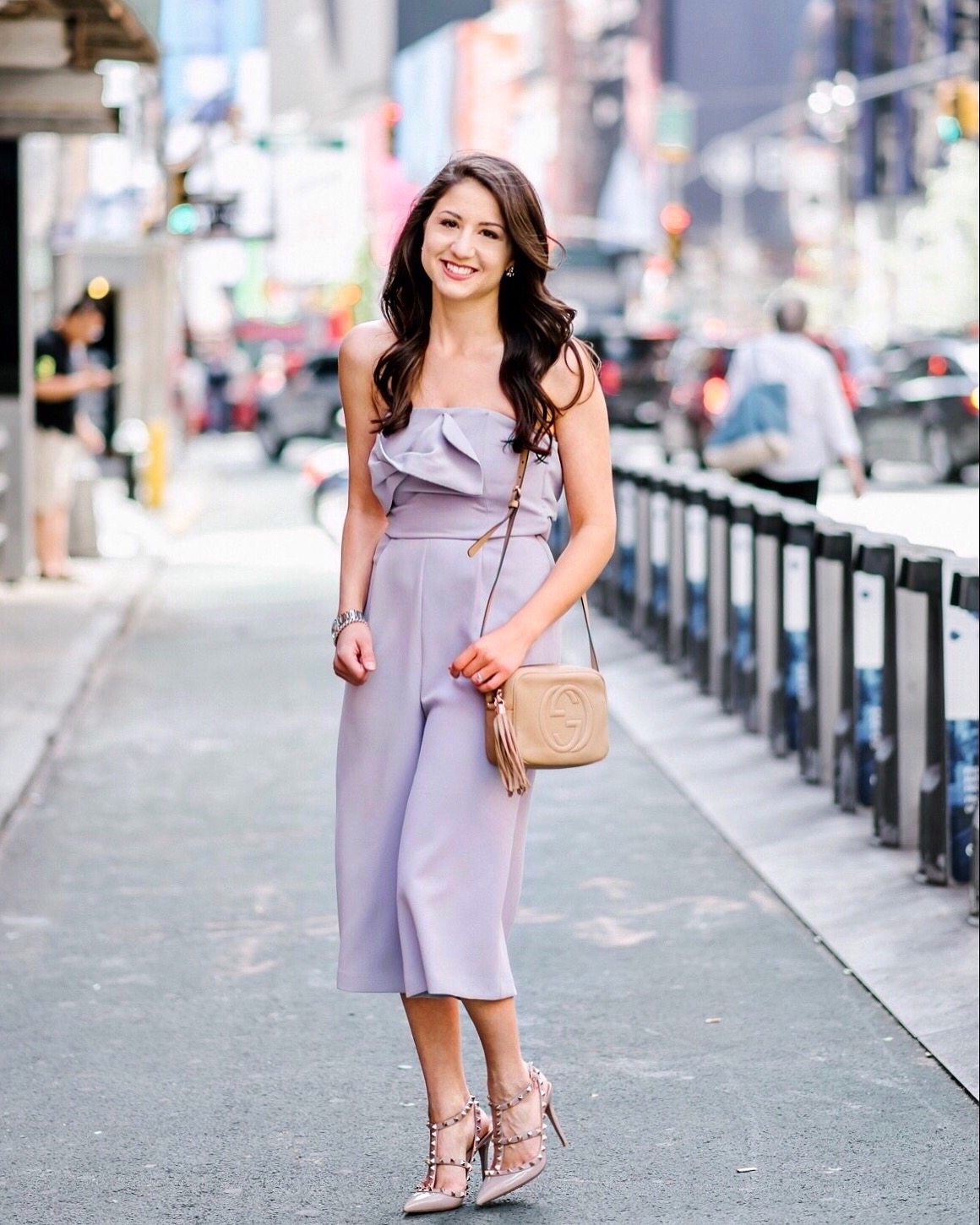 Valentino Rockstud Pumps // Jumpsuit // Gucci Soho Disco Bag
Full post on avoiding burnout here
Anyway, this was my view when I wheeled Juliana's stroller in to try Valentino's legendary rockstud pumps. When I stepped into them, something totally unexpected happened- I got weak at the knees (that never happens to me!). They were far more beautiful in person than in photos and there was no comparison between them and other heels I'd tried on in the past. From the carefully placed rockstuds to the artful caging and dainty heel, they were a masterpiece. They transformed my tee and jeans with the perfect statement and were some of the comfiest heels to boot (something I did not expect!). In that moment I understood why Valentino's rockstud pumps have garnered such a cult following.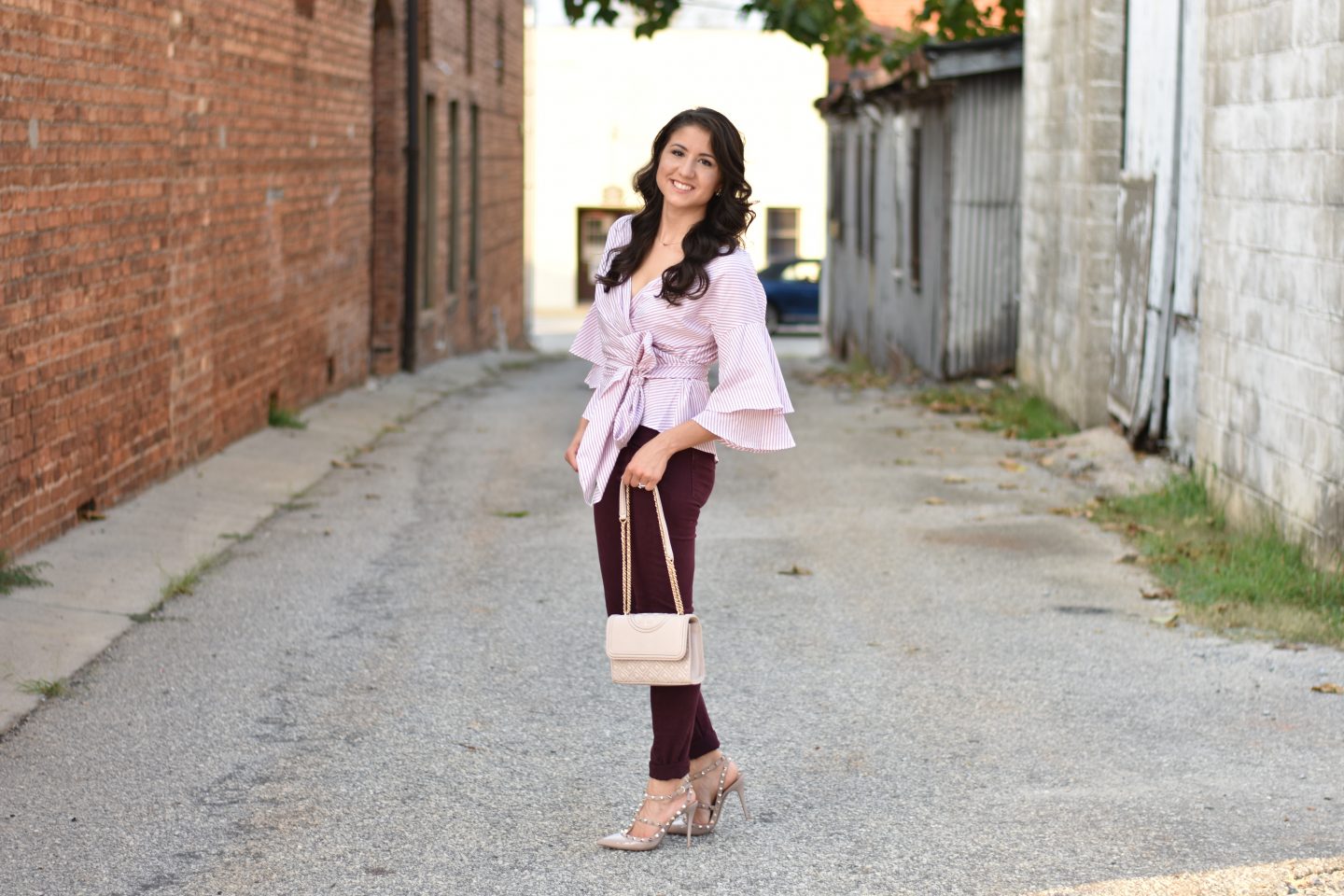 Valentino Rockstud Pumps // Top // Burgundy jeans- similar // Tory Burch Fleming bag, larger size here
Full post here
These beauties weren't remotely in my budget though…it was all I could do to peel myself away, but I decided that day I'd be saving up. Several months later, the time came and I made them my own. I've worn them quite a bit since and feel at this point I've rocked them enough to share an honest review. First though, here's a little more information:
Heel height: 4″
Sizing: European sizing and they do run a little small (Normally I'm a 7.5 in shoes, and for these I got a 38, which is the equivalent of an 8).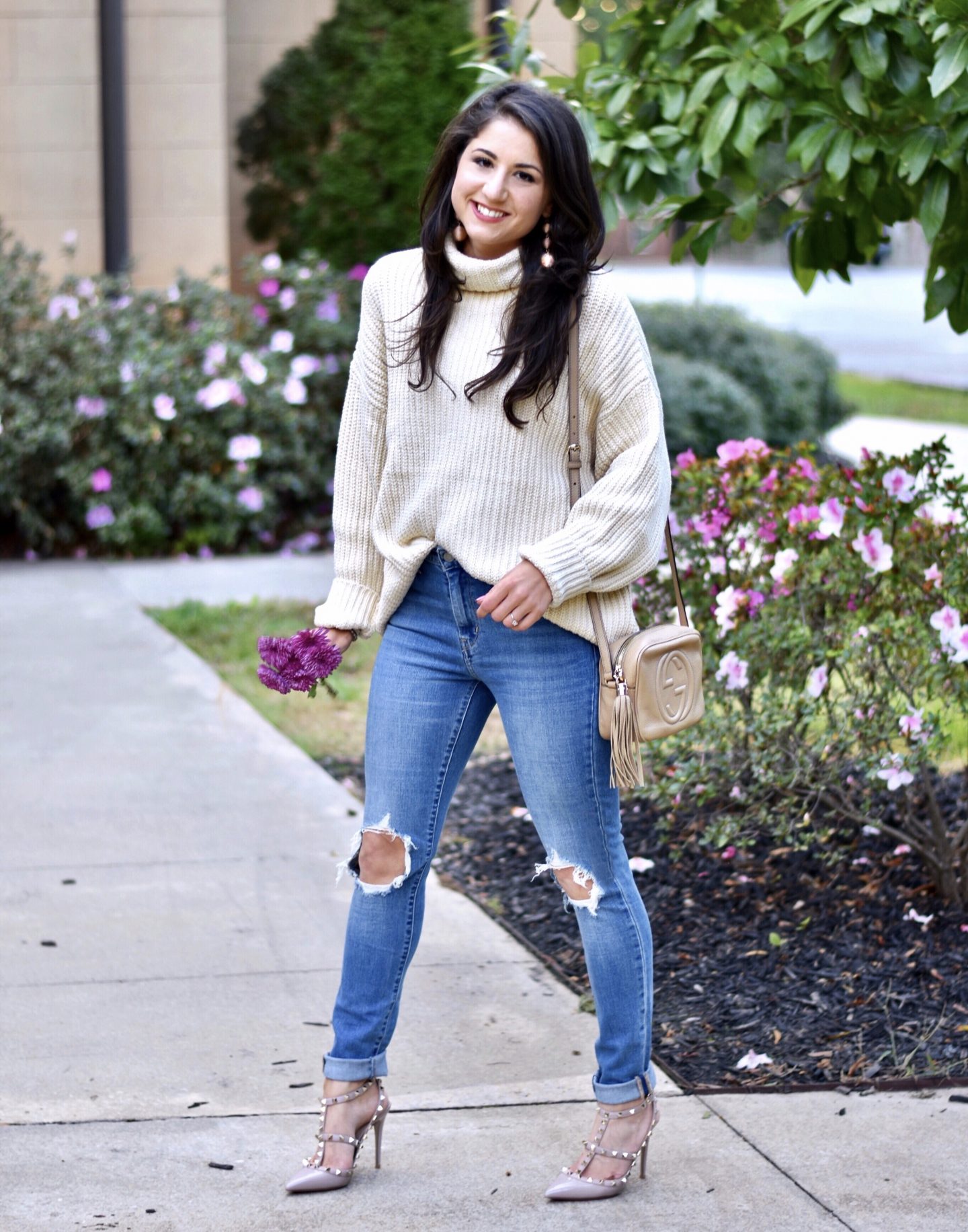 Valentino Rockstud Pumps // Sweater, also here (also love this one for under $50) // Jeans // Gucci Soho Disco Bag // Earrings
Full post here
Pros:
They're gorgeous. The hand-placed rockstuds are what make this shoe- they give a bit of edge and va-va voom while still coming off as incredibly feminine.
They're comfortable. Valentino Garavani designed these shoes with a wider footbed than many other footwear designers and the full ball of the foot is level to the ground. As a result, they don't pinch your feet when you walk and are comfortable to move in as far as heels go.
They'll hold their value if you take care of them. When reading about investing in designer shoes this Summer, I learned that normal wear on the soles is totally fine. Yes, once you step out in them they are no longer "pristine", but I was surprised to find that classic Valentino rockstud pump still had incredible resale value. When looking at luxury consignment sites like The Real Real, I noticed prices were not far off from the new price, and as soon as these pretties were listed they sold. Though shoes require more thought when considering an investment, from my perspective, if there's one pair of designer shoes to invest in (and wear), these are them!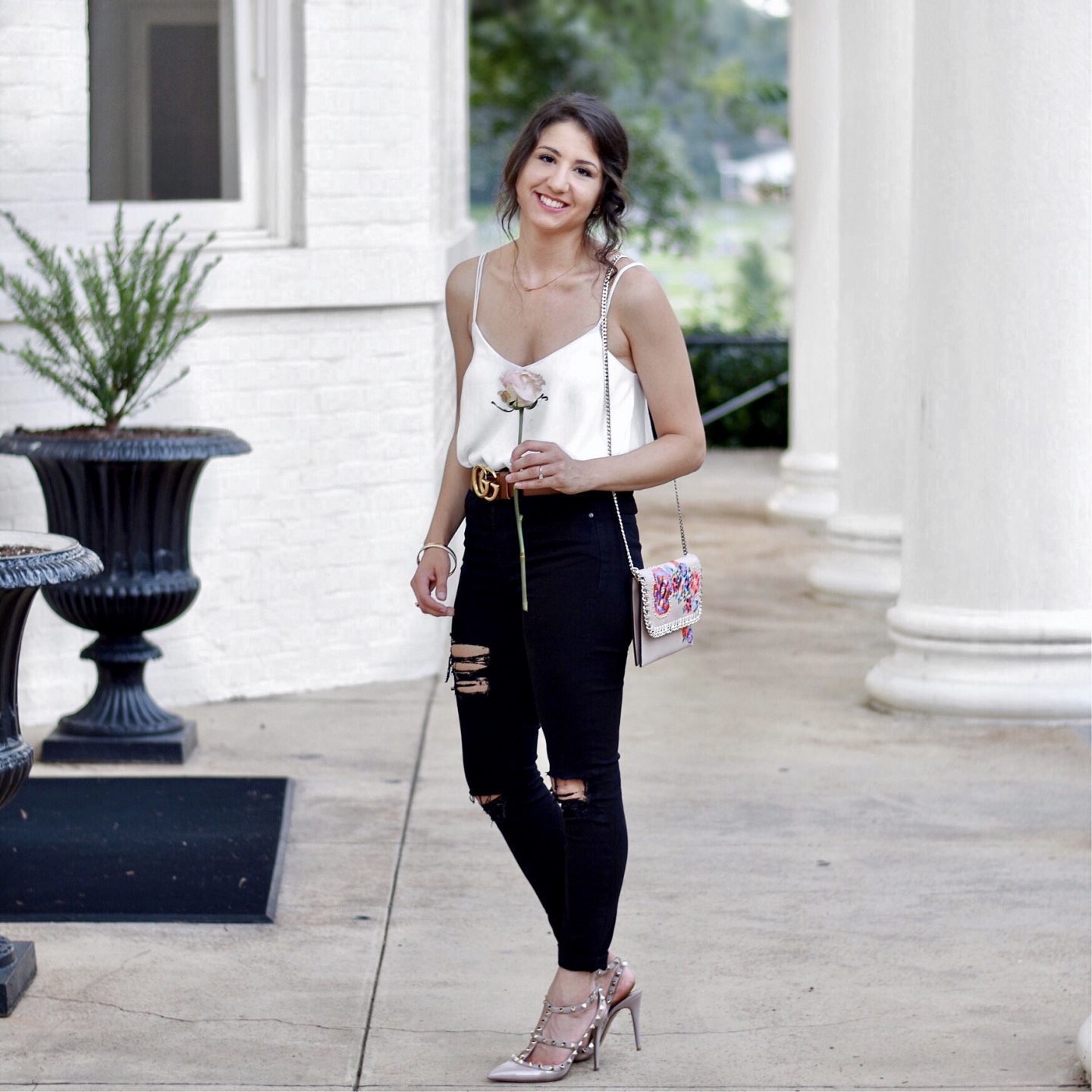 Valentino Rockstud Pumps // Cami// Topshop jeans on sale for $50…size up!) // Floral bag // Belt, similar for less here //
(Full post on how to create this easy romantic updo here)
Cons:
The price. There's no way around it; these babies are not cheap.
Like any stiletto, the heel can be damaged when you walk. During New York for fashion week, I wore my Valentinos out a few times and accidentally caught the stiletto in the cracks between the sidewalk. Just like that it made a "cut" in the leather. It doesn't really show unless you look carefully at the stiletto, but I imagine with more wear they could become quite scuffed up if I'm not careful. There is a way to get this fixed at a shoe repair store (especially if you do want to resell at some point), but I fear if I do it'll happen again. Still, I love these shoes, stiletto scuffs and all.
With the holidays approaching, I'll wear my rockstuds to parties as well as a Winter wedding we are going to next month. For me the beauty of these pumps is how easily they can be dressed up or down.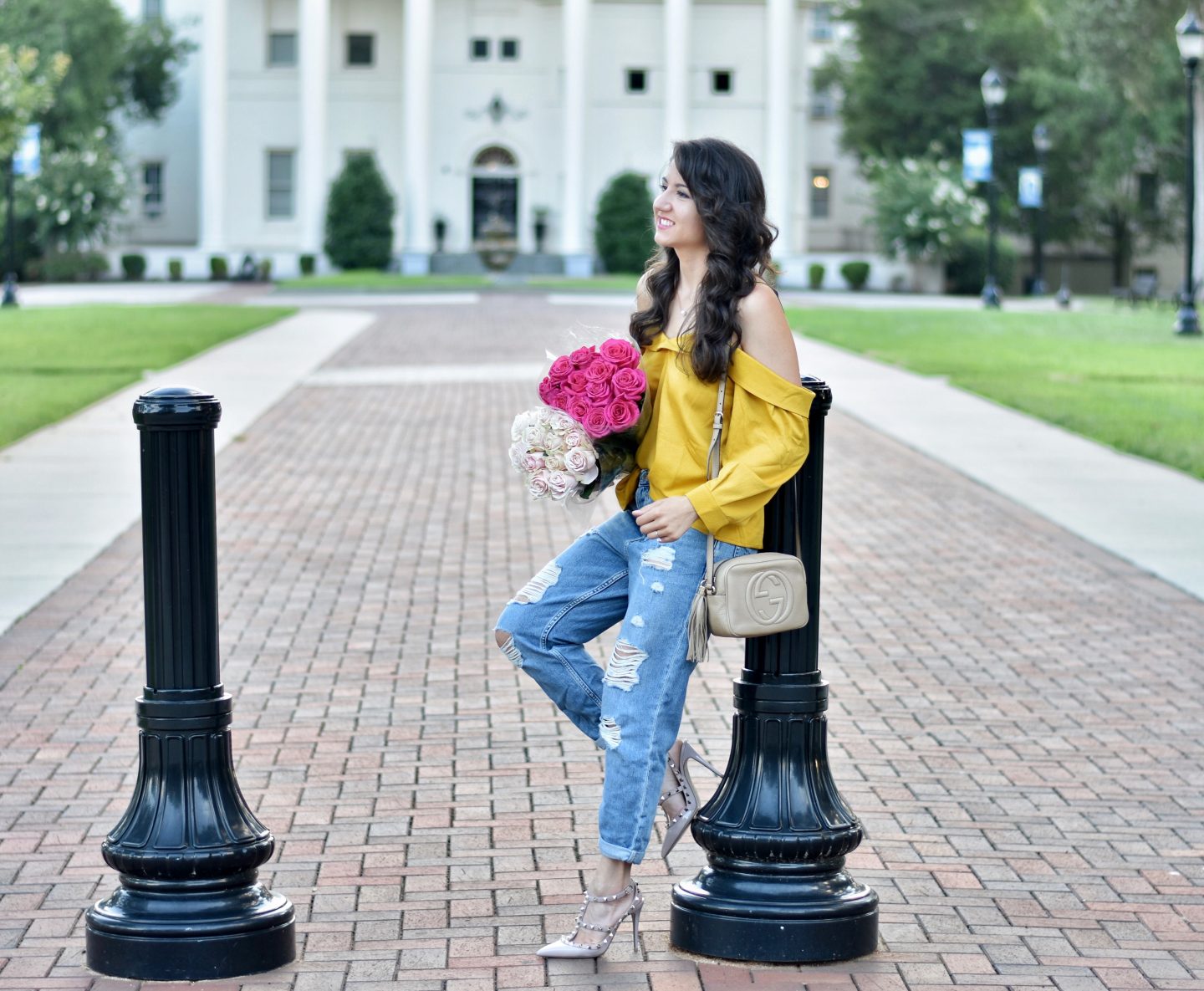 Valentino Rockstud Pumps // Top // Jeans // Gucci Soho Disco Bag // Necklace
Full post about how to style boyfriend jeans here
Because the Valentino Rockstud Pumps are so popular, affordable "dupes" continue to hit the market. While I believe the craftsmanship and design of the original Valentino rockstud pump to be unrivaled perfection, many of these "Valentino-inspired" heels are a great value and still give you that insanely-cool rockstud appeal when you strap them on. They're also a fun way to experiment with the style if you're considering purchasing the real deal. From the alternatives I've seen out there, these are my favorites:
Any of these would be a fun way to make a splash this holiday season!
I hope this Valentino Rockstud Pumps review helped answer any questions you have about the rockstuds and if there's anything I didn't mention, feel free to reach out anytime!
XO,
Terra
Shop the Post