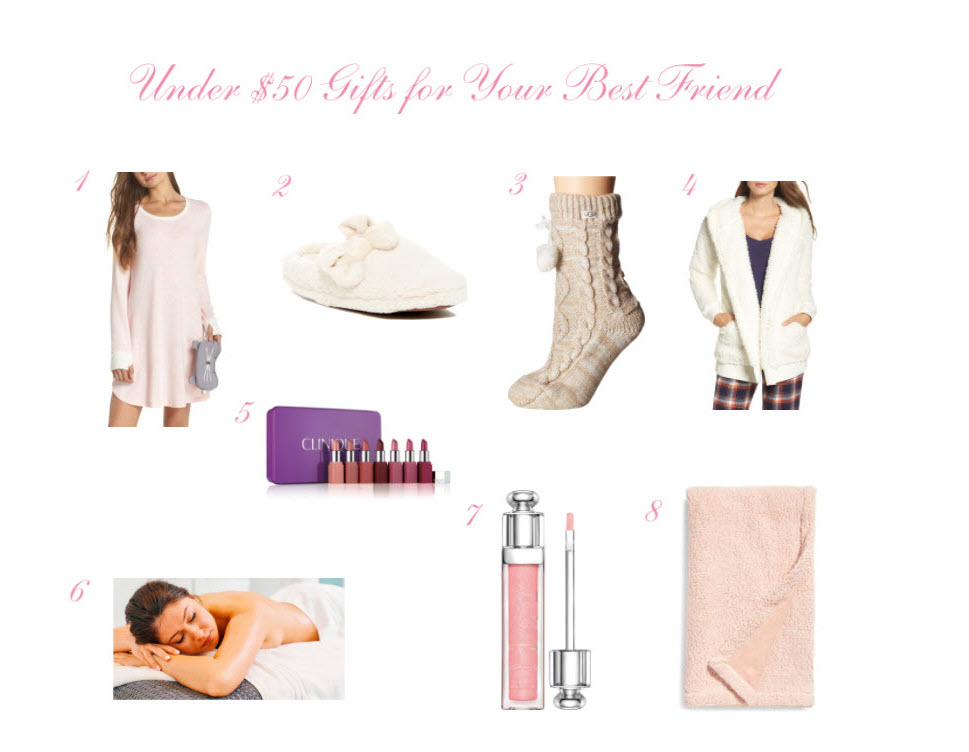 Happy Wednesday gals. 🙂 I'm sitting in bed in Chandler, Arizona as I type this. Juliana is passed out to my left and Ridge is to my right. A work conference brought me here and I was lucky enough to bring them too. It's been a wonderful trip (we're staying at the Sheraton Grand at Wild Horse Pass and it's amazing!) and I don't think Ridge or I are ready to face the cold weather again yet…lol!
I know when we get back though it'll hit us the holidays are around the corner (can you believe Thanksgiving is next week??). Last Christmas I started my holiday shopping early (a first for me) and found I was a lot less stressed as the holidays approached. To kick-start this holiday's gift-giving, below are some ideas for that girlfriend in your life. I've noticed the gifts my friends enjoy most are things that pamper them but they wouldn't splurge on themselves (i.e. "want" vs. a "need"). Here are my favorites this year:
1. Sleep shirt and eye mask.
Many of my friends don't buy cute PJ's because they'd rather spend their dollars on their day clothes (I fall into this camp myself). This shirt is so cute (available in three colors but the pink is my favorite) and I love how it comes with an eye mask because I use one every single night.
2. Faux fur slippers.
There's no better way to feel pampered around the house than in comfy cute slippers (in my opinion! 🙂 ). Whenever I wear slippers I'm happier because my feet are happy.
3. Fleece- lined socks.
If slippers feel a little generic, these socks are anything but. My feet are always cold during the Winter and I love how these ones are lined in fleece. And how cute is that little pom pom with the cable knit detail?
4. Fluffy fleece hoodie.
I just noticed this one is a little over $50 (sorry I didn't catch that before!). You might be seeing a trend at this point, but wrapping up in a fleece hoodie is the ultimate mini luxury to me.
5. Clinique lipstick color set.
I tend towards a neutral lip because it simplifies things, but next year I want to branch out more with other colors. The right lipstick shade can make an outfit! Trying new shades can me a pain though because it involves either ordering sight-unseen and hoping the color works, or spending time at beauty counter trying lipsticks others have tested before you. This gift set is the perfect solution for a friend who wants to experiment with new shades without the hassle.
6. A spa treatment or massage via Groupon.
A thoughtful gift that meets a need is always a good thing, but with the multitude of "stuff" circulating a great alternative is gifting an experience instead. What better way to feel pampered than to walk into a spa without needing to justify why you spent the money? Maybe it's just me, but it's something I absolutely love but can't bring myself to spend on.
7. Dior plumping lip gloss.
This gloss is raved about as one of the most effective lip-plumpers on the market. It's the ultimate mini luxury!
8. Fleece throw.
I don't know about you gals, but one of my favorite Winter pastimes is curling up on the couch in a cozy blanket. This throw comes in five colors so you can choose one to complement your friend's couch and living room decor.
Hope your holiday season is wonderful!
XO,
Terra