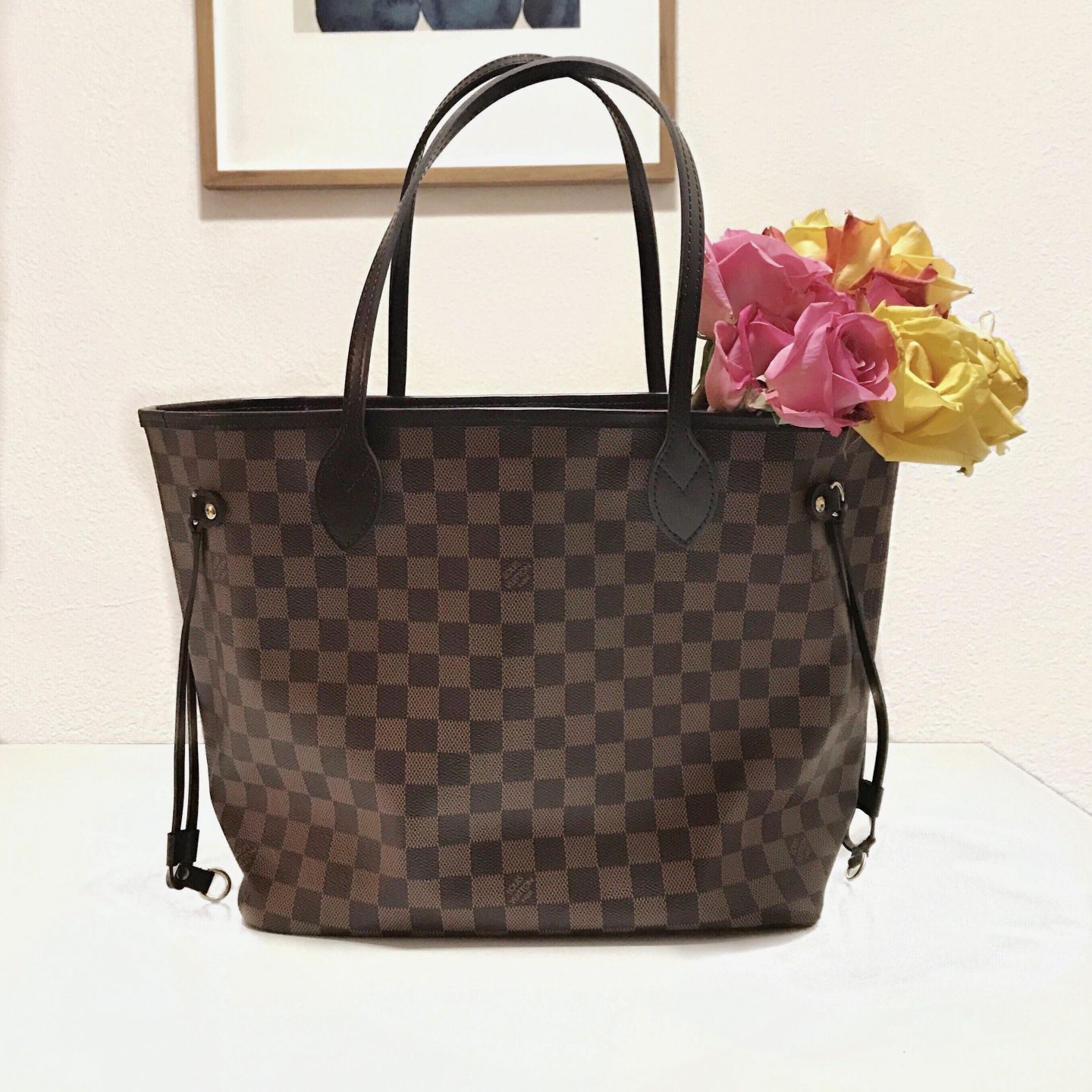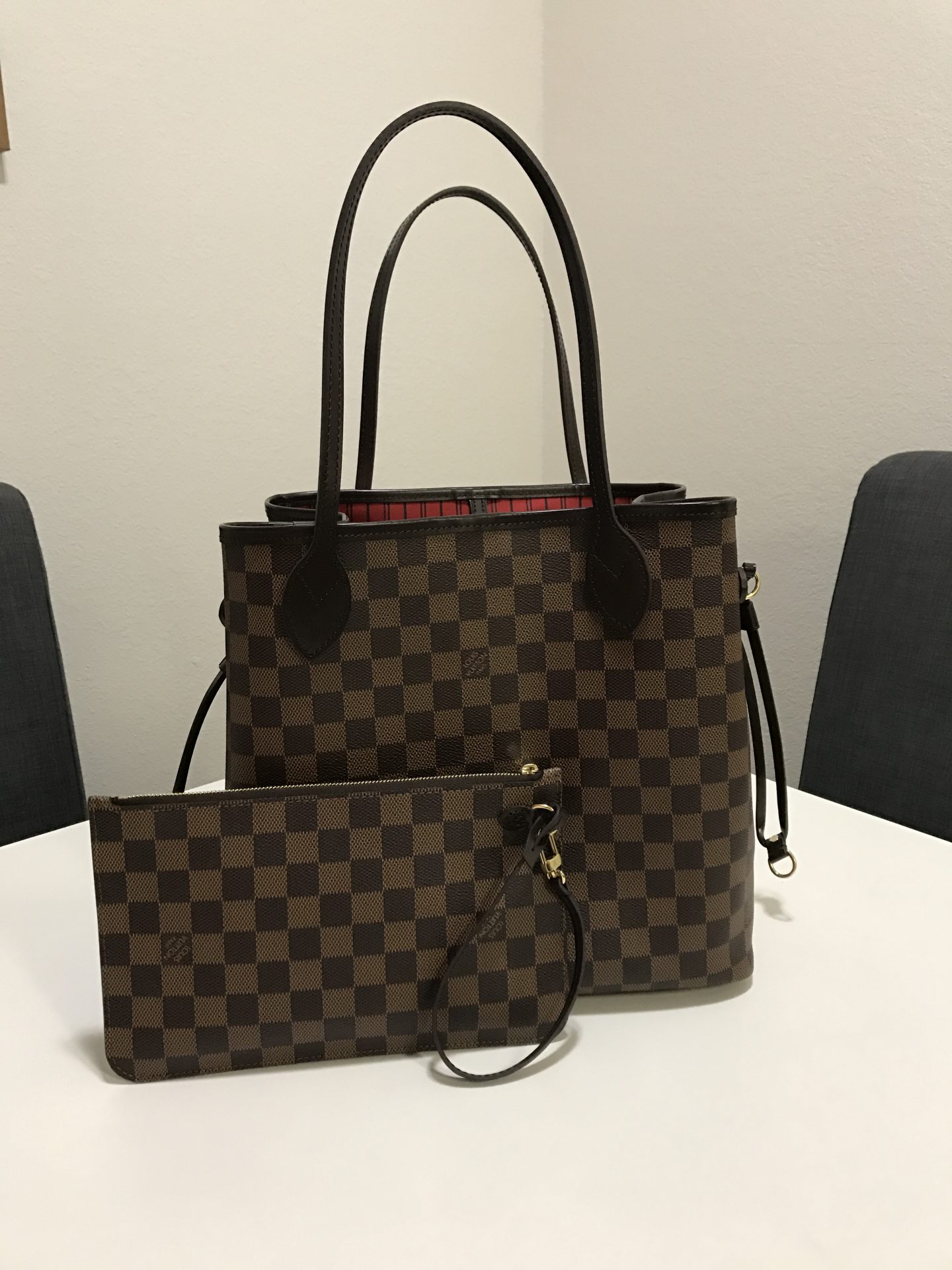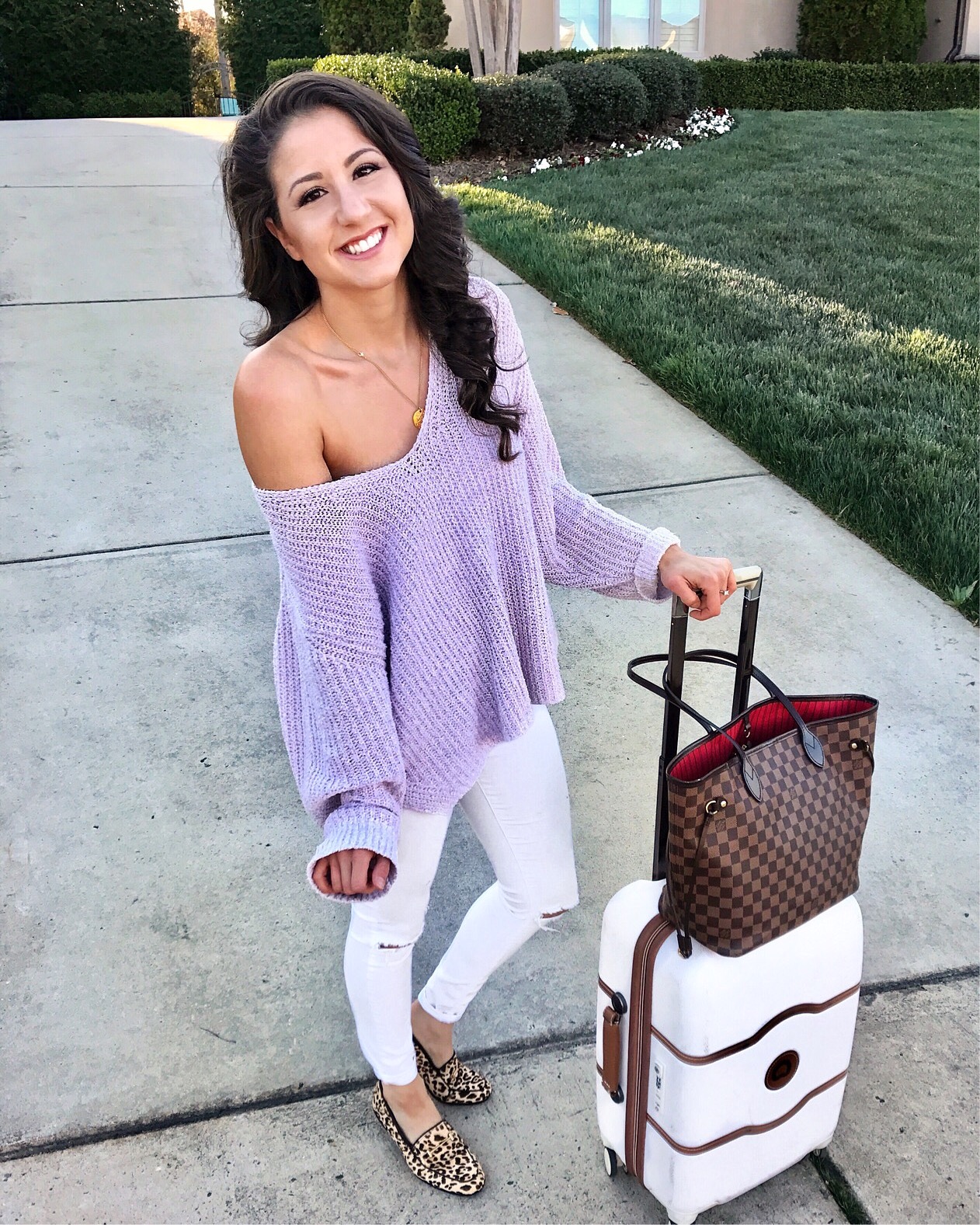 sweater (on sale!) // white jeans (similar) // leopard print loafers (other patterns here) // coin necklace (on sale) // suitcase (on sale) sweater
full post here
The Louis Vuitton Neverfull is a tote-style bag which Louis Vuitton introduced in 2007 and has since become one of the company's most iconic and popular bags. It comes in three canvas options- the traditional monogram, the Damier Ebene which I got, and the Damier Azure. While the exterior is canvas, the handles and side straps are cowhide. I purchased the Damier Ebene because I knew it would be a bag I used a lot and the darker color would not show dirt. Of the three canvas options, this one was also the only one with dark vs. light leather handles. Here's a quick run-down of the pros and cons of the Louis Vuitton Neverfull:
Pros:
-True to its LV heritage, this bag is extremely sturdy and very well made. After using it almost daily for the last month, including on work trips, it shows zero signs of wear.
-It's incredibly versatile. My Neverfull has become my everyday handbag as well as my laptop bag and carry-on when I travel. It amazes me how well this bag transitions from laptop bag to gym bag to everyday, go-anywhere bag!
-The Neverfull includes a nice-size wristlet (called the "pochette"). I've used this by itself as a wrislet for dinner and find it goes perfectly with more formal attire. Like all Louis Vuitton handbags, the Neverfull comes with a hefty price tag, so getting two bags for one made the investment a little easier for me. (One thing to note- many of the Neverfull bags available from pre-loved sites like the RealReal don't have the pochette as this is a newer addition.)
-This one is more subjective, but the design of this bag is so stunning! Many totes look bulky due to their size, but the Louis Vuitton Neverfull design is so sleek that it manages to avoid this dilemma. Another unique thing about this bag is that the sides can be cinched (as I did in the last photo above) to make it appear smaller.
-This bag goes with anything but makes a statement every time; it instantly elevates whatever I'm wearing!
-Because of the coated canvas material it keeps its shape. I love that the shape is the same now as the day I got it.
-As mentioned, this bag comes with a hefty price tag, so before purchasing it I did a lot of research to understand how Louis Vuitton in general as well as this particular style holds its value. Everything I read said three designers hold value better than the rest: Louis Vuitton, Hermes, and Chanel. I also read that the Neverfull and the Speedy are the two Louis Vuitton styles that hold their value best. (A few quick searches on luxury consignment sites confirmed this.) Knowing that if I ever wanted to I could recoup most of my investment made it seem a better purchase than a less expensive bag that loses most of its value the minute it leaves the shelf.
Cons:
-The handles are a little thin. This hasn't been a problem for me except when I was walking for hours in NYC with many things in this bag including my laptop. Due to the thin straps and weight of everything I was carrying, it made my shoulder a bit sore.
-My other Louis Vuitton, the Totally in PM size (no longer made but you can find it pre-loved here) has pockets on both ends, which is such a useful attribute! From a purely practical standpoint, I wish the Neverfull had exterior pockets too but then I suppose it wouldn't have that look about it that I love so much ;).
-Also on the topic of pockets, I kind of wish the Neverfull had more interior pockets for organization (it just has one interior zip pocket), but fortunately there are many Neverfull organizers like this.
Here are a few photos of my Neverfull from today. You can see what I am keeping in it and how much room there is still left: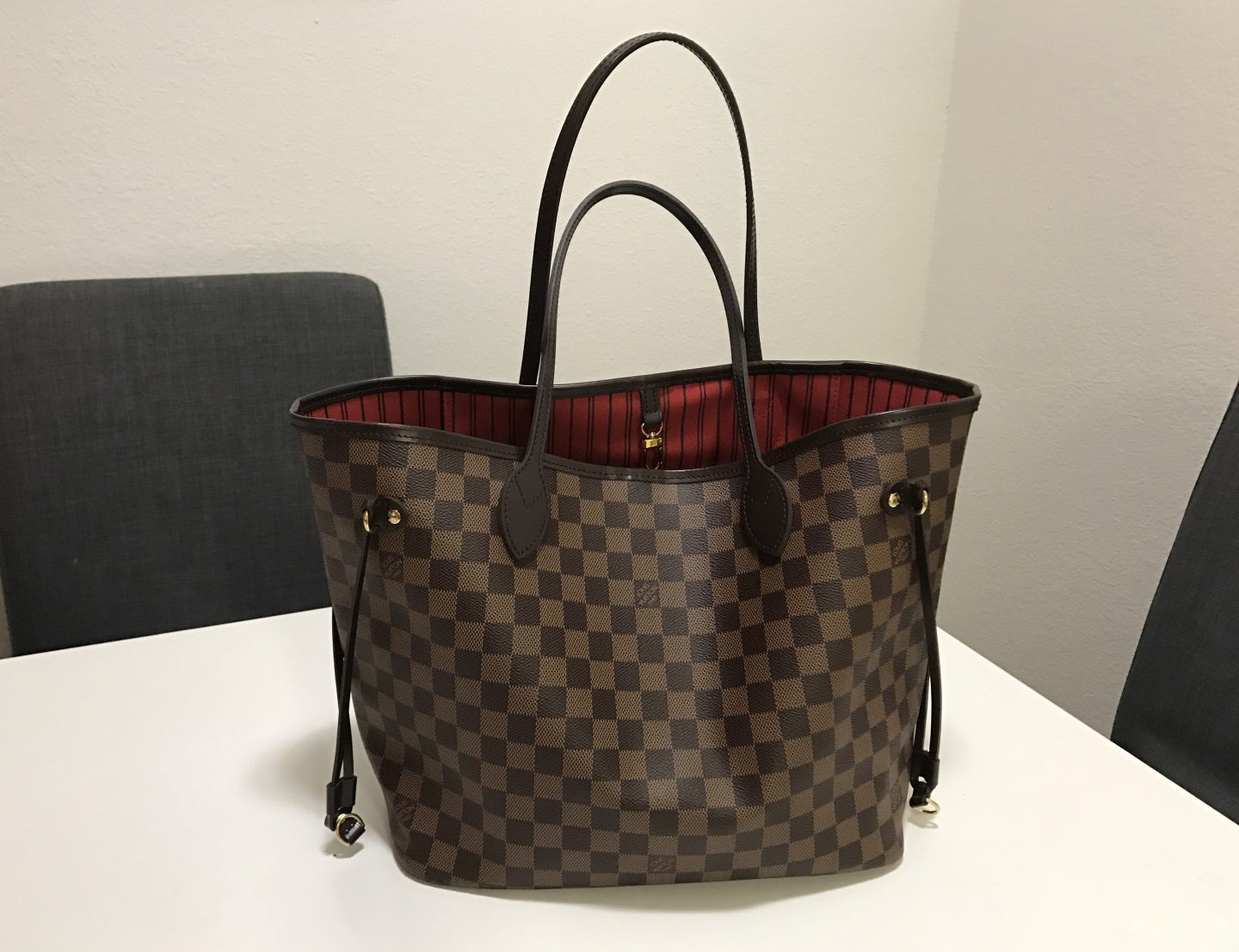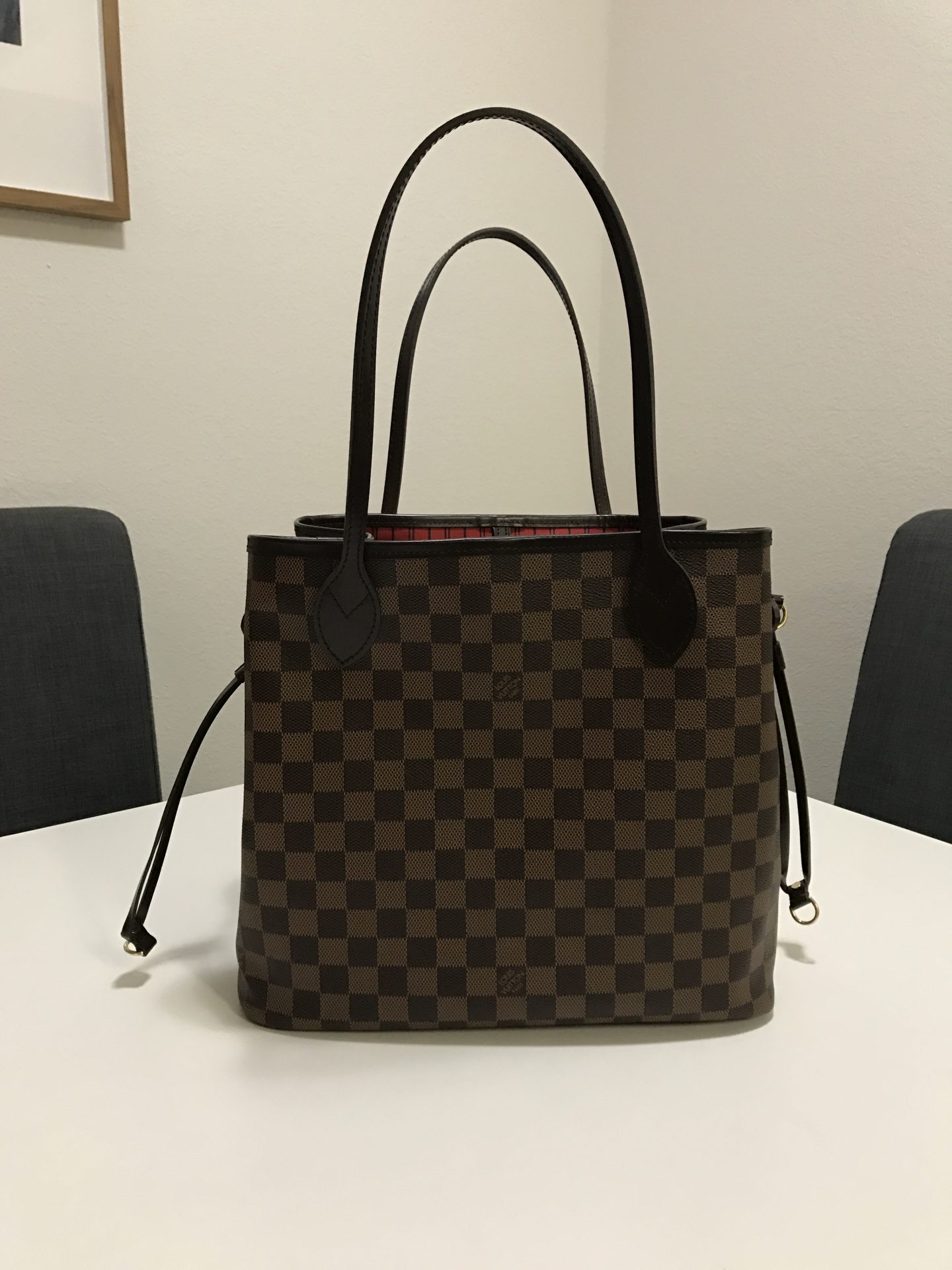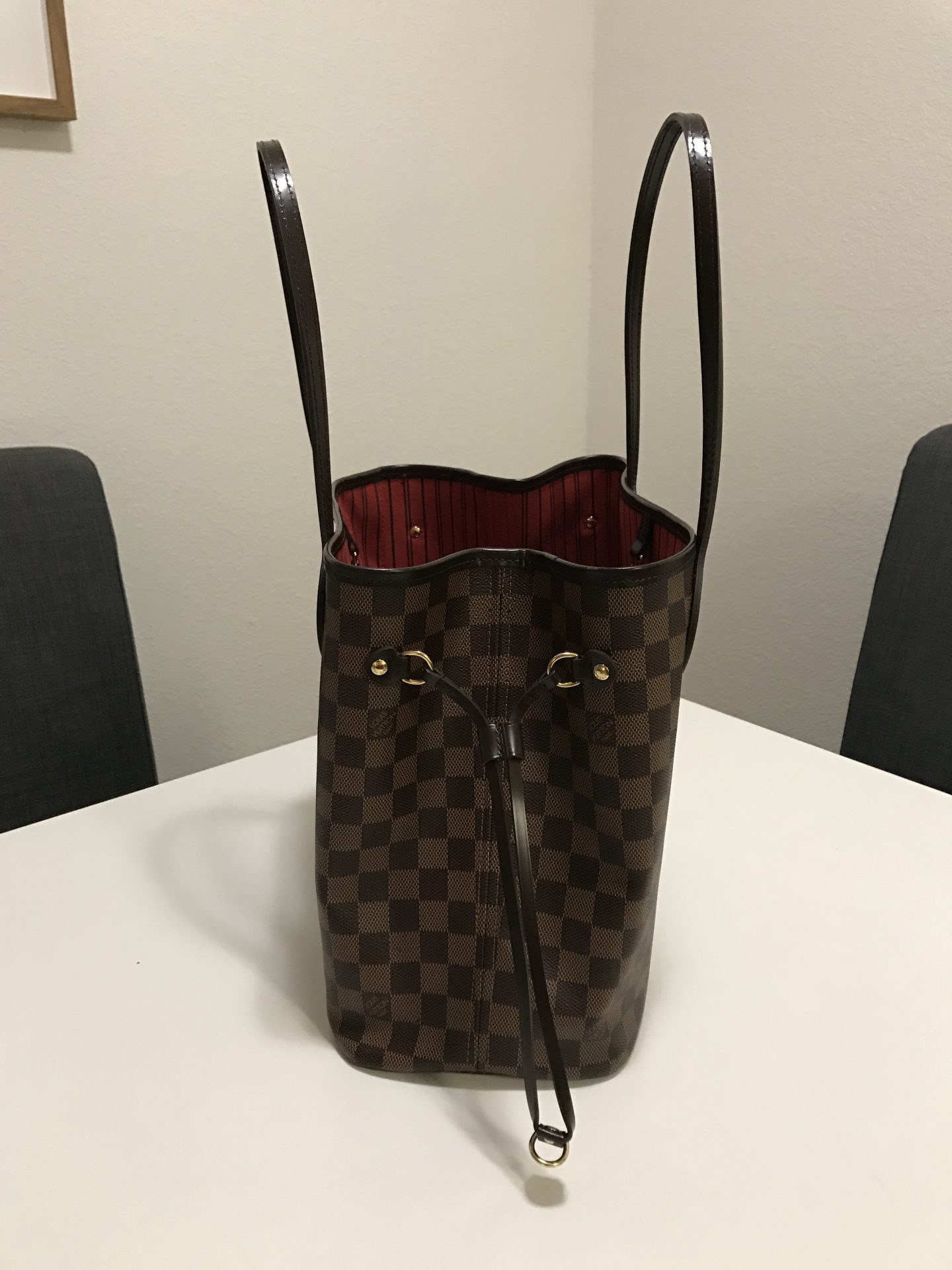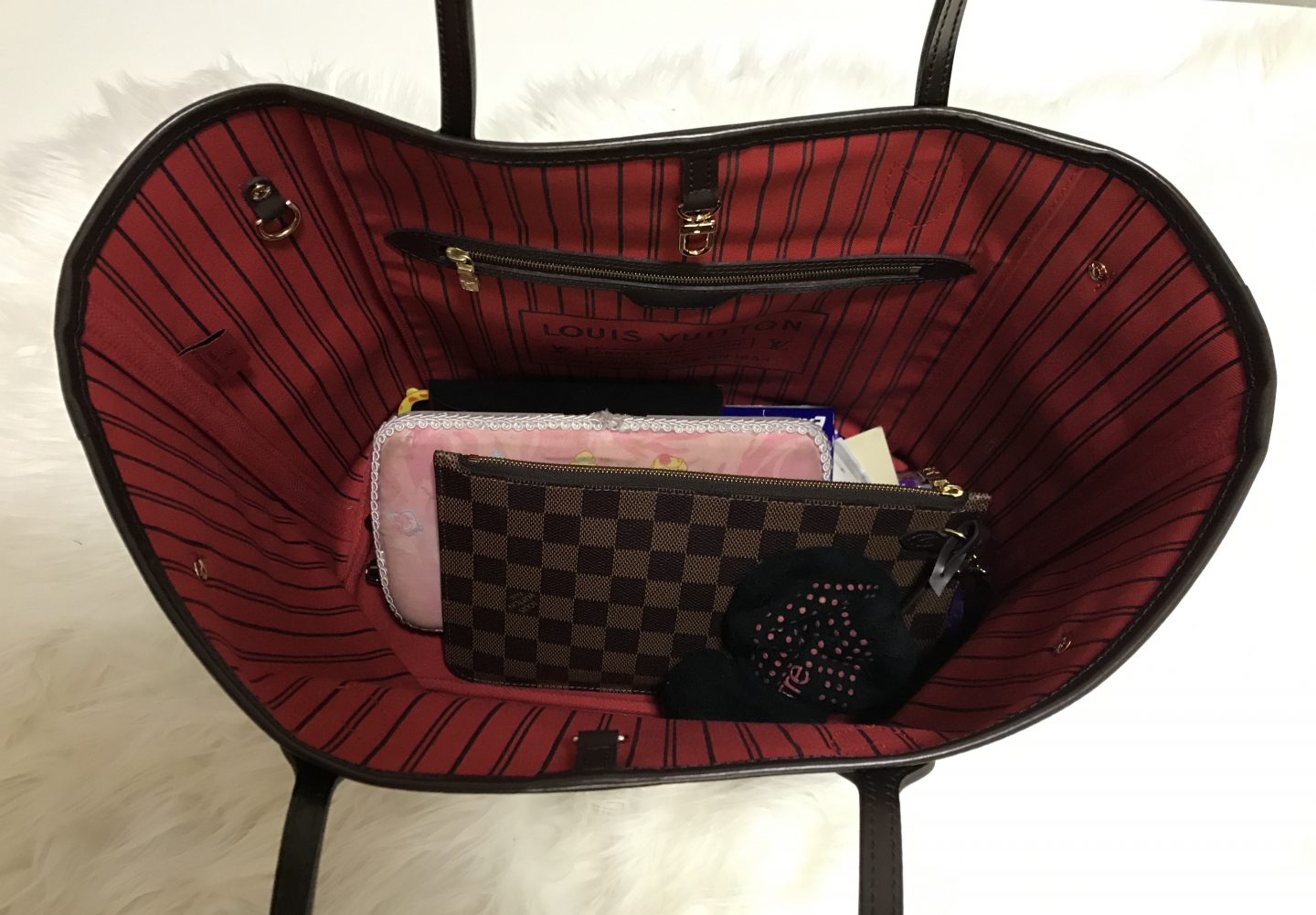 (Also comes in white, pre-loved here)
Dimensions:
length 12.6″
width 11.4″
height 6.7″
Verdict: I love this bag!! If there's only one bag I could have for the rest of my life, this would be it. Although this is my second Louis Vuitton bag, and I wish I had purchased it first.
I hope you had a nice weekend! Our weekend was split between Boston for my brother Jesse's wedding and unpacking when we got back. It was such a wonderful trip, and truth be told I was somewhat sad to come home. Growing up in NH, Boston was the city I visited as a kid and I just assumed all cities were that pretty. Now when I visit, I'm amazed at just how stunning this city really is. The historic architecture and rich history amaze me every time I go back! (Stay tuned for a Boston travel guide coming to Fifteen Minutes to Flawless soon!)
XO,
Terra
Shop the Post