Lots of things make Oahu a great tropical destination, but one of my favorite parts about the island now is how family friendly it is. It's funny, but I never gave that a second thought when I lived here but that was before Juliana! Coming back with her has really opened my eyes to all the activities out here for children. Here are a few favorites:
1. Kualoa Ranch
Kualoa Ranch on the north shore was Hawaii's cattle ranch for years but more recently has become known as the site of the Jurassic Park movies. If your child is old enough, Kualoa offers horseback and ATV tours of the ranch. If you prefer to take things a little easier (like me) you can also tour by bus. The ranch has an area where you can interact with the horses (which Juliana loved) and ziplining if your kids are a little older. I love Kualoa- it's a great mix of history and views for adults and animals on a farm for kids.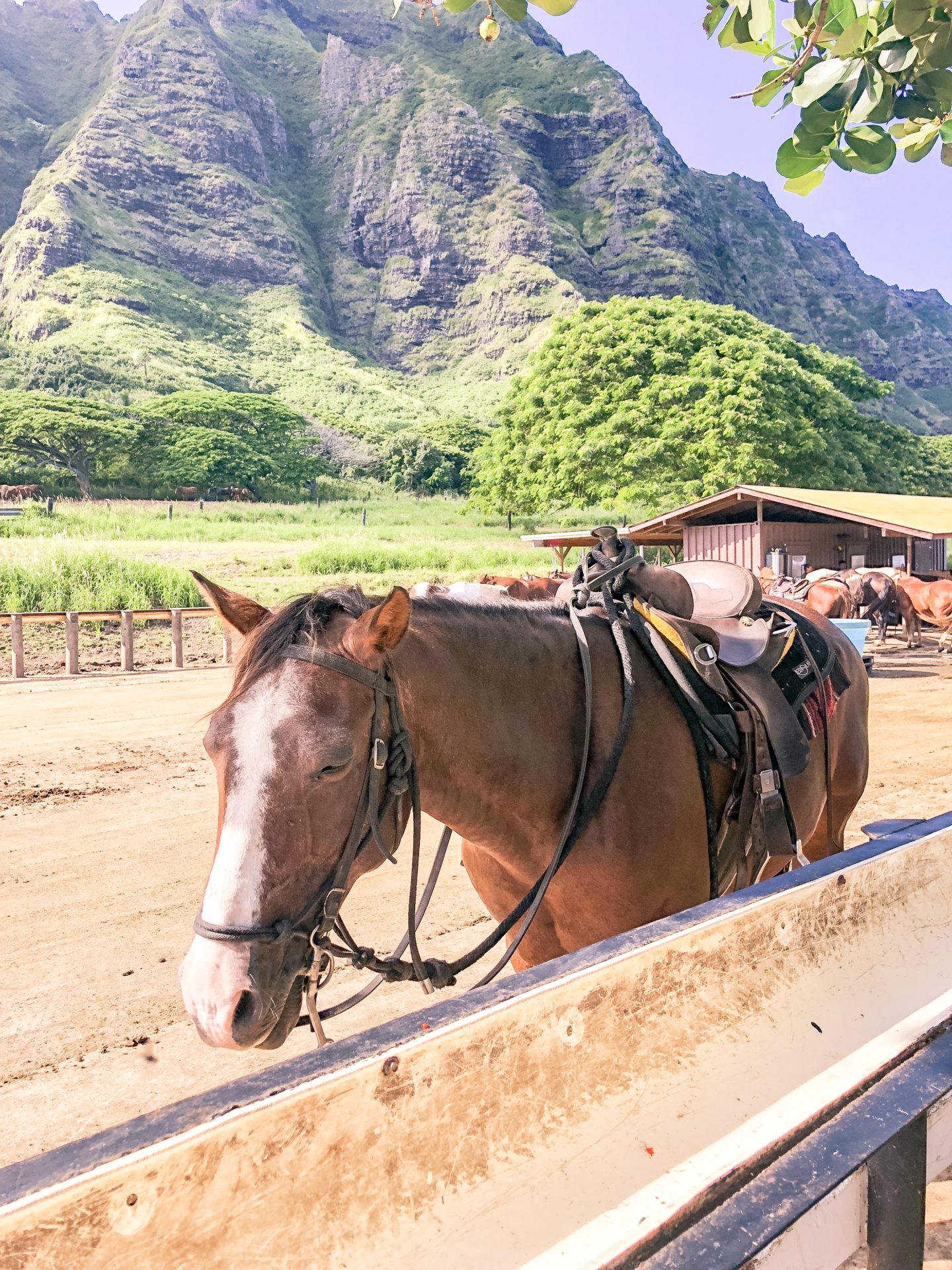 2. Honolulu Zoo
The first thing I think of when I hear Hawaii is 'The Zoo'
…lol just kidding! But the Honolulu Zoo is adorable. It's located the street from the east edge of Waikiki, making it an easy walk if you're staying in town. It's a smaller zoo compared to some others but it's compact. It amazes me how many species of animals they have and while it takes up less space on the map, it doesn't feel that way when you're inside. They have the popular animals from every zoo- elephants, monkeys, hippos, giraffes, etc. and some Hawaii specific species too. I just always wonder how they got them all here in the first place! I guess by boat?
3. Get off the 'beachen' path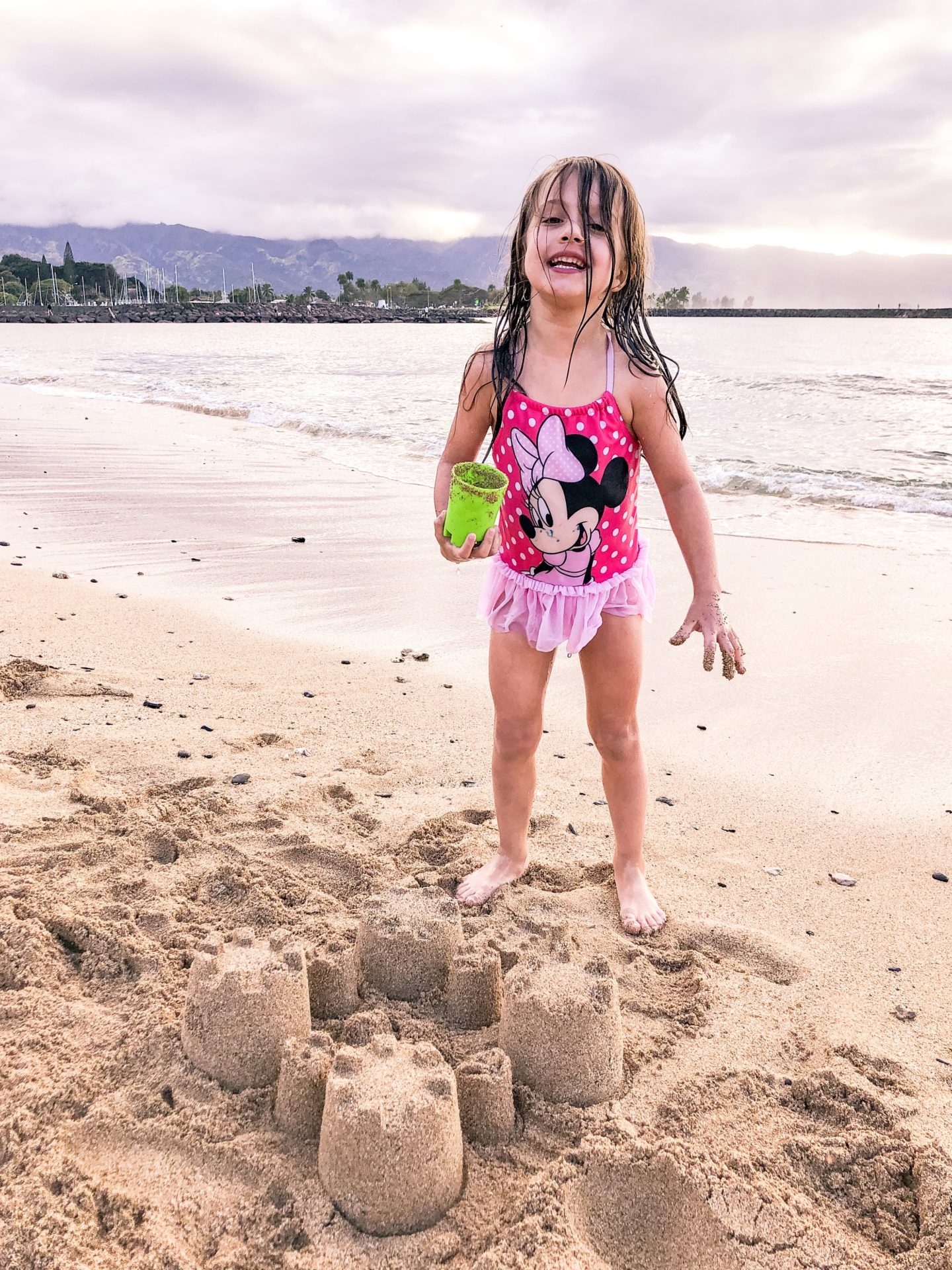 The beaches are a pretty central part of visiting Hawaii and coming with Juliana makes me realize how universally appealing a little sun, sand and water can be. I think as humans we are wired to love the beach (I always feel my stress melting away every time we're there). If you're staying on Waikiki Beach though, it's easy to get 'stuck' there- it is a beautiful beach and the waters are always calm. While I love Waikiki (and we've been there a lot this trip!) it's been just as fun to get off the beaten path and find new beaches too. I shared my favorite ones in this post, though this trip we've added a few more to the list. Last Saturday we came across a hidden beach with low hanging trees and a wooden swing about 5 minutes north of Ka'a'awa. It was sooo dreamy and a great spot for finding rocks and shells washed ashore.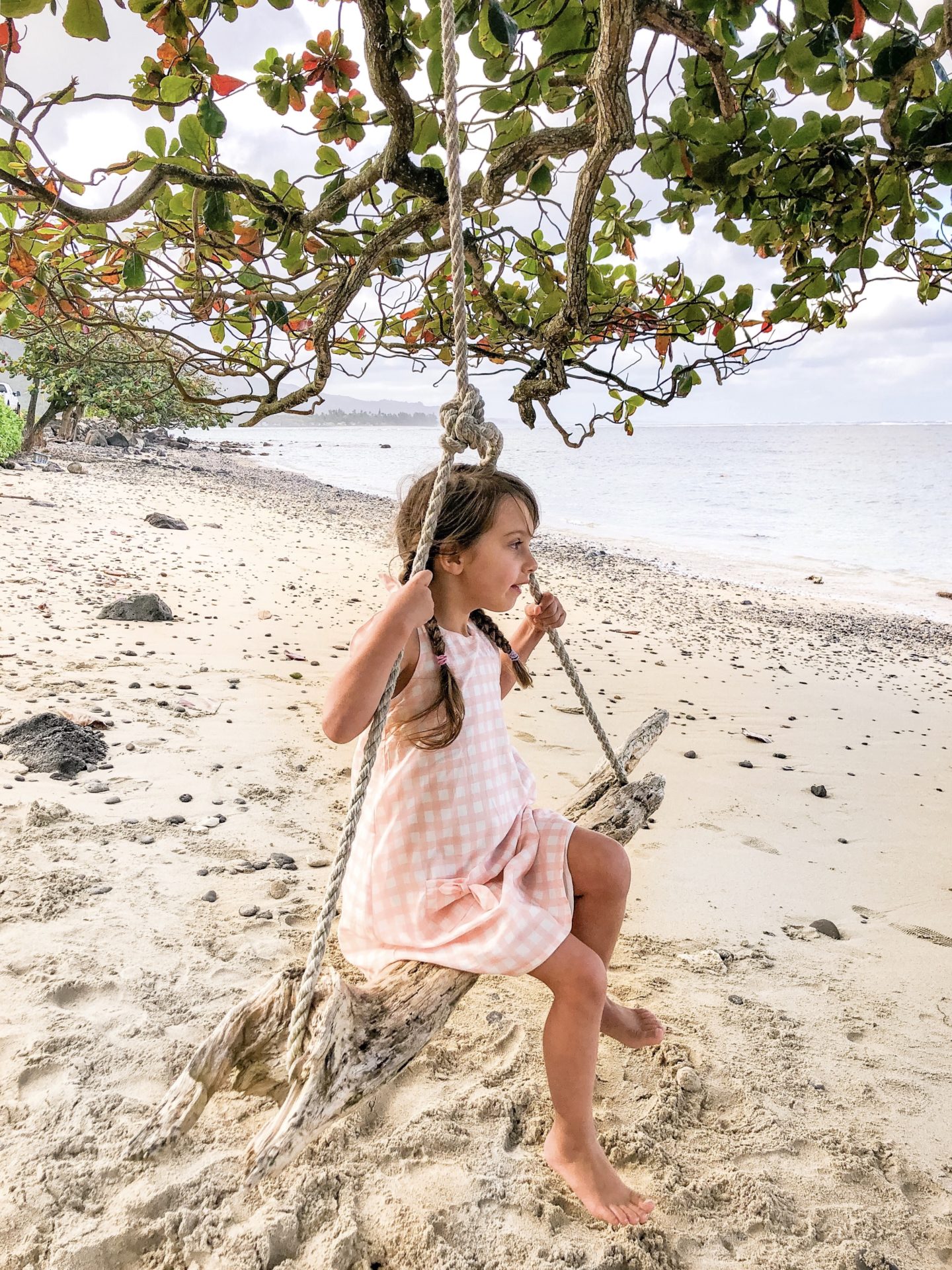 4. Hike Diamond Head
My best friend Natasha came out from California to join me and Juliana for a few days on our trip here. The three of us hiked Diamond Head and it was a wonderful experience. Diamond Head is one of the shortest hikes on Oahu, but it also has some of the very best views. The trail starts out slow but there lots of stairs towards the end of the hike. I noticed a lot of parents carrying little ones in front pack carries while we were there. It definitely really doable. With Juliana being 5, she hiked most of the way up herself and I just had to carry her in a few places when she got tired.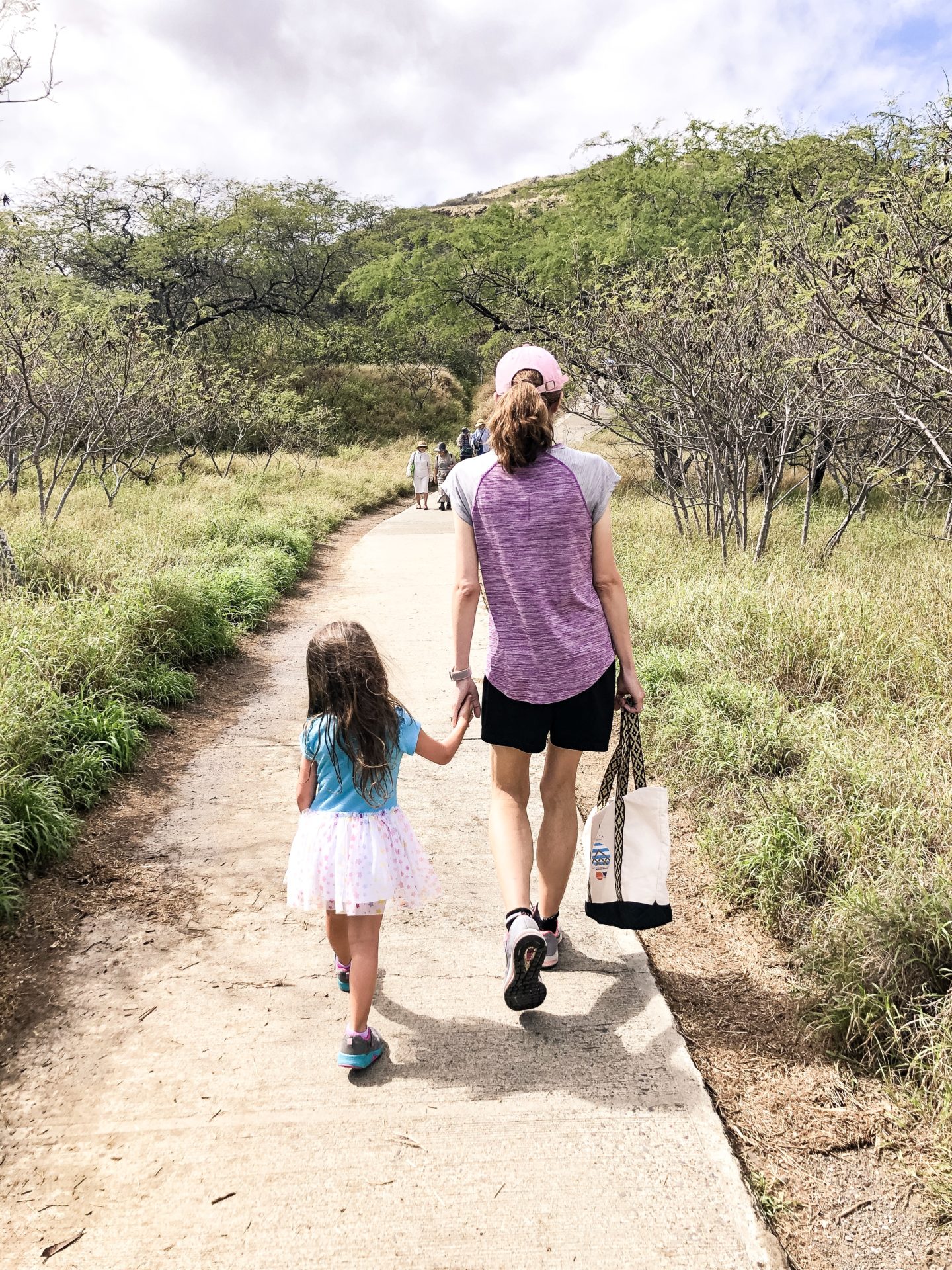 6. Catamaran Boat Tour in Waikiki
This was another one of our adventures when Natasha was in town…it was SO MUCH FUN!! I think this was my favorite part of the whole trip. We took the Na Hoku II catamaran that docks just to the east of the Royal Hawaiian hotel on Waikiki Beach. Juliana was slightly nervous at the start of the ride but she quickly adjusted. The Na Hoku II is $40 per adult and free for kids (it also includes an open bar). They gave us the $35 Kama'aina local rate, so if you've lived here be sure to mention that. The ride is an hour and a half and leaves every two hours, with the last cruise at 5:30pm.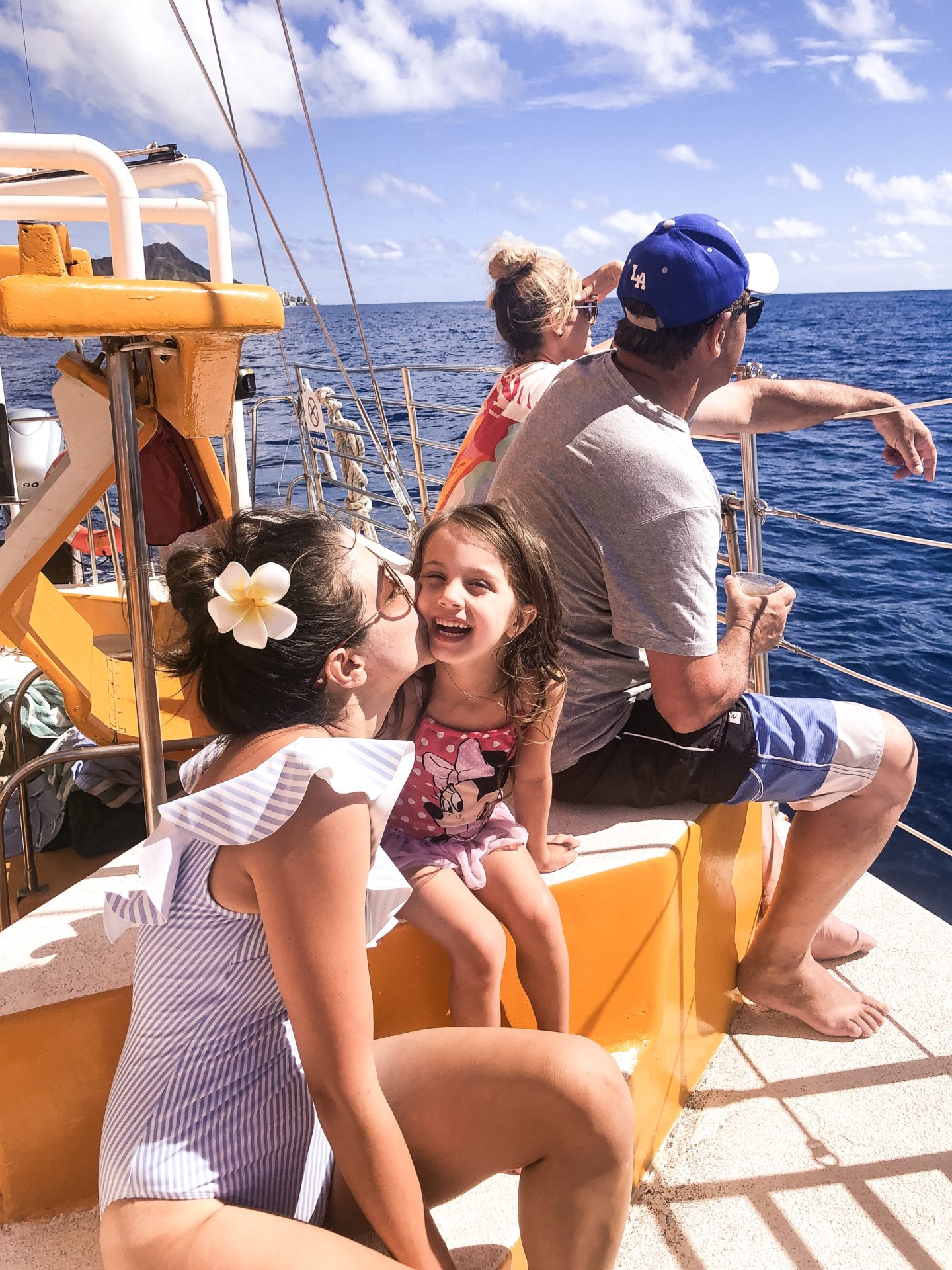 5. Hale'iwa Town
J and I ventured up to Hale'iwa Sunday and it made me wish I'd gone up there more in the past. It's a darling little town and they have many quaint little shops and food options (I tried the coconut shrimp from Cameron's and J stuck with McDonald's…go figure!) Hale'iwa is also home to the famous Matsumoto's Shave Ice, a popular spot with kids. There are three beaches around Hale'iwa- Hale'iw Ali'i i beach, Hale'iwa beach, and Pua'ena Point beach so you've got plenty of options after lunch.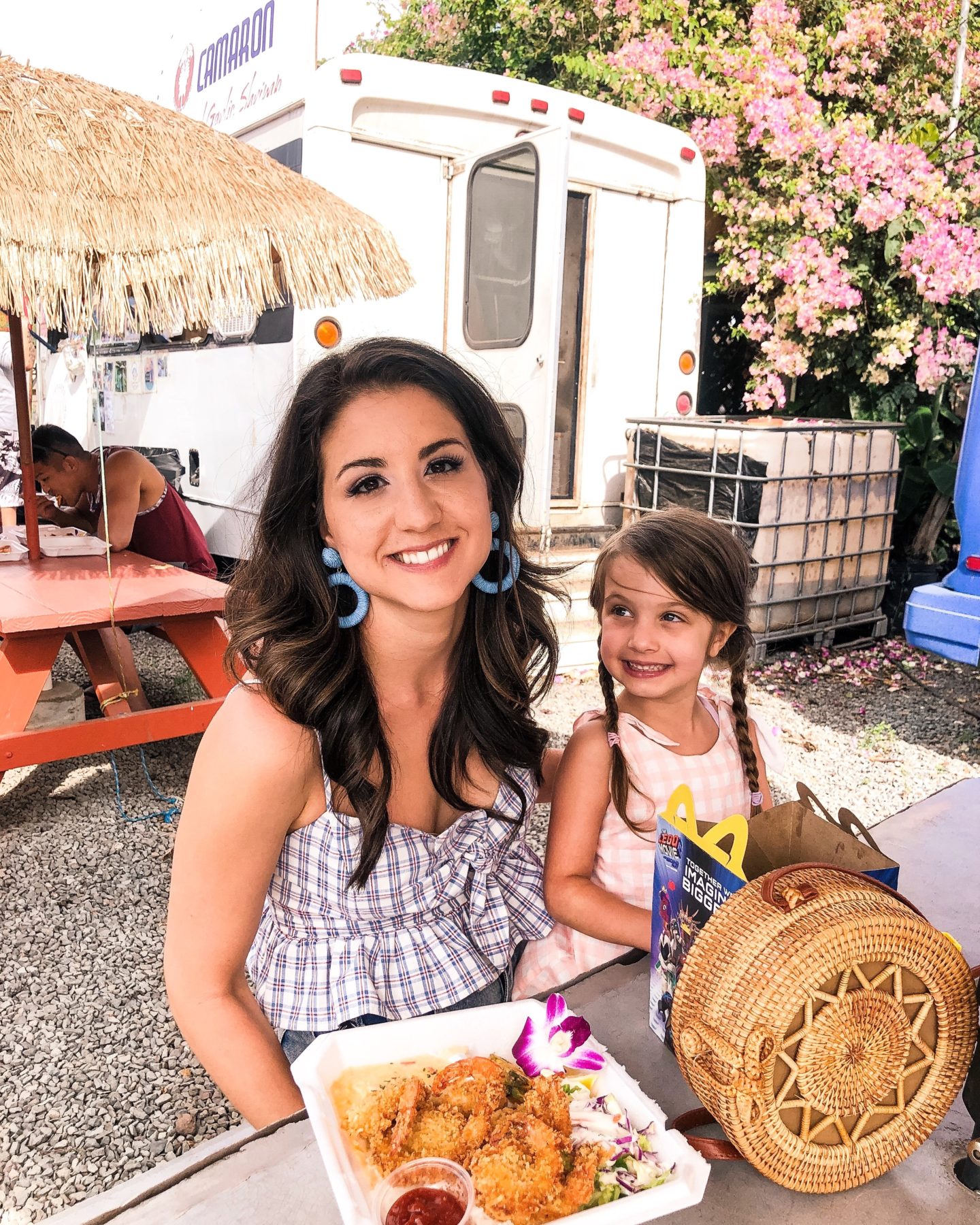 Here are a few other kid friendly ideas we're looking into before we leave…stay tuned!
Hiking Ka'ena Point on the North Shore side. I did this on my own in the past and it's an easy, flat hike which I think will be great to do with J.
Dog surfing on North Shore. The Hans Hedemann Surf School has a dog surfing program for kids- a trained dog comes out with the instructor to help teach the class!
A Canoe Ride on Waikiki beach. I've always loved getting out on a boat along Waikiki beach. It gives you a totally different perspective of the surrounding area and Diamond Head, the volcanic mountain east of Waikiki beach. We're going to do that this weekend and I think J will like it!
I hope you're having a good week so far. Let me know if you want me to keep the Hawaii posts coming or if you'd rather read about something else!
Love always,
Terra