Anyone else experienced a Pinterest "hair fail"? I figured it couldn't just be me so I Googled "Pinterest hair fail". You guys, the struggle is real! I'm not naturally "good" at hair so I keep things simple but stay on the lookout for fast and easy hairstyles to keep things fresh. I was so excited when I came across this tutorial on Pinterest because the updo looked simple yet oh-so romantic. <3
I kept my expectations low, but gave it a go and was surprised with how well it turned out!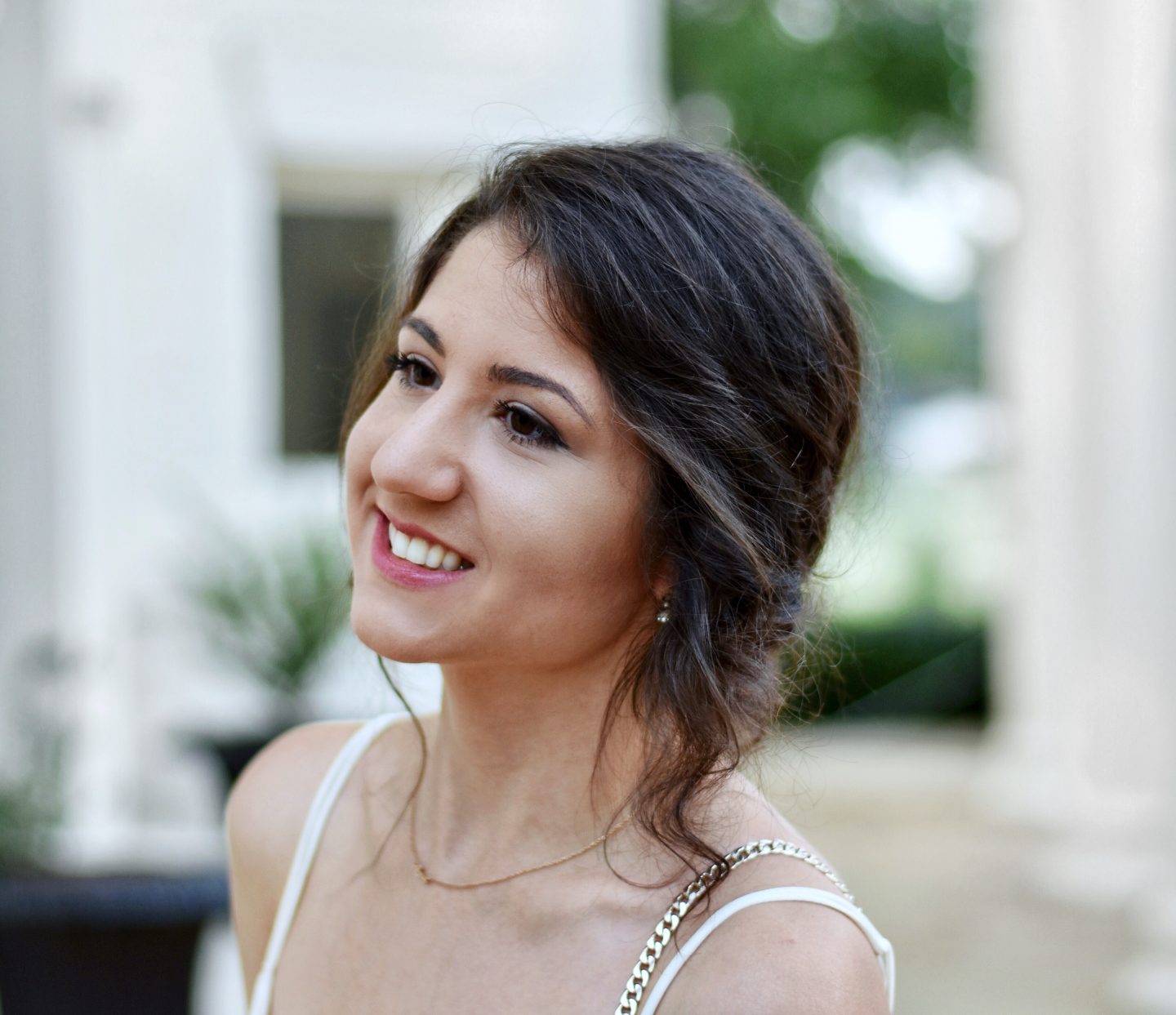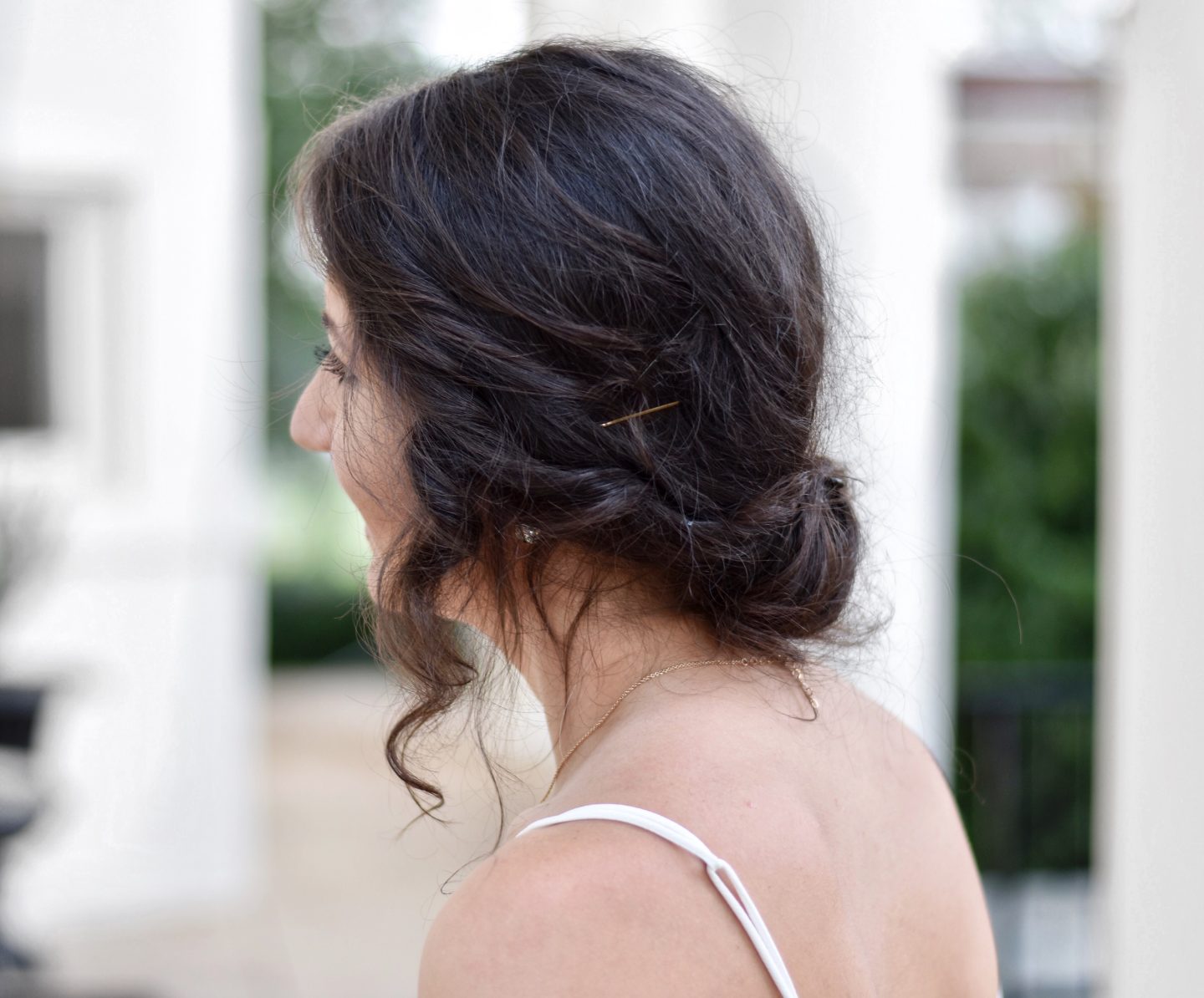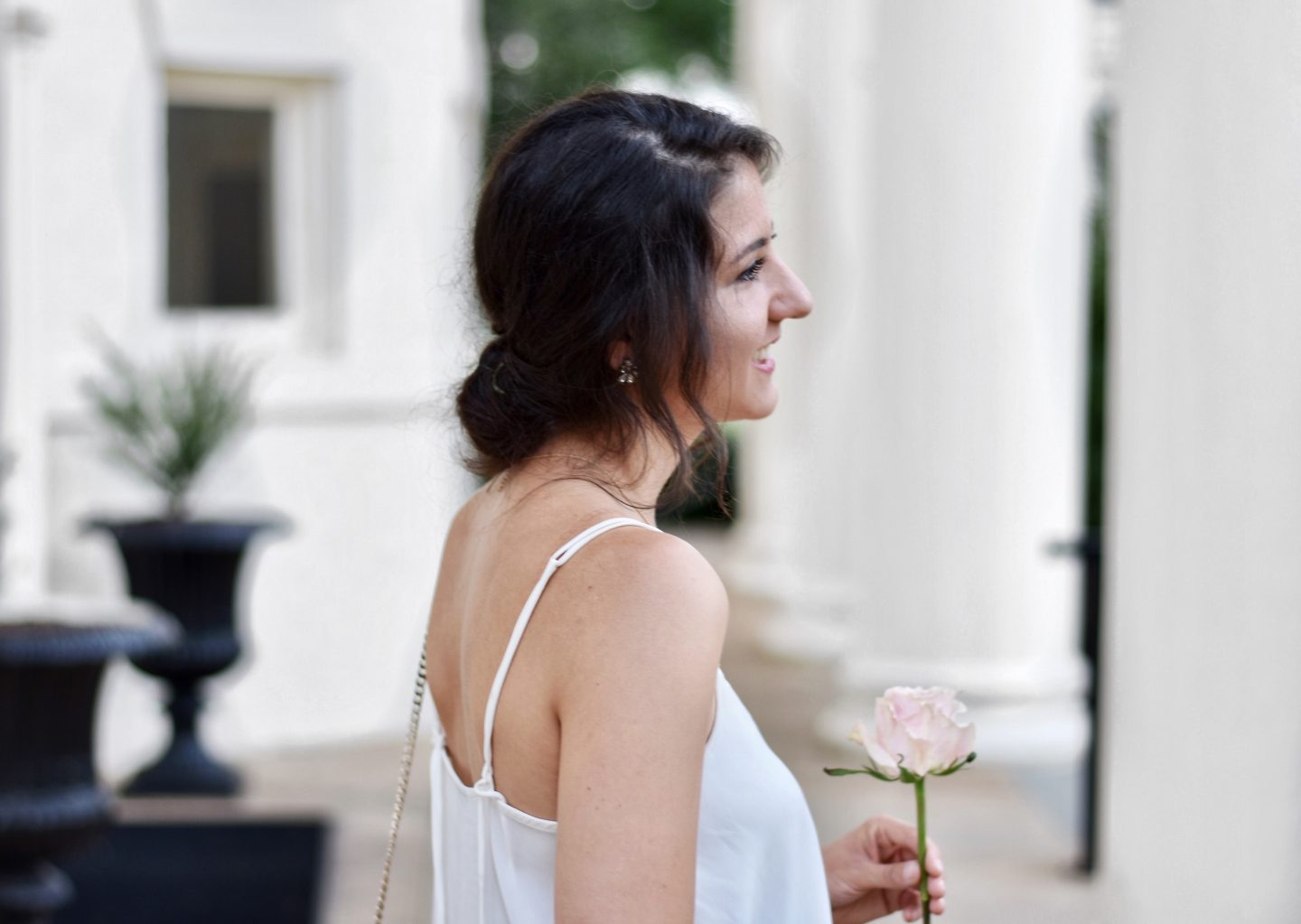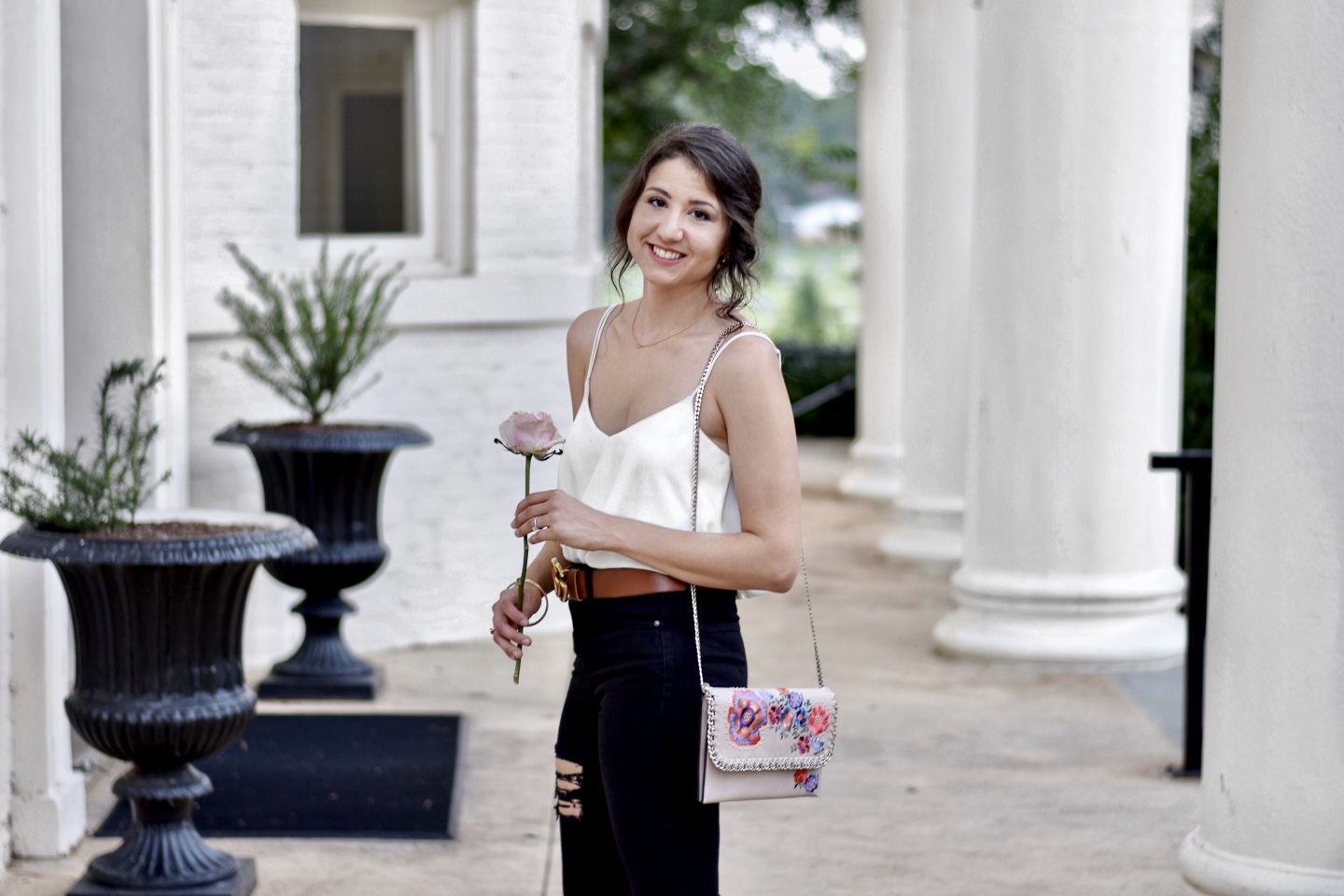 (I didn't realize till after we took these photos that I used one blonde bobby pin instead of all brown ones…oops!)
Below is the Pin I used and the modifications I did to make it work!
I did this style on freshly washed hair. After washing, I dried it with paper towels (towel-drying roughs up the cuticle which causes frizz!), ran a dollup of this heat protectant through, then let it air dry about 65%. Finally, I finished by drying it with my blow dryer and round brush.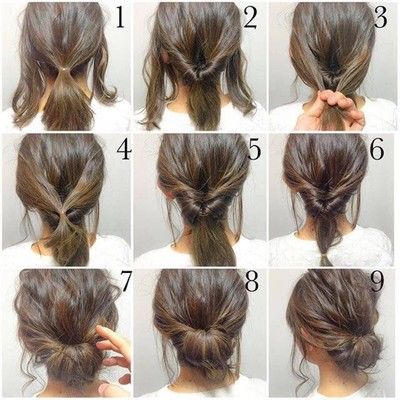 I used elastics that matched my hair. The elastic inevitably shows so matching it to your hair makes it blend in.
In step 4 I found it easiest to pull all my remaining hair into the second pony instead of leaving out those "face framing" pieces in front. It's much easier to pull out sections later than have too much!
In step 5 I needed to twist the second pony the same way the first is twisted in step 2 before tucking it into the lower pony. This style didn't work until I did this.
In step 6 I kept thinking I needed to pull the elastic from the first pony tail down to the end, but then realized the instructions were saying to leave the elastic up and just add another one below.
The little tuck in steps 7-9 would not stay in place for me without bobby pins. Once pinned though it held really well! (Two tricks I've learned with bobby pins: spray with hairspray first, and pin with the crinkled side facing down.)
Once I had the bun secured I pulled out a few face framing pieces and curled them with my 1″ wand, keeping the curls looser on the right (where I part) and tighter on the left.
Once curled I had to mess with these sections a little to get them to look "right", if you know what I mean. 🙂 Lastly, I pulled a small amount of hair from the side curls and pinned them back and slightly up (that blonde bobby pin actually shows where I did this, ha!)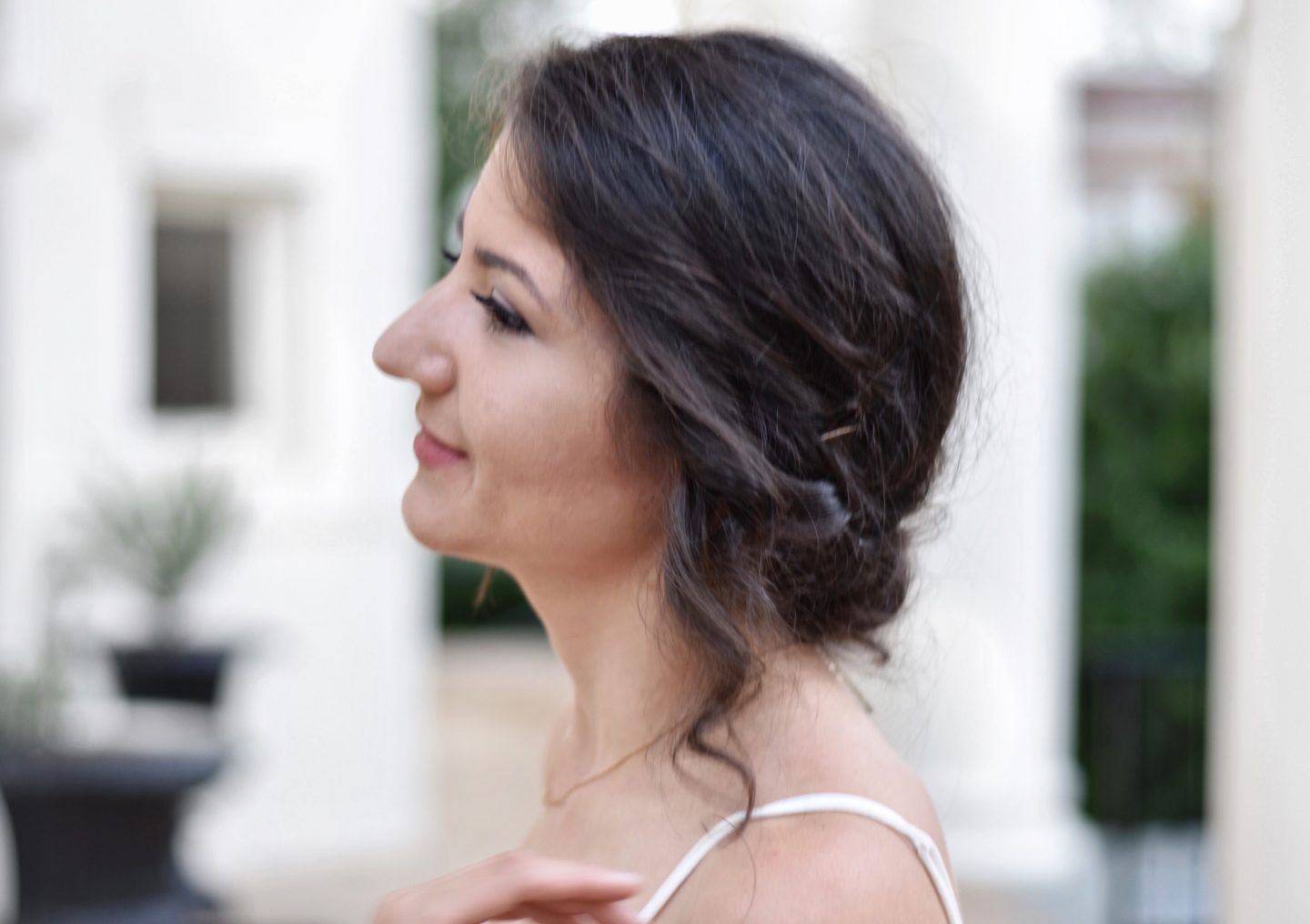 I love this style because it's gorgeous, keeps your hair out of the way, and is so much more comfortable than a traditional tighter bun. Another bonus: my next day hair had perfect face-framing curls in front. Just to make sure yesterday wasn't just a fluke, I recreated it just now (without curling in front) and it took less than five minutes.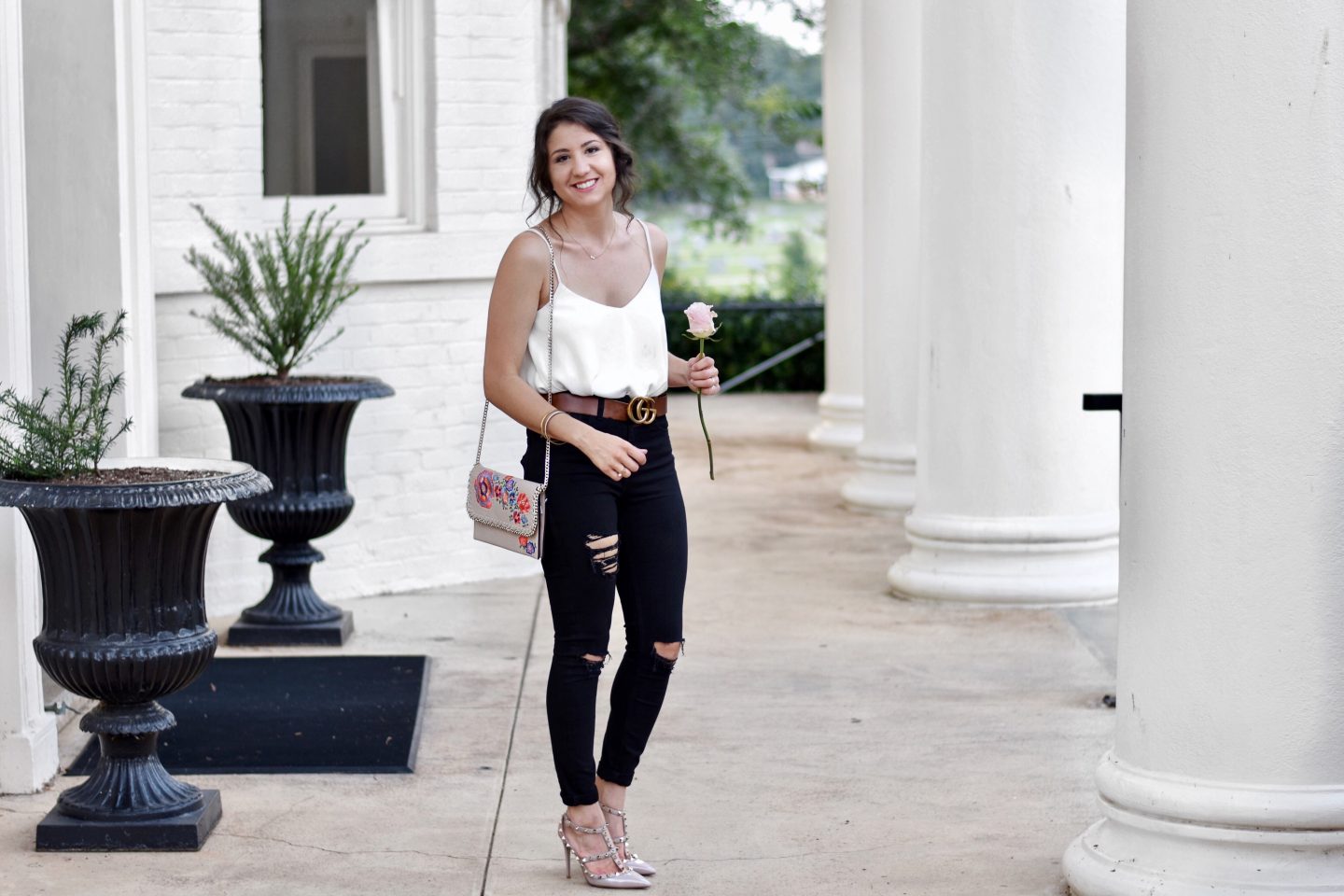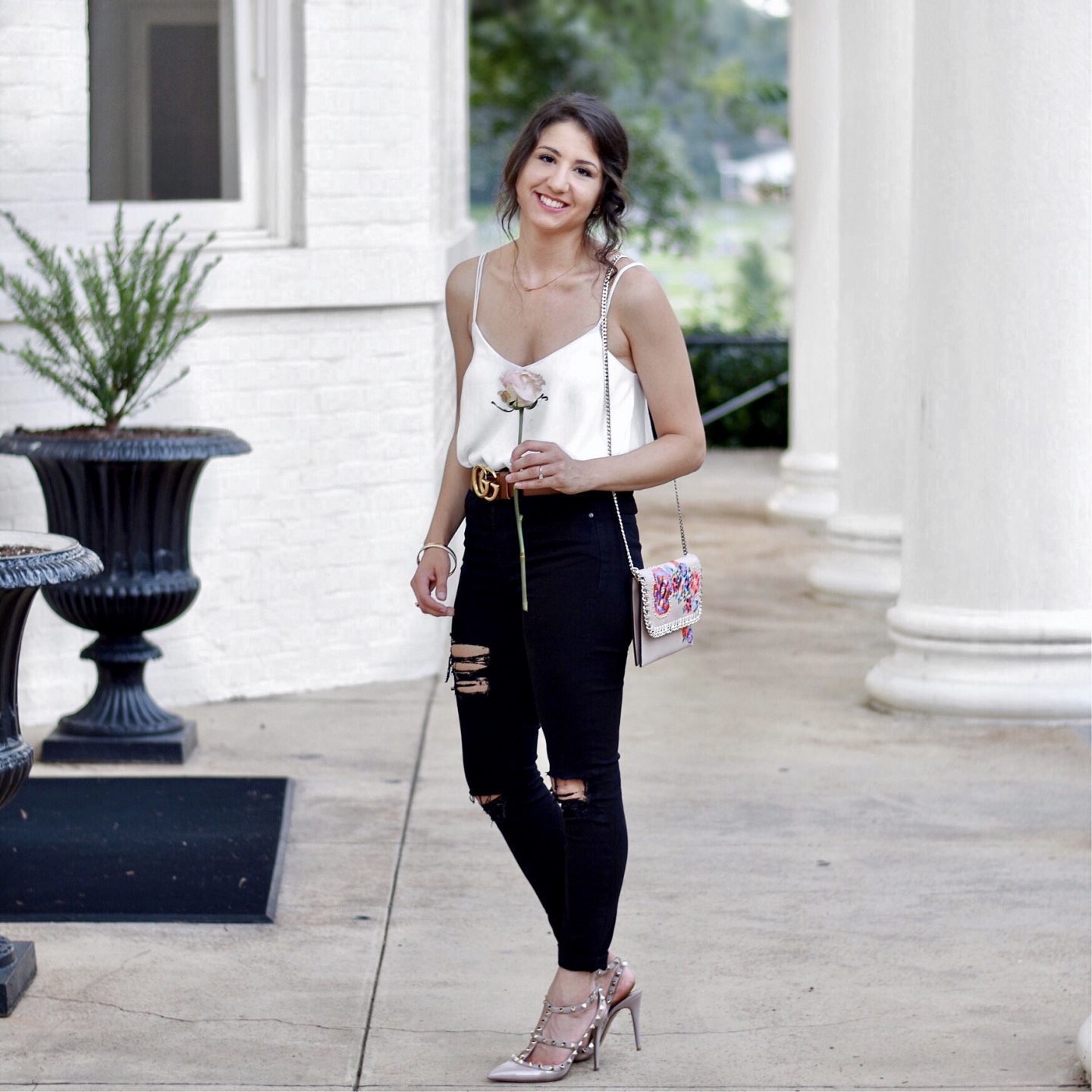 Topshop swing cami (on sale for $15!) // Topshop jeans on sale for $50…size up!) // Floral bag // Belt // Heels, dupes here and here
I think this updo would work on many hair lengths and textures. My hair is curly/frizzy so it has natural texture, but for those of you that don't a good texture spray will do the trick! I love what texture sprays do for volume and texture. It's like hairspray and and dry shampoo had a baby (a wonderful baby, ha). My favorite is this one!
Shop the Post
What I'm Wearing:
Hair Products for My Updo:
If you end up trying this updo, let me know what you think and if my "modifications" were helpful to prevent the dreaded "Pinterest fail" ;).
XO,
Terra
PS All the images here are pinnable directly from this post when you hover over them, so you can easily Pin it to your Pinterest to try it later!