Aloha!
If you follow me on Facebook, then you know Juliana and I arrived in Honolulu Sunday afternoon. Although I'm still working 9-5 eastern (4am-noon Hawaii time) I'm finding I am so much less stressed here. I think it has to do with being in the sun every afternoon- and being back in my favorite place in the world. 😉
When I shared an Oahu travel guide after our trip last year, most of the questions I got were about how to find a cheap flight to Hawaii and how to plan a trip to Hawaii on a budget.
I feel you! There are so many less expensive tropical places. I'm probably a little biased from living here, but I think Hawaii is still worth every signle penny. The volcanic mountains jutting up against the blue green water make Hawaii more striking than anywhere I've been in the Caribbean and there's so much to do beyond just the beaches. Even though there isn't anything cheap about Hawaii, there are lots of ways to sharply reduce the overall cost of your trip.
Choose Oahu. Oahu will almost always be cheaper than the other islands. Airfare is less because there are more carriers and direct flights to Honolulu than into the neighbor islands (Kauai, Maui, The Big Island). The majority of products shipped into Hawaii go straight to Oahu/Honolulu then get distributed to the neighbor islands, which means food and other things are marked up further for the neighbor islands. Oahu also has the only oil refinery in the state, so while gas isn't cheap it's always less here than on the other islands. Finally, Honolulu is a big city so the competition is greater for everything (groceries, lodging, restaurants), which tends to drive down prices. I am partial to Oahu because I used to live here, but I think it has the best mix of things to do- you have everything in Honolulu but can just as easily hit North Shore or the West side to escape the city feel (full Oahu travel guide here!).

Oahu's Waikiki Beach with Diamond Head in the background. Sunsets are always prettiest after the rain! Skirt here, top here

Get a general feel for costs and set a budget ahead of time. After you get a general feel for airfare and housing options, set a budget for the trip and stick to it. This will help you decide what to prioritize. For this trip, mine was the length of time here, so I prioritized almost everything around that to make our cost per day as low as possible. For you, it might be the hotel experience, excursions, etc. but determining what's important will help you decide where to cut back.
Set up flight alerts a few months ahead of time. Anything under $600 roundtrip from the east coast/Midwest and under $400 from the west coast is considered really good airfare to Hawaii. I set up an alert with Kayak a few months before this trip then in early December got an alert for a $249 one way ticket. When you get a low fare alert, it's important to jump on it right away since the cheap fares seem to disappear quickly. The low fare Kayak served up was actually through CheapOair- it was called a 'hacker' fare because it involved more than one airline. The only thing to keep in mind with hacker fares is because you change airlines you have to pay baggage fees twice. It's often still worth it, but do the math especially for airlines that charge for carry on bags (full list here) as those charges against two flights each way can add up quickly.
Book with Airbnb. We stayed at a hotel last year but this time booked with Airbnb. Now we are spending almost the same amount for twice the number of nights! When you go on the Airbnb site, places in Hawaii might only look a little less per night, but where you really save is avoiding the resort fees and parking charges. Parking at a hotel in Honolulu will cost at least $35/day (plus tip if you valet) but with Airbnb you can toggle the filter to include parking. Our high rise has parking spaces in the garage underneath which has been really convenient! If you're booking through Airbnb for the first time like I was, pay attention to the cleaning and and service fees and how the nightly rate changes with the number of guests, as those can affect the overall price. A lot of the Airbnb options here are rooms in a house, but there are plenty of studios and 1, 2 or 3 bedroom options as well. I got a studio for me an Juliana- it's on the 20th floor in central Waikiki with a bit of an ocean view. It even came equipped with a boogie board, snorkeling gear and sand castl pails…the perfect little slice of paradise!
Cook instead of eating out. Airbnb is helpful here, since the units usually come with everything you need- dishes, utensils, cooking equipment and a kitchen. The first thing Juliana and I did Monday was head out to get groceries. There's a Costco, two Walmarts and a Target in Honolulu plus three grocery chains- Safeway, Foodland and Times. Costco is great for high quality produce and anything you use a lot of. The Walmart on Keeaumoku Street is another great option- it's not a Super Center but it has a fair amount of groceries and the everyday prices are typically lower than the grocery stores, even on sale. After Walmart, we went to Foodland to fill in what we couldn't get at Walmart. The closest Foodland to Waikiki is on Beretania Street (less than a 10 minute drive). I like Foodland because it's less expensive than Safeway but a better selection and shopping experience than Times. They also have the best selection of local foods- the store on Beretania has a poke selection the size of a small deli. I've been eating guava yogurt all week from them..it's so good!
Get a cheap car rental. Because there is so much to do and see beyond Waikiki/Honolulu, I highly recommend getting a rental. But if you're ok with a basic car, rentals are cheap in Hawaii! I don't know why, but they're cheaper than many other places I've been in the continental states. The rental we booked for this trip came out to $21.56/day after taxes and fees. Little disclaimer- I went with the cheapest option, which was a company called Economy. I didn't notice until the next day the battery in the key to push lock the door is broken…whoops! It hasn't been a big deal though because I don't leave valuables in the car.
Whew! I hope this helped answer your questions, but if you have any others leave them in a comment below. If you've been to Hawaii I would love to hear about your experience too.
XO,
Terra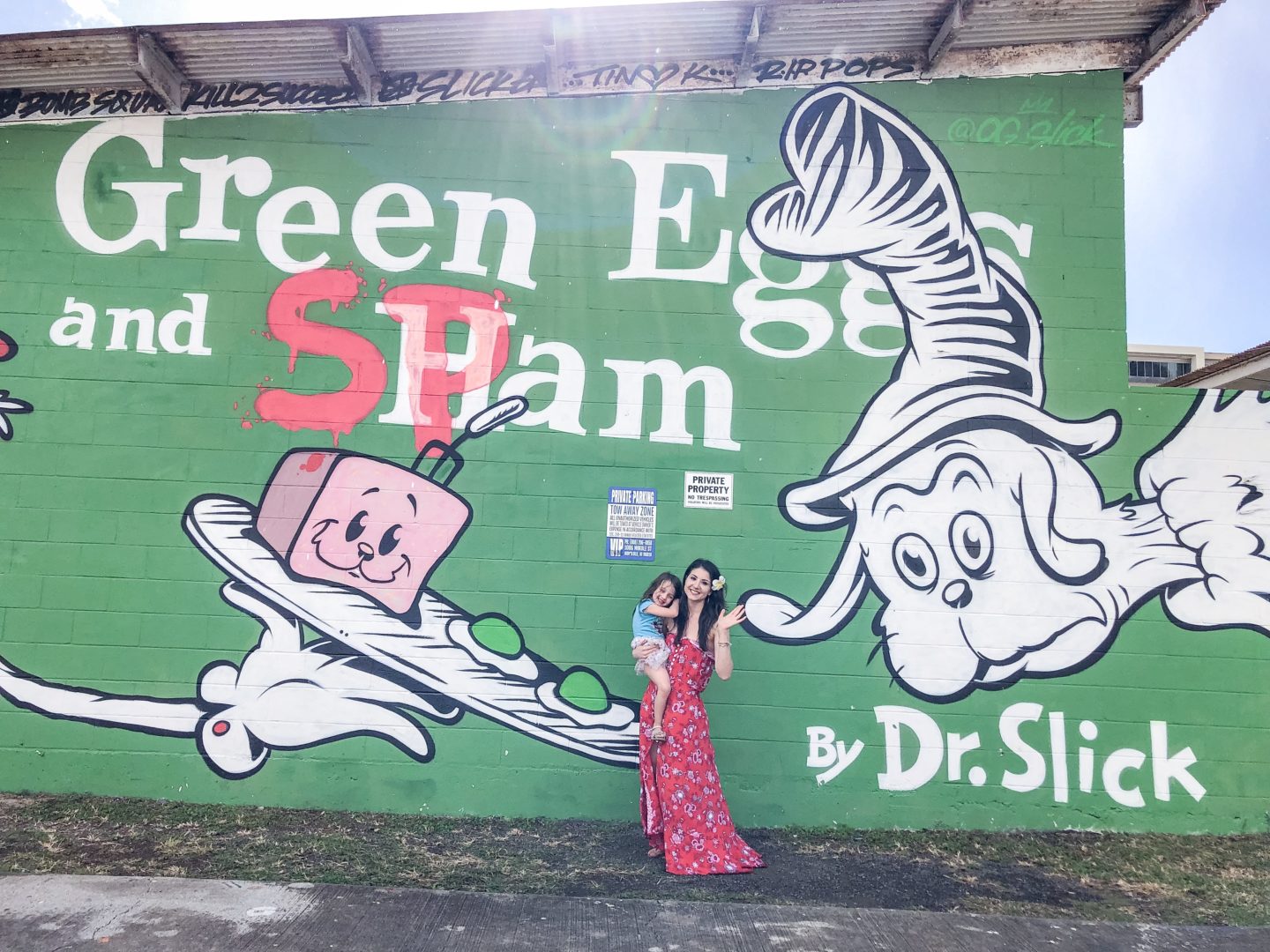 Tiare Hawaii dress in other prints here and here