A year ago when I shared this, I thought I'd be sharing something so different right now. 2020 was a scary, stressful, but exciting year and as we started 2021 I was so full of hope. I was ready to welcome the New Year and everything I was sure it would bring.
Keith and I had two big goals in mind for 2021: a new home in certain development, and a baby. We started 2021 full of hope for both. Having a baby and buying a home were two things I had done before that both happened very quickly, so I didn't think it would be any different this time. Yes, there was a lottery process for getting a new home in the development but with all the new phases being released in 2021 we would get a good number in one. And the baby? Well, it happened immediately with Juliana so I was very optimistic there too.
A little backstory, Keith and I talked about the 'big stuff' early in our relationship, including where we wanted to live and our family wishes and goals. I always knew I wanted another child once I met my life partner, and Keith wanted the same. We knew we wanted to grow our family and started trying in 2021, shortly after I turned 36. I had read it can be harder to conceive after 35, but because of how things happened with Juliana I had an idea in my head of how it would go. I was confident we would get pregnant quickly and everything would go like it did with her.
By July we had unsuccessfully played the housing lottery 5 times and gotten really low numbers every time. We didn't even get a good enough number to go to a selection appointment, let alone get the house we had in mind. We weren't even close.
I was also surprised and disappointed when we weren't pregnant after the same amount of tries. By the time 6 months passed, I was getting antsy and asked my OB at my annual shortly after. She mentioned at 6 months it was good to start testing and see if there was anything wrong. Keith and I followed up on her referral to the fertility doctor. We did the full workup including a few uncomfortable tests, but I didn't mind, I was anxious to get answers. Some people are a lot more relaxed when trying to conceive, but for me it was a very challenging and stressful time. Looking back, I realize it's because for the first time in my life I wasn't in control (more on this shortly).
At this same time, the developer released the last two phases of homes in the development. This was our last shot. I prayed so hard and couldn't believe it when we got a good lottery number for not one, but both of the last two phases. Finally! After almost a year of trying we were in. Our persistence had paid off.
That same month the tests revealed a relatively minor issue that was likely the reason we hadn't gotten pregnant yet. At the results discussion the doctor shared a fairly simple path forward. It was reassuring but he reminded us at the end that while the odds were very high, nothing is guaranteed in life, including a baby. That was hard to hear because I wanted total reassurance. I was relieved but still stressed. What if things still didn't work out?
But we didn't have to worry long. We started the plan with the doctor in October and by November we were pregnant!
I'll never forget November 17th. I took Juliana to her tutor Ms Karen in the afternoon and Ms Karen told me as I dropped her off, 'You're glowing!' That made me go hmm, because the only other time in my life someone had said that to me was right before I got the positive test with Juliana. It was the weirdest thing and it forced me to open a cheap Walmart test that night. One of Keith's friends was visiting from California so he was at dinner with him and some college friends. I had just one $0.88 test left. I said while I opened the box, 'Let's just get this over with and see another negative.' I was trying to manage my expectation and was shocked a few minutes later when there was a faint second line.
It was faint, but it was the same type of test I'd used with Juliana and it looked exactly the same. After months of seeing one line, I could tell there were definitely two. I ran to Walmart and got the more expensive tests. They were positive too. HOLY COW!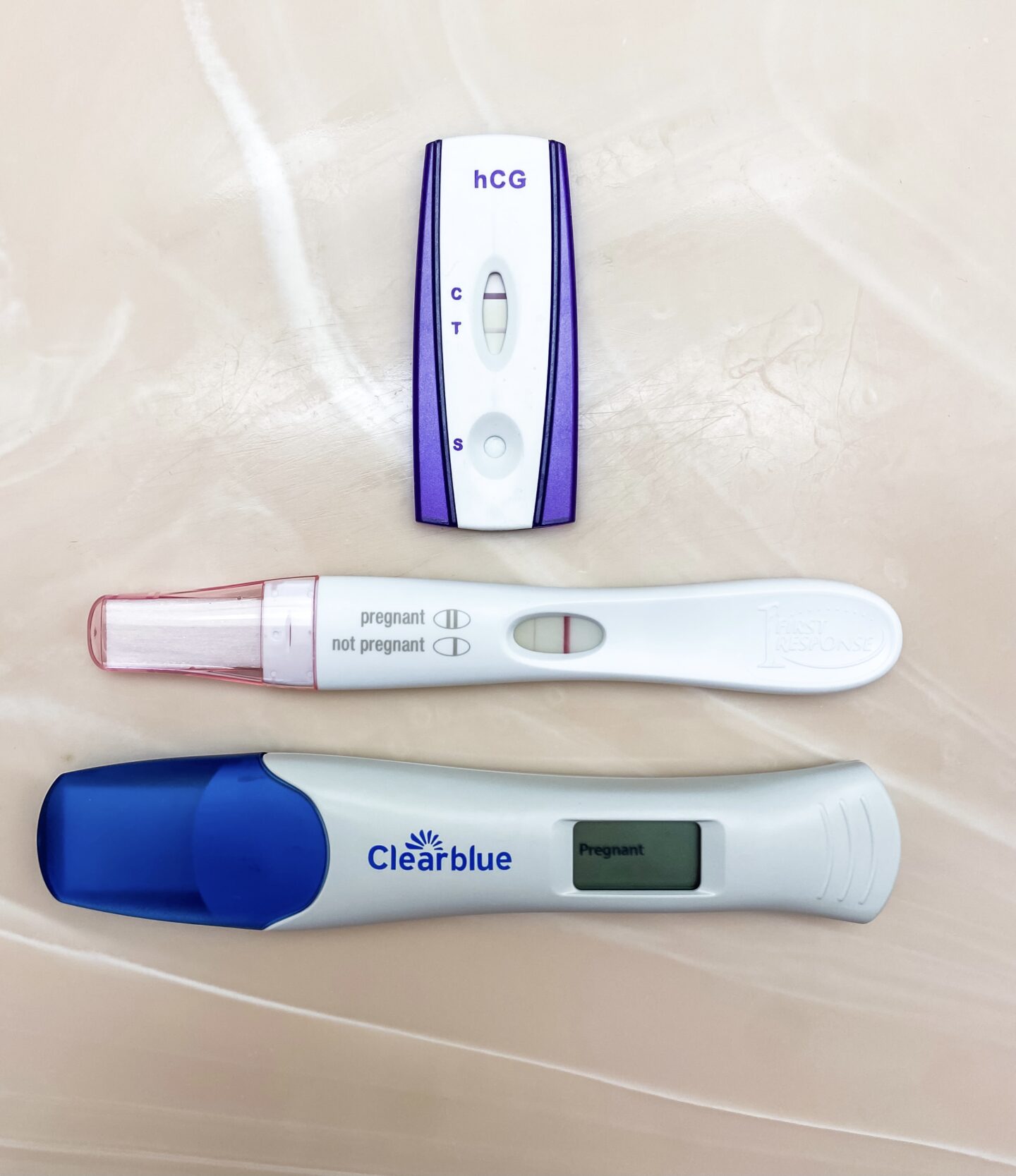 Then Keith called and said he was leaving the brewery and would be home in 30 minutes. I put the tests in a little silver gift box and Juliana topped it off with a big white bow. When Keith got home I told him I had something for him. He thought it was a gift and insisted on taking this picture of me and Juliana with the box: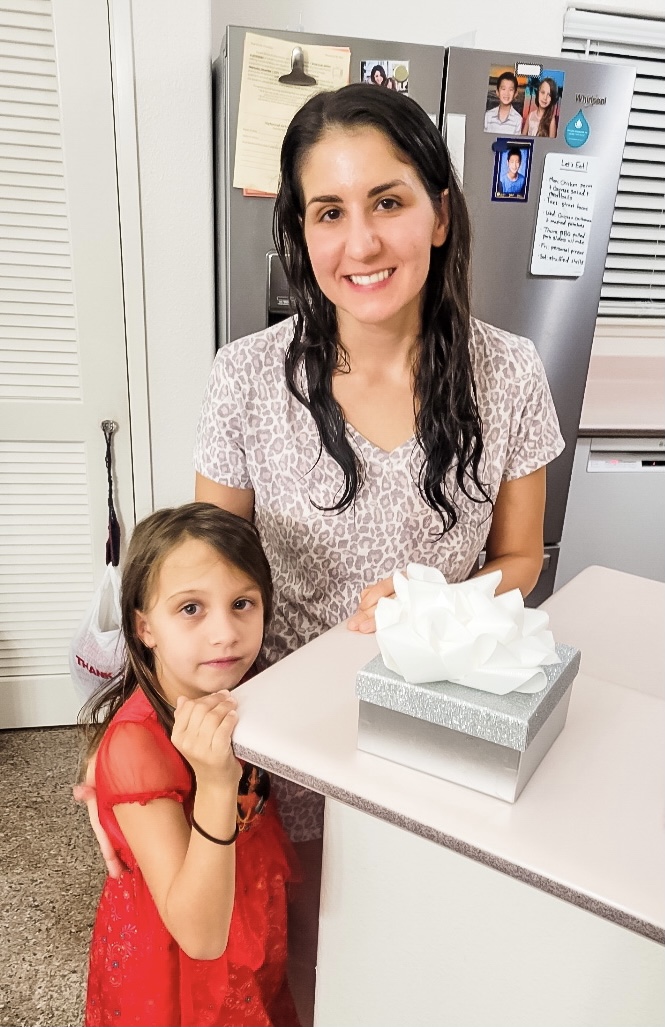 Keith was so excited that night. He told me he couldn't believe it, it didn't even feel real yet but he was so happy. We were over the moon. The next day that second line was darker and there was an email in my inbox that we received final loan approval.
I texted Keith a picture of the test with, 'I still can't even believe it! We are going to be a family of 4 in the new home!!!' It was crazy to think that the dreams we had for 2021 were finally coming true.
The initial bloodwork looked great, my progesterone was strong and my HCG (pregnancy hormone) levels were doubling every two days like the doctor wanted to see. They scheduled me for my first ultrasound for 6 weeks and change. Looking back now, I wonder if I should have waited to tell Juliana, but I told her that very first night. She was so excited to be a big sister and told me she wanted to name the baby Skye (her favorite character in Paw Patrol). It stuck, and Keith and I started calling the baby Skye.
The ultrasound made it feel so much more real for me and Keith. He was at work, so I took a video for him when the doctor turned on the doppler to hear the baby's heartbeat. At this point we were in full swing with our upcoming move. We hired movers so I wouldn't lift anything heavy. Just like with Juliana I was careful about everything.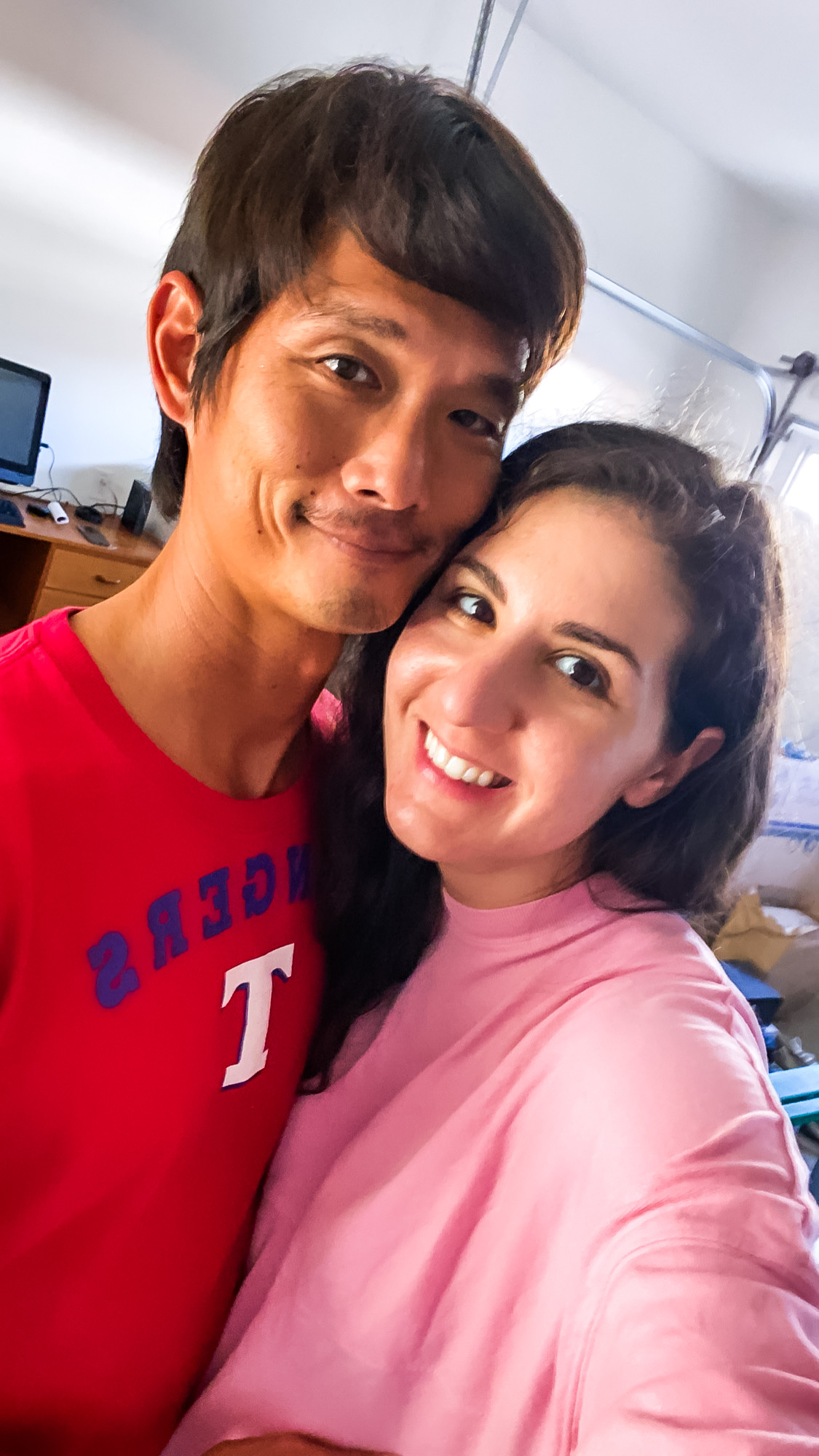 At this point I had shared with my family and close friends, as well as Juliana's dad Ridge and Juliana's stepmom. She made us the cutest little ornament to put on our Christmas tree.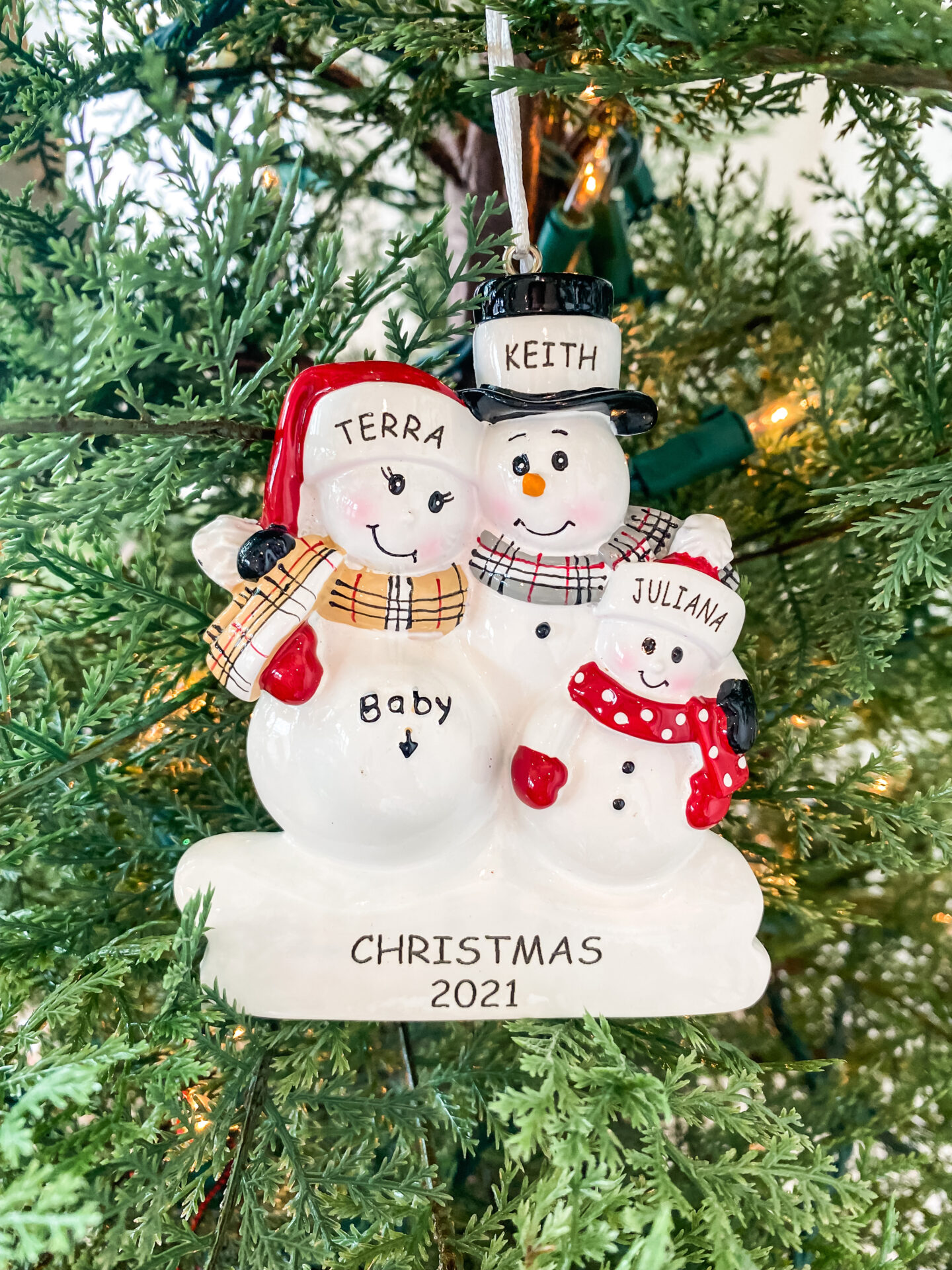 I wanted to include Skye in some way on our Christmas cards, so I put a photo of the silver box with the tests I had given Keith that first night.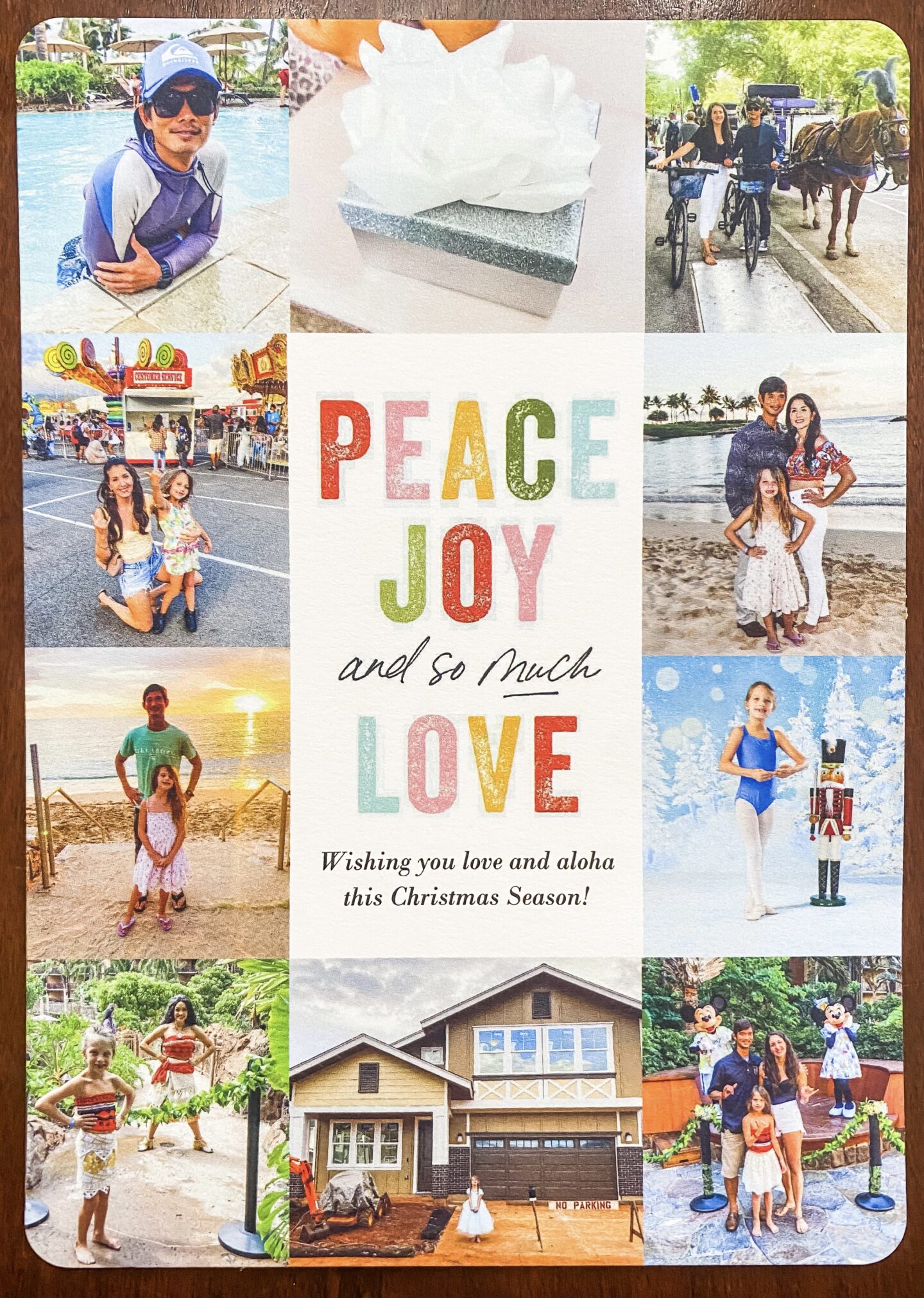 We were getting settled in our new home, my body was changing, and it was feeling real.
The next week we had another ultrasound (I think this is standard for the fertility doctor's office but I'm not totally sure). The baby's heartbeat was within the normal range but when the doctor did the measurements, the baby had only grown 6 days in 9 days. The doctor said we just had to wait and monitor. I was scared/worried/upset and really emotional. Due to Christmas they scheduled me for 10 days out rather than another week. I realized I didn't want this hanging over us for Christmas, so I called the doctor's on my way home and asked if they could see me on Thursday 12/23 instead of Monday 12/27. They said ok and rescheduled me.
I prayed so hard the next few days. I wondered to myself, could the stress of the move be why the baby grew slower? Maybe a week of down time (I was off Christmas week), and everything will be ok? There were no signs anything was wrong, but a few days before the appointment I got this feeling I couldn't shake. I tried so hard to stay positive but I knew something was wrong. Keith came with me to the appointment on the 23rd. When the doctor measured, the baby had only grown 1-2 days past the last ultrasound. I knew that was bad. Then she said, 'I'm going to check on the doppler, but I no longer see cardiac activity'. She played the doppler and where there was the strong, rhythmic heartbeat the past two weeks, there was nothing but silence and static. It was heartbreaking. Keith came over and hugged me when the doctor left the room. I broke down. When I had to go to the front for scheduling I couldn't keep it together. Both of the ladies came over and gave me a hug. I felt numb as we walked out.
We had promised Juliana we would take her to the water park that afternoon, and I cried on and off to Keith as we watched her play. That day and the next were really hard. Keith and I process emotions differently but we were both heartbroken. I felt empty and it hurt so bad.
While it is still recent and the pain is fresh, I am starting to feel a little more like myself again. I think being off work gave me the time to process in a way I couldn't have otherwise. Keith has been my rock and as painful as it has been, it has also brought us closer. I told him I feel like I let him down, I feel so bad that his first baby didn't make it. But we know that Skye is in heaven and we will never forget her. While miscarriage is incredibly common, I don't think there's anything that can prepare you for it.
Skye was only in our lives for a short time but she taught us so much.
Skye showed us we can get pregnant and gave us strong hope we will conceive again and have our rainbow baby. Skye also taught me a very important lesson:
New life is a God thing and He is in control here.
My whole life I believed that if I wanted something enough and made a plan, worked hard and didn't give up I could achieve whatever I set out to do. I always felt in control of my destiny and have shared this in the past. Getting promoted twice as a single mom with a child under 3? Starting a fashion blog and creating a community and business around it? Moving to Hawaii while growing my career? All these challenges were possible with a plan, hard work and persistence. But when new life starts and when a baby is born is up to Him. Yes we can be proactive, but He chooses when life happens and I really think God wanted me to learn this important lesson.
I wanted to share our story because I think miscarriage can feel very lonely and isolating like you are the only one going through it. The last few years on Instagram I have seen hundreds of baby announcements on my feed but only 3 miscarriage stories. We are told don't say anything, keep your pregnancy a secret until at least 13 weeks. I guess it's seen as embarrassing if you tell people and then go on to have a miscarriage. As a society we just don't talk about it. But why is that when 1 in 4 pregnancies ends in miscarriage? I wanted to share in case it makes even one of you going through this feel less alone. And if someone you know is going through it, give them a phone call to check in. Trust me it means so much.
As I look ahead to 2022 I am no longer going to stress, I'm going to trust. I trust it will happen, but I also know it will happen on His timing. And after learning this and experiencing what we have, I will be more thankful than ever when Keith and I do finally hold our rainbow baby in our arms. <3
PS I love you little Skye and I always will.