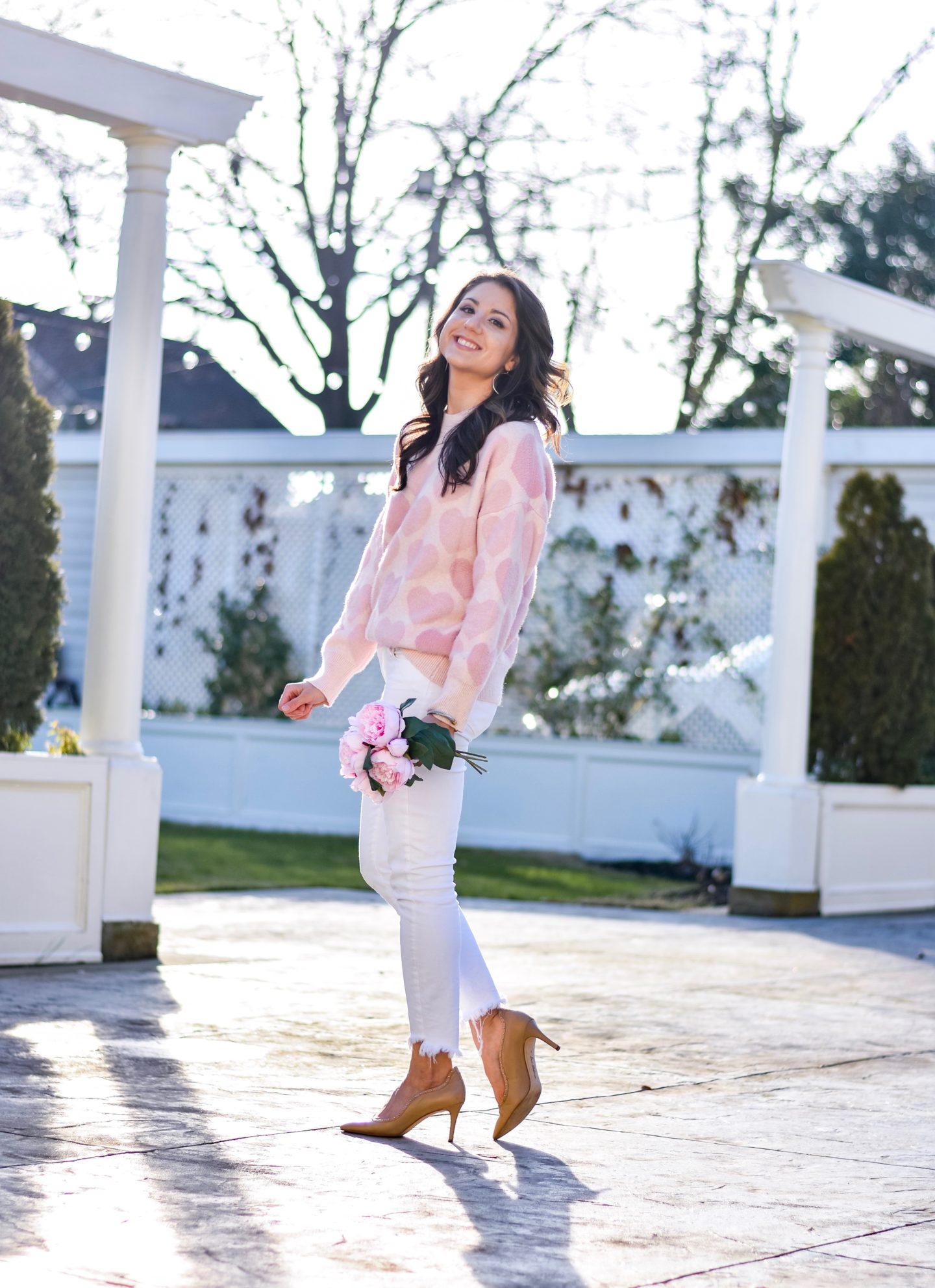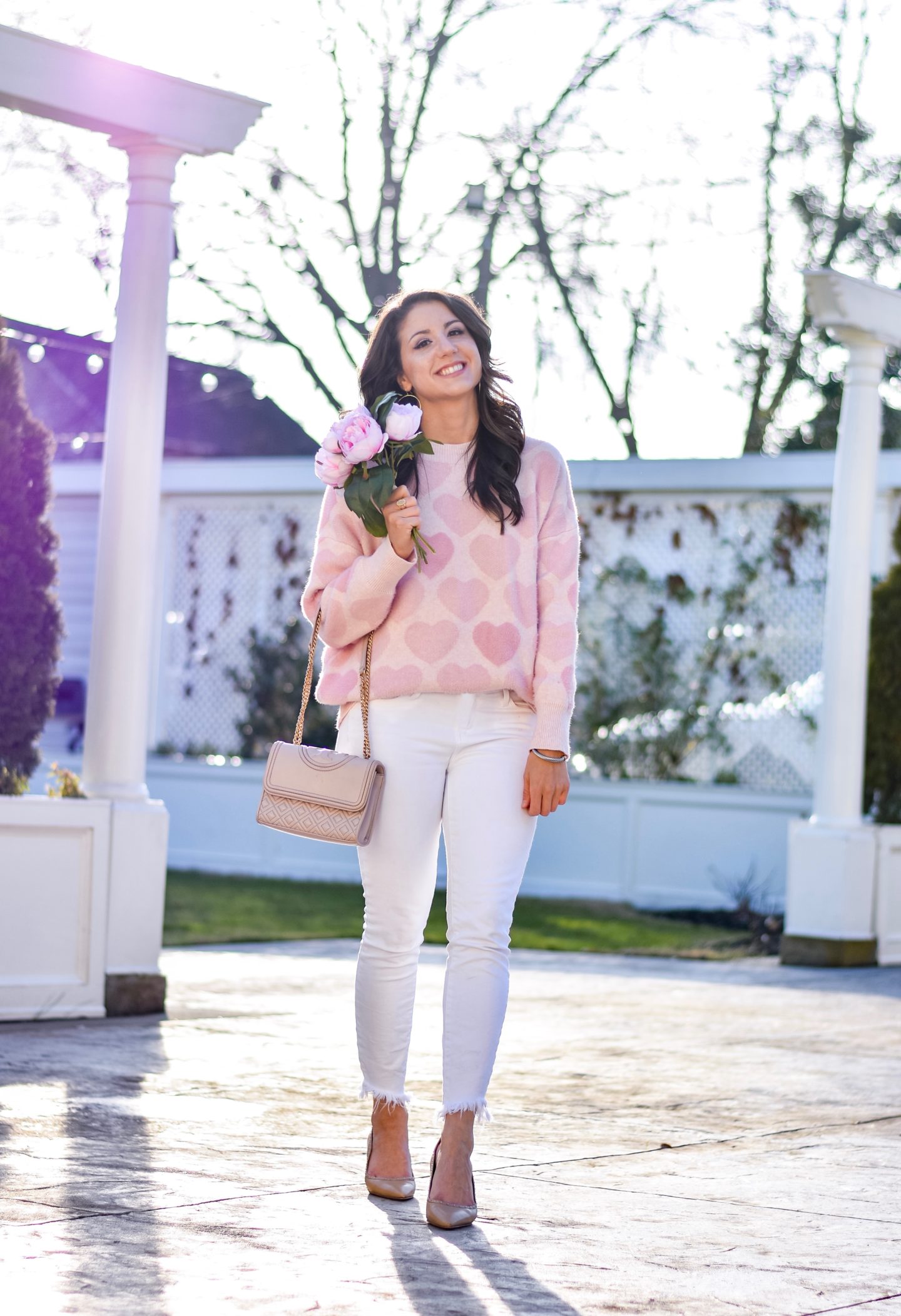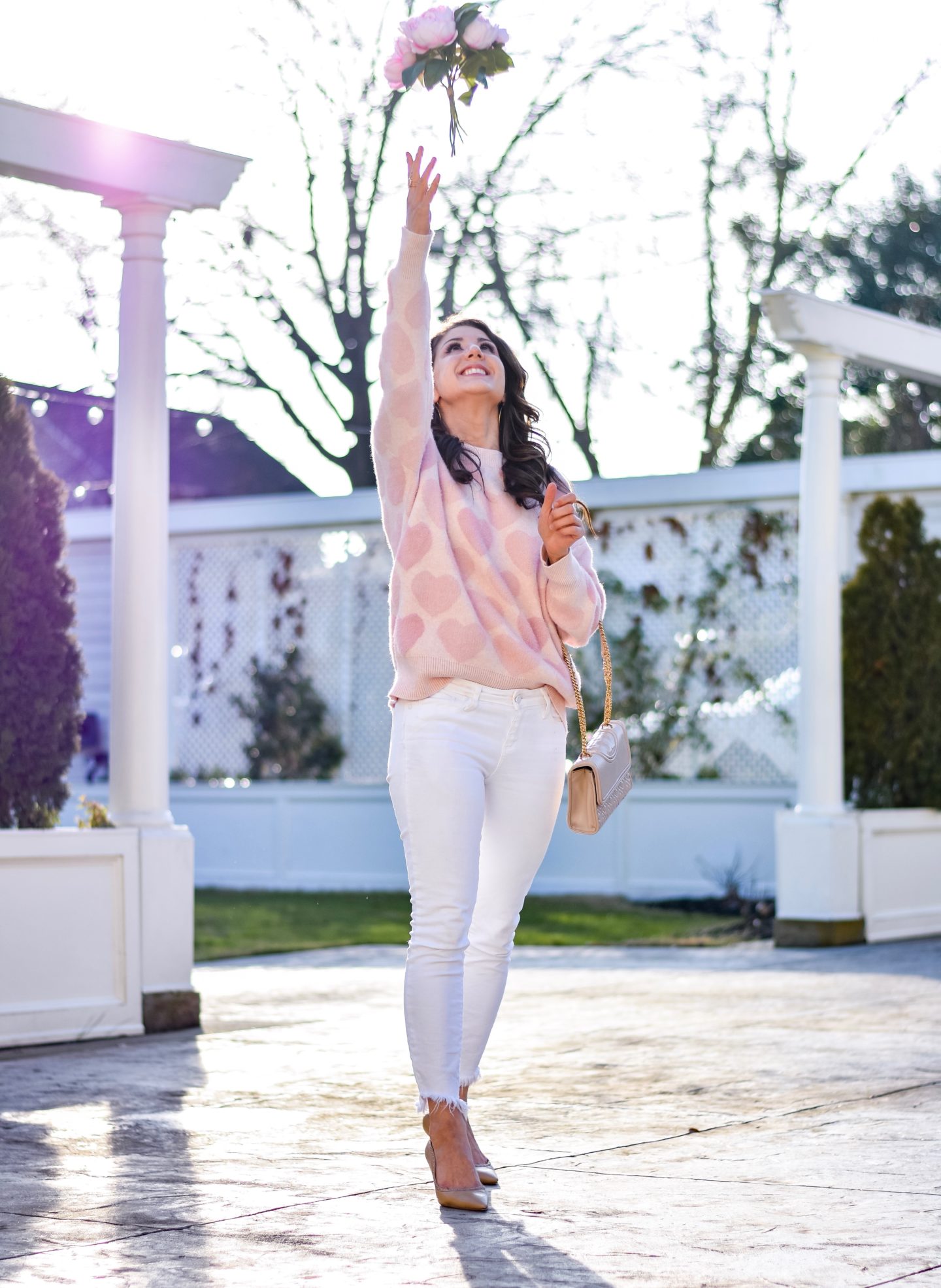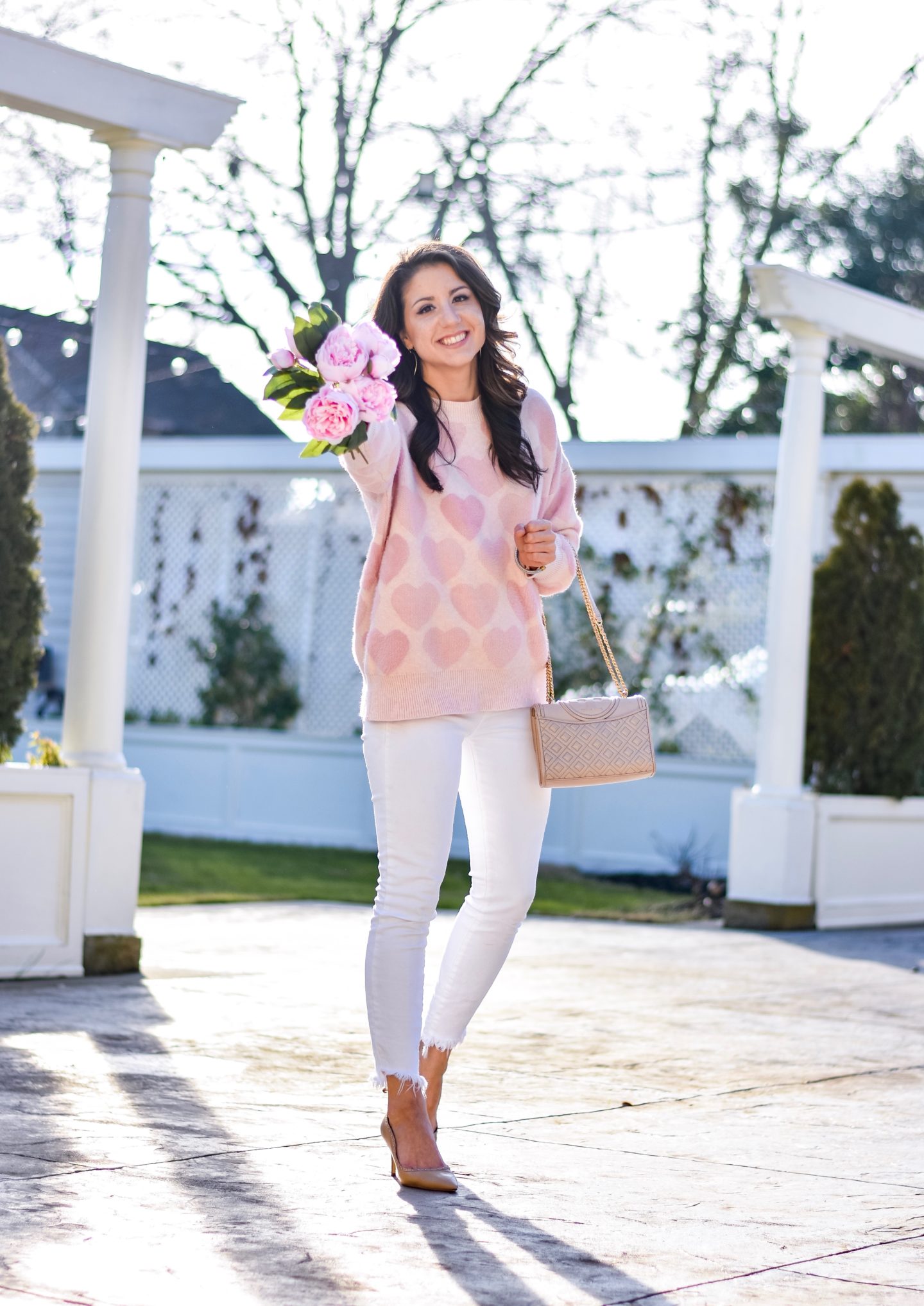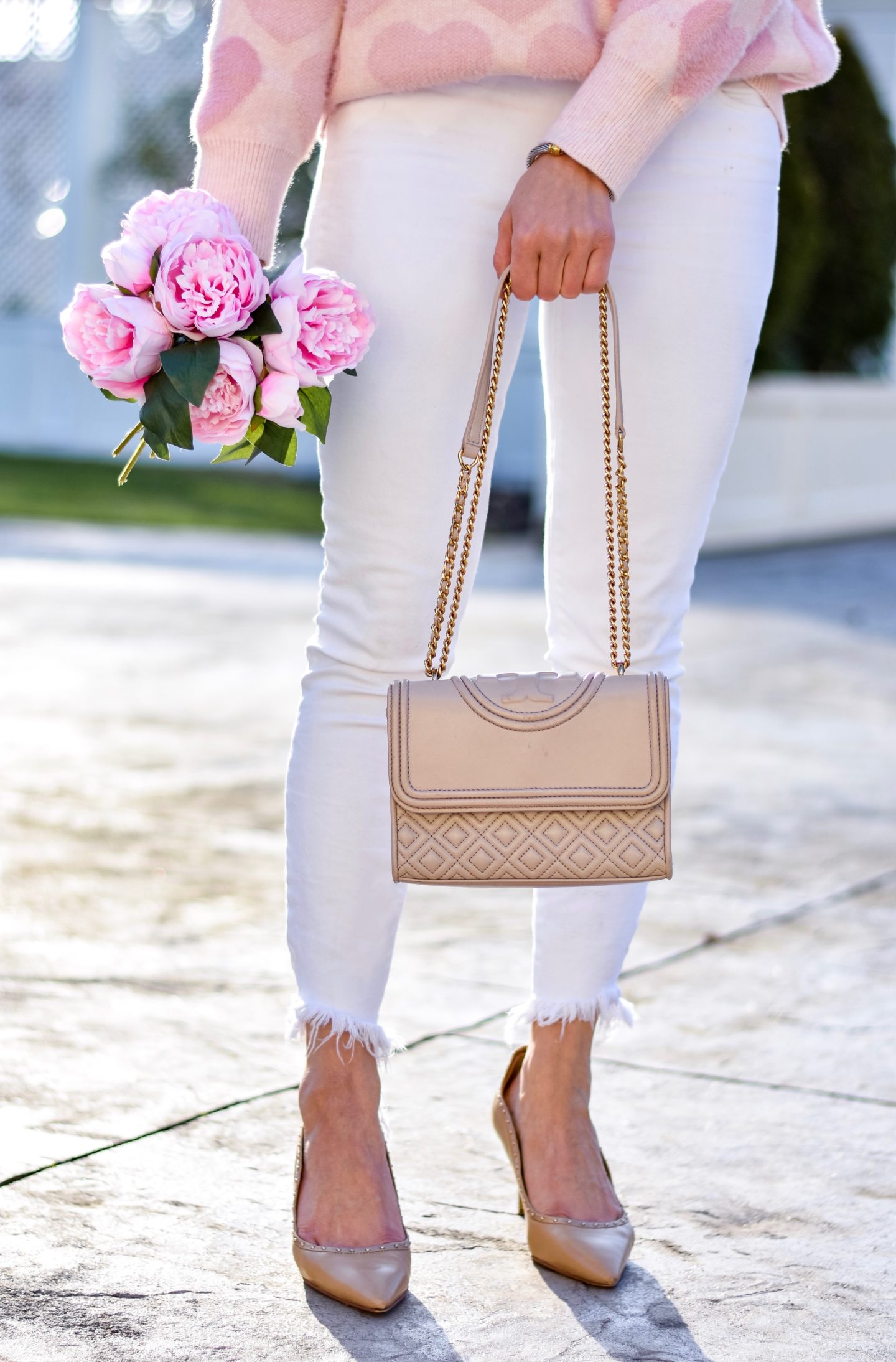 CHICWISH SWEATER // DENIM // EARRINGS // BRACELET // PUMPS (ON SALE) // HANDBAG
Valentine's is almost here.
And you can LOL, but the heart shaped chocolates flowing into my Walgreens get me all reflecting.
First, is Valentine's REALLY a holiday? I've always wondered that since we don't get the day off.
Second, do we HAVE to celebrate it? Sure Valentine's Day runs deep in pop culture, but that by itself isn't reason enough (at least to me).
Valentine's is a thousand percent optional but I always have and always will love love love celebrating it!
Why? I'm a romantic guys- such a romantic! I feel emotions strongly and wear my heart on my sleeve (wait, literally in this heart sweater).
I get excited every time a wedding invite comes and cry each time a friend walks down the aisle. I'm touched when a friend mails me a random card and my greatest happiness comes from doing something spontaneous for someone I love.
This Valentine's Day is going to be an adjustment because it will be the first in a while I'll be celebrating single. It can be a rough holiday for us single girls to go through if we don't think about it ahead of time.
After pondering Love Day 2019, it hit me:
it doesn't matter if you're single or taken. You get to make February 14th your best day of the year if you want to.
Happiness is something we choose (or don't) everyday and it comes on strongest when we give back. That's just how we're designed. When we show love to those near to our heart- our children, our parents, our siblings- and yes, our SO's, we're wired to receive joy in return. Valentine's is about celebrating love, not just of the romantic variety.
So how do I plan to fill my heart up this Valentine's?
By making Valentine's from scratch with Juliana for her kindergarten friends
By calling one of my girlfriends and offering to babysit so she and her husband can go out
By practicing a random act of thoughtfulness for someone I care about
By booking a spa day for the weekend after. Ok, ok, this one is totally for me. 😉 😉 But hey- self love is important too!
~One last thought~
Valentine's is a beautiful chance to show your loved ones you care, but don't forget the other 364 days in the year.
Love always,
Terra
Shop the Post