Hey guys!
First, sorry this post is late. I try so hard to never miss a Tuesday but Juliana came down with the croup Sunday and has been fighting it all week. We hardly slept the last few nights and poor thing had the saddest barking coughs. She's finally feeling better but her little nose is still raw and red. Some of you shared with me what helped when your kids had croup and I just wanted to say thank you. (One of you even mentioned there's a nebulizer machine I can get to avoid the ER trips…seriosuly, thank you!)
Second, Happy Halloween a day late! Did you dress up? Juliana opted to wear the same dress she's worn three of the past four Halloweens 😉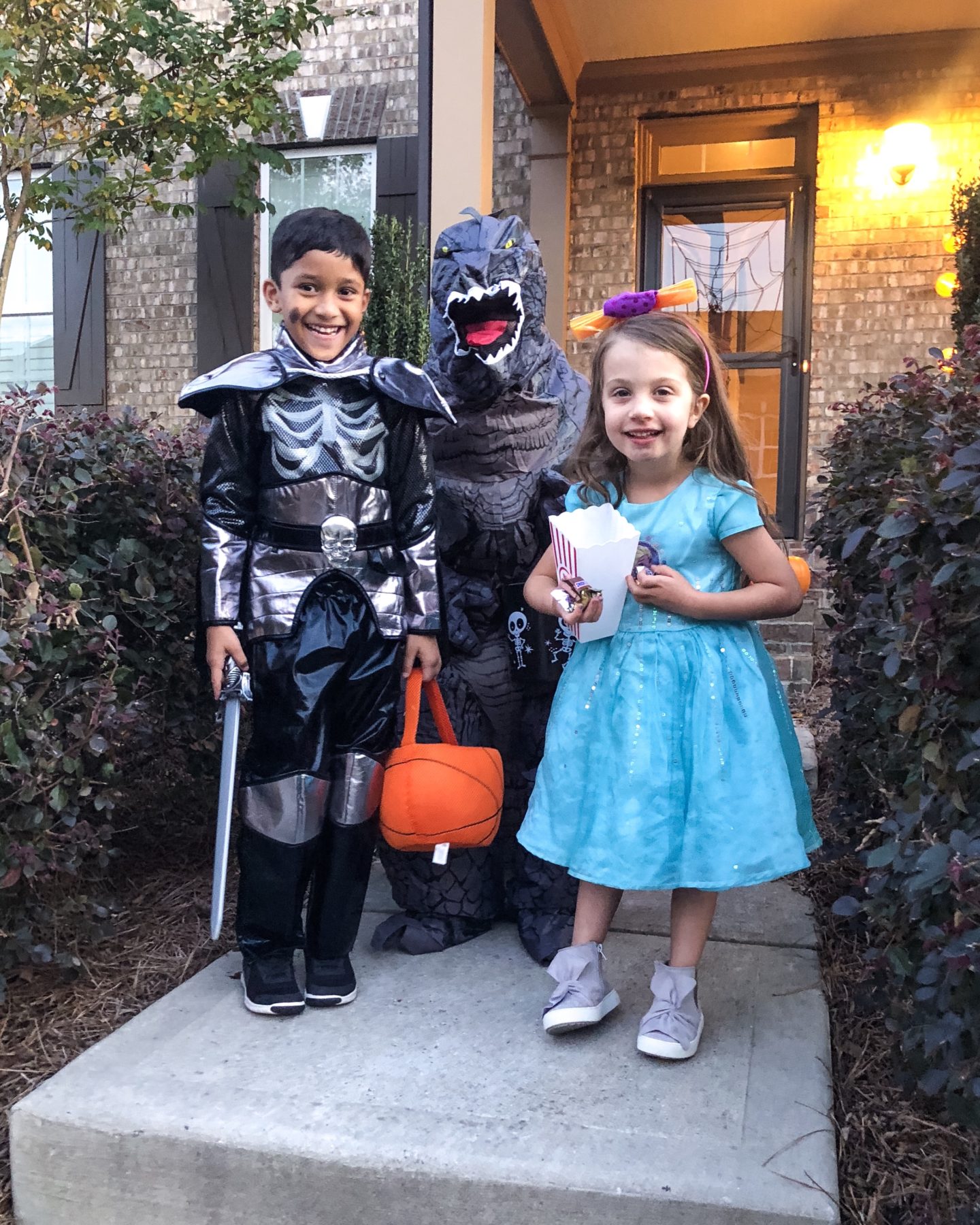 I like rounding up my outfits at the end of each month for you so I was going to do that tonight. But then I looked at my analytics and realized you guys like 'real talk' posts more than outfit ones (the one about managing anxiety was your favorite). So tonight I'm doing a fresh angle- still sharing the outfits, but dishing on what goes into each photo and my process for bringing them to you.
All right!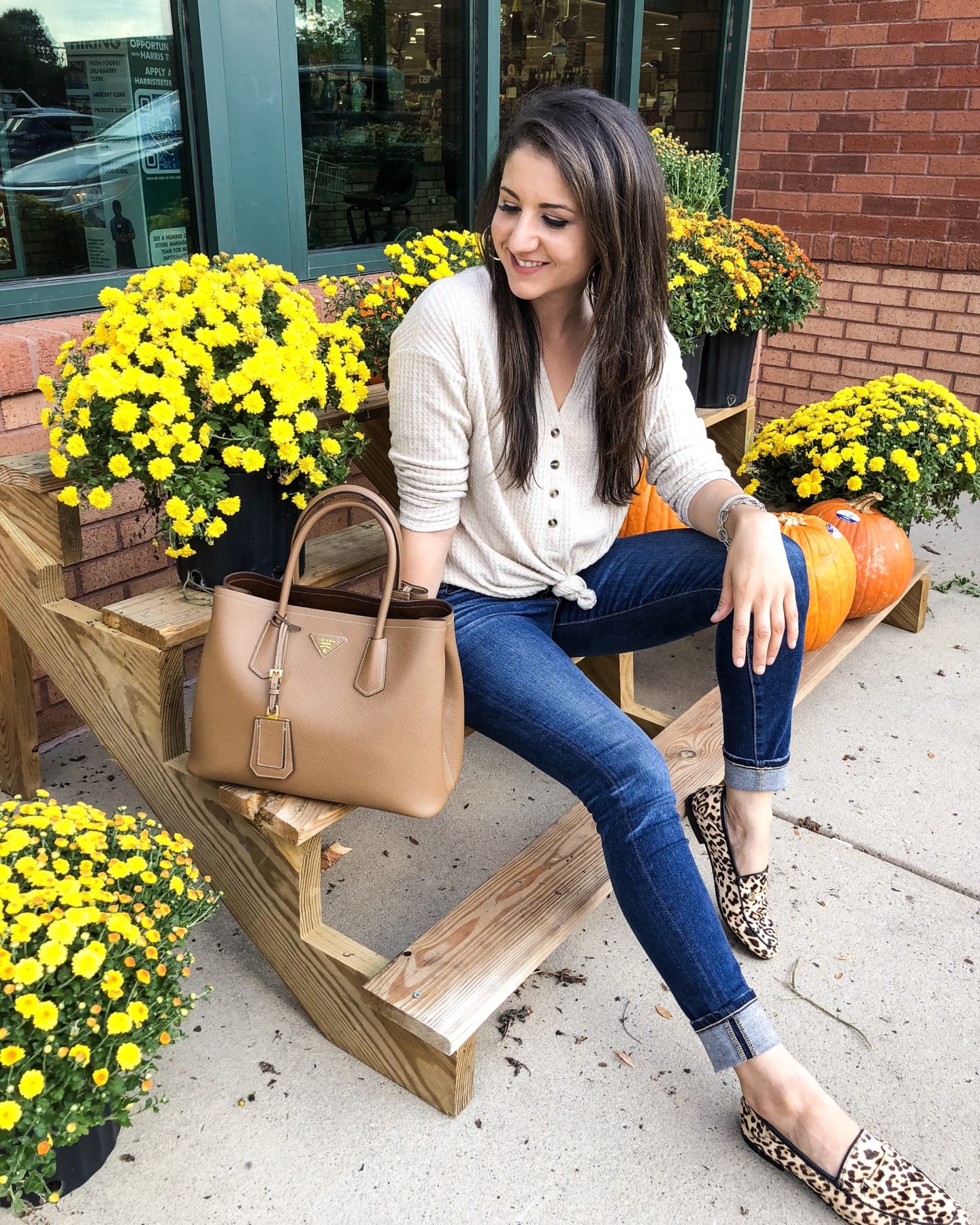 Other henleys here and here | Jeans | Loafers | Earrings
Let's start with this casual photo that was your favorite on Instagram in October. A lot of times I'll drive somewhere specific to get a photo, but this one was an exception. When I saw the mums and pumpkin display outside Harris Teeter I decided to go for it -plus I had my makeup on from the birthday party we just came from. I keep a tripod in the back of my car and a self timer app on my phone so it's easy to get a photo wherever I am.
I'll set my self timer app to take 10 photos 3 seconds apart, then try to do a different pose for each shot. I like to think about the details of the outfit and what pose shows them best but still looks natural and creates good composition. LOL it's harder than it looks, I think!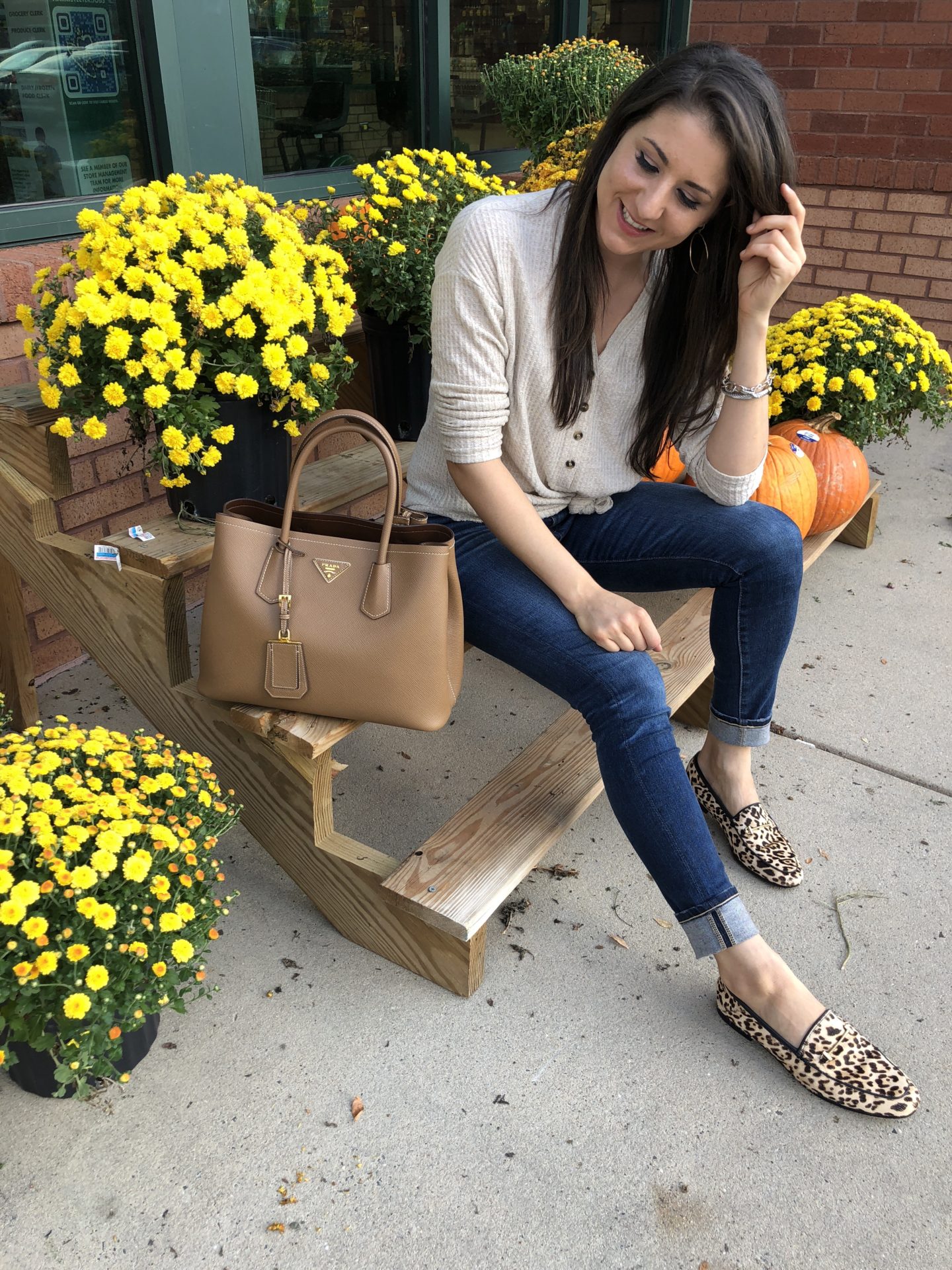 This was one of my first poses. I wanted to show the henley top off a bit better, so I realized sitting up straight did the trick: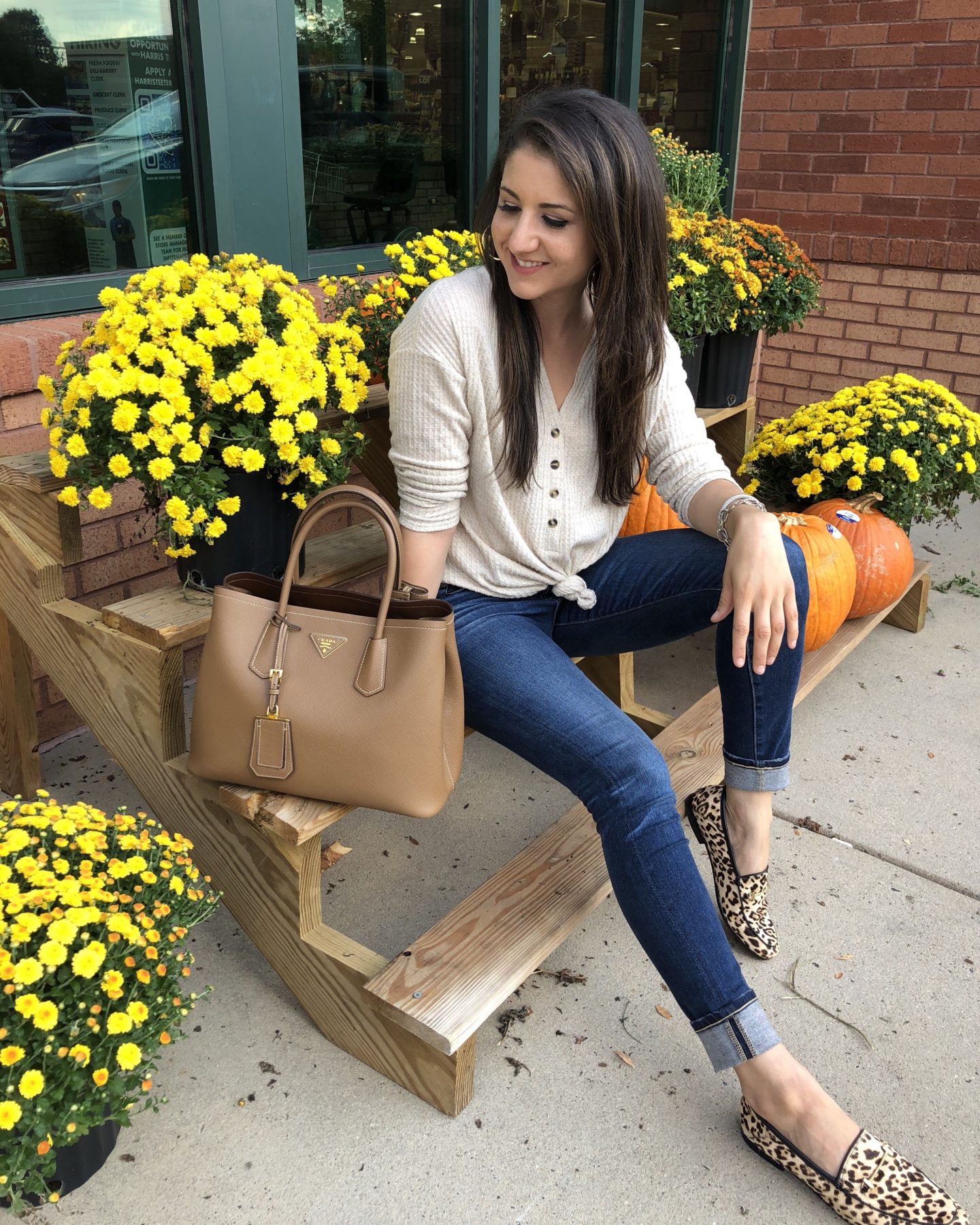 (Side note- Juliana was right by me, just out of the picture…I kept begging her to stay outside the frame because she kept trying to photo bomb. Also, I'm pretty sure the shoppers at Harris Teeter thought I was totally bizarre.)
Once I had the picture above, I uploaded it to the Lightroom mobile app and applied the simple preset I created over the Summer (I bump up brightness, saturation, whites and vibrance a little and decrease the warmth slightly). I used to spend so much time editing my photos but these days I just apply the preset, make small adjustments if needed and go with it. Heavily edited photos are popular on Instagram but I prefer mine to look as true to life as possible.
Every now and then getting a photo is really quick. The one below I randomly took one Friday with no intention to share then thought, what the heck. Normally off the cuff photos don't come out well but this one I loved and decided to share.
Scarf ($19 and a favorite Fall find) | Jeans | Tee (similar) | Booties (40% off)
For every item I end up loving and sharing with you, there are several others that don't work out. Take the scarf below, for instance. I loved it but it but the scarf I ordered along with it was a 100% no go.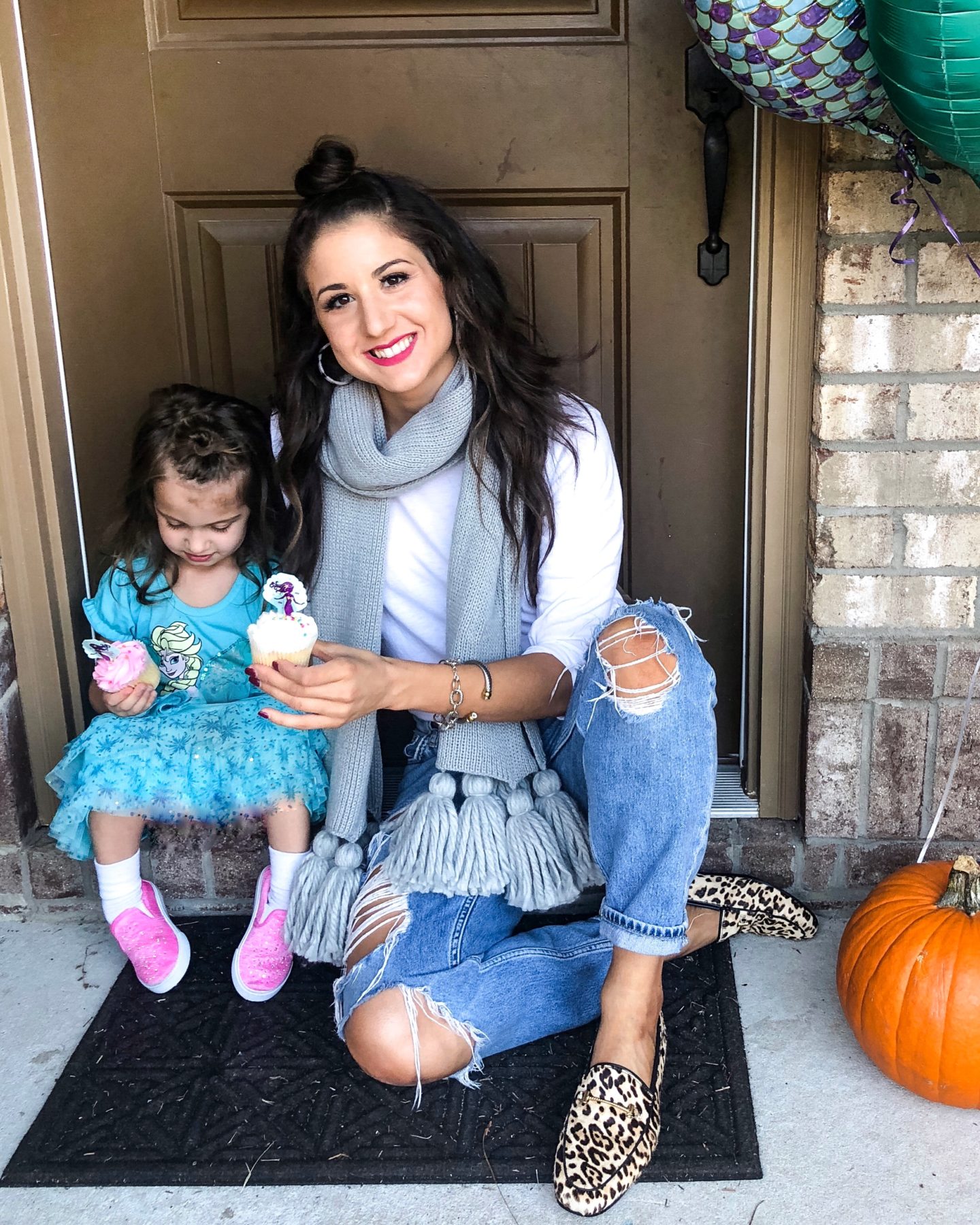 Scarf | Jeans (similar) | Long sleeve tee | Loafers | Earrings | Lipstick (color is All Fired Up) | Bracelets here and here
In October I shared a lot of in-the-moment, iPhone pictures on Social but in September it was mostly styled shoots. I really love both for different reasons and I noticed you guys do too. As I shared here, I love styled shoots because they are a beautiful escape from reality. But I also love more candid photos because they're closer to my actual life and better reflect what I'm doing, where I'm going, etc.
If you have a chance leave a comment below and let me know which you prefer. And as always, thank you for stopping by!
XO,
Terra
Shop the Post