I still remember the first time I visited Charleston. It was an off-the-cuff trip in early 2015.
The Georgian homes and cobblestone streets hit me hard- and that was before we tried the food. I was drawn to the architecture and cuisine, but as I kept going back I got to know Charleston's true culture and history as well. Some of Charleston's past is dark, but the city was also first to pass laws on religious tolerance and gave birth to many early activists for racial equality and civil rights.
Last week I learned Charleston is now the #1 tourist destination in the United States. Can you believe?! It's also the #1 destination for weddings (move over Vegas…who would have guessed?) Every time I visit I get messages from you guys asking me what to do, where to eat, etc. so I tonight I'm teaming up with the City of Charleston to share ALL my favorites spots with you in one post!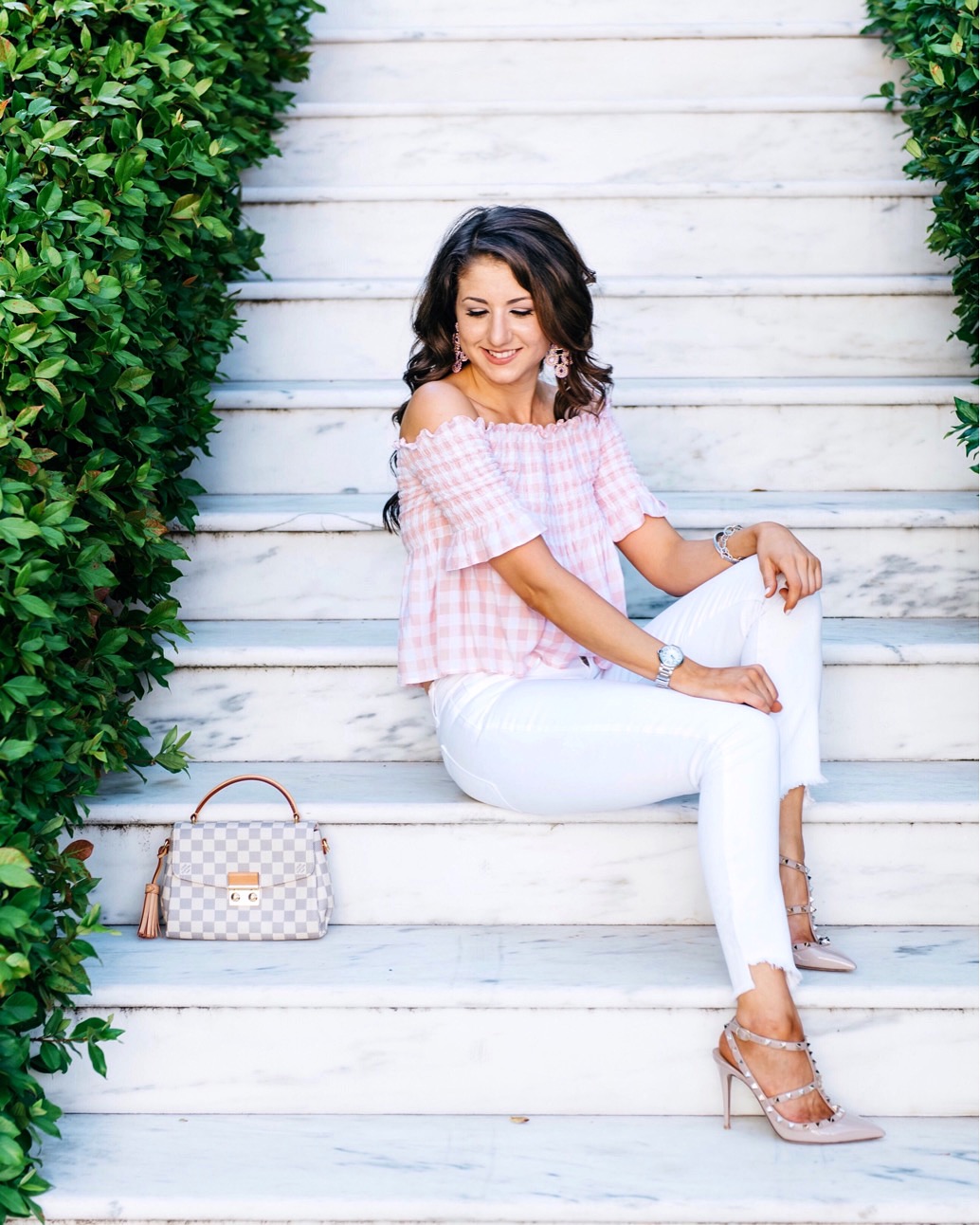 Top // Raw Hem White Jeans // Earrings- Lisi Lerch // Heels – Valentino; similar here and here
What to Do in Charleston, SC
1. Explore Historic Charleston On Foot
Historic Charleston isn't too big, which makes it a really walkable city. One of my favorite things is to park and get lost on foot. I realized this past weekend that's how I've discovered almost all of my favorite restaurants and stores. I love to park in the garage at 69 Wentworth Street because it's an easy walk to everything including King Street stopping, The Battery, Rainbow Row, Meeting Street, and Chalmers.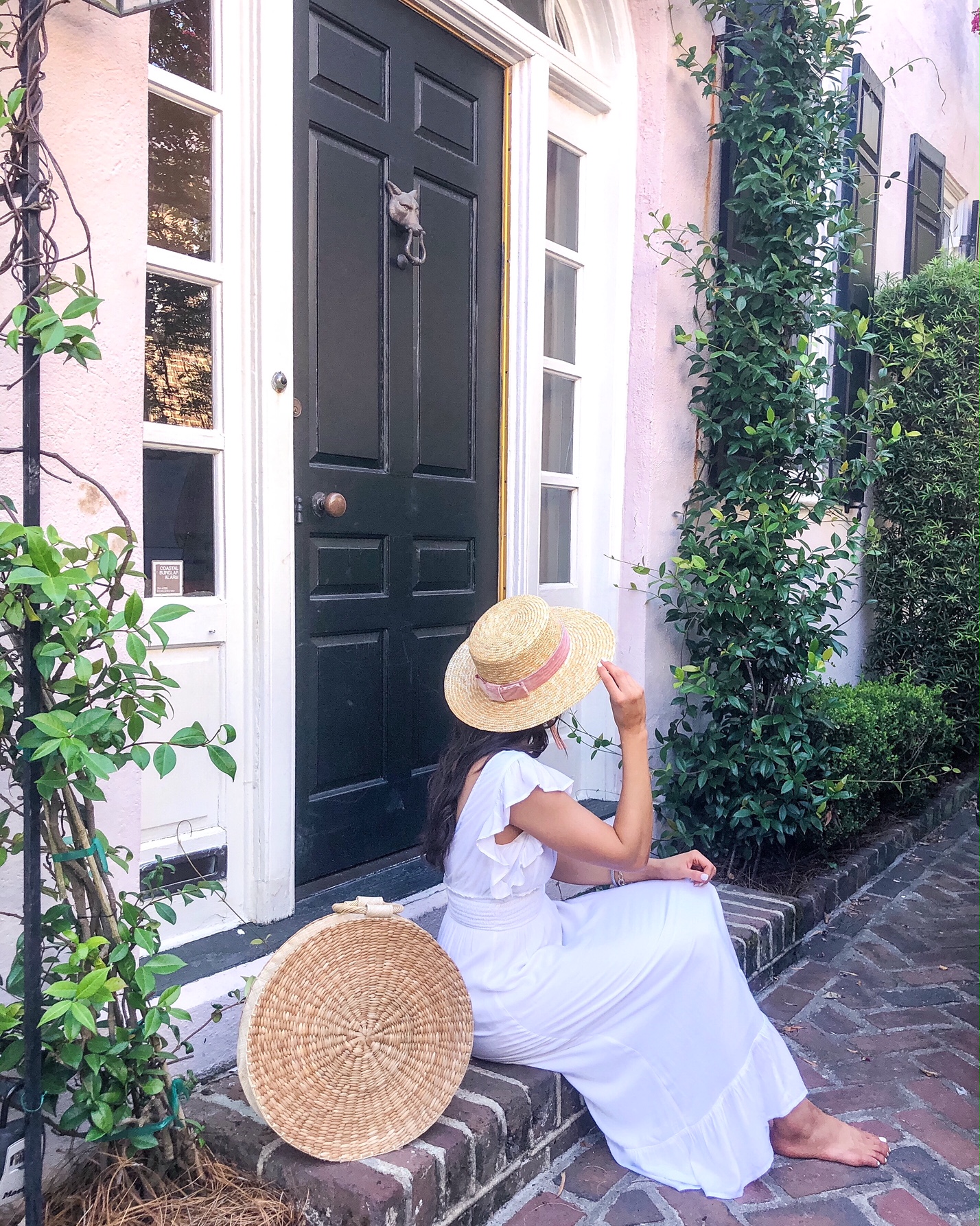 Dress (under $50) // Circular Tote // Straw Hat // Earrings (on sale)
2. Take a Carriage Ride
I know this one is cliche! But here's why I love it: eventually your legs get tired of walking and it's the perfect way to relax and finish up a tour of the city. There are five carriage companies in Charleston (I feel like there's a horse drawn carriage at every block!) but Old South is my favorite- it's crazy how much their drivers know about Charleston's history.
Tip: Old South has 5 or so different routes through the city. My personal favorite is the one down by The Battery and East Bay Street/Rainbow Row. The prettiest antebellum homes are in this area by the ocean and the most intriguing history took place there too, so if you're booking ahead I recommend asking for this route.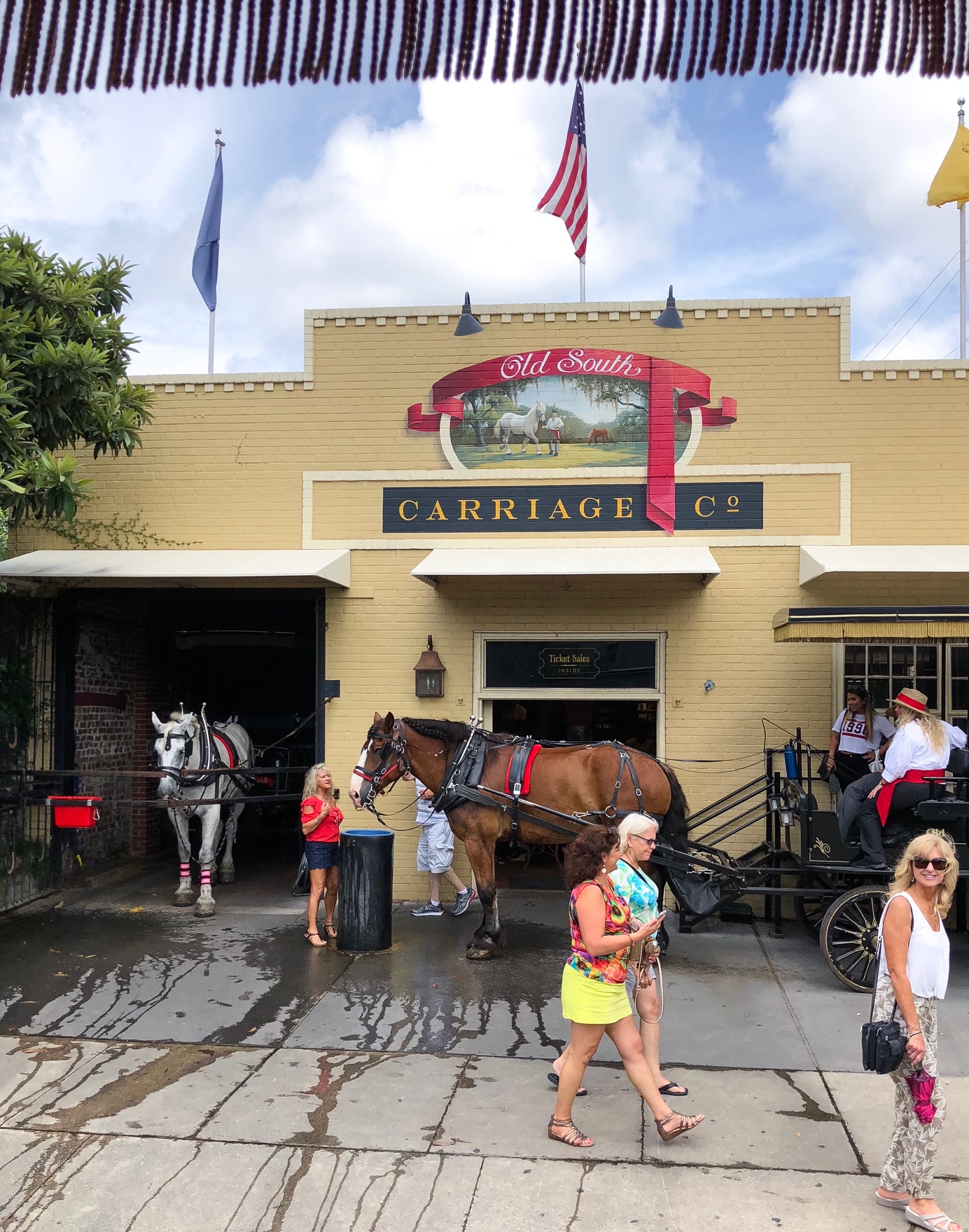 3. Hit the Beach
Of the beaches I've been to here in the south, the ones by Charleston are my favorite. There's such a great variety- from the quiet, undeveloped ones like Isle of Palms to busy spots like Folly. Our favorite is definitely Folly- it definitely has the prettiest sunset I've seen in Charleston! Juliana and I love it too because of the boardwalk and restaurant options across the street in downtown Folly. It's an adorable little beach town and only 30 minutes from historic Charleston.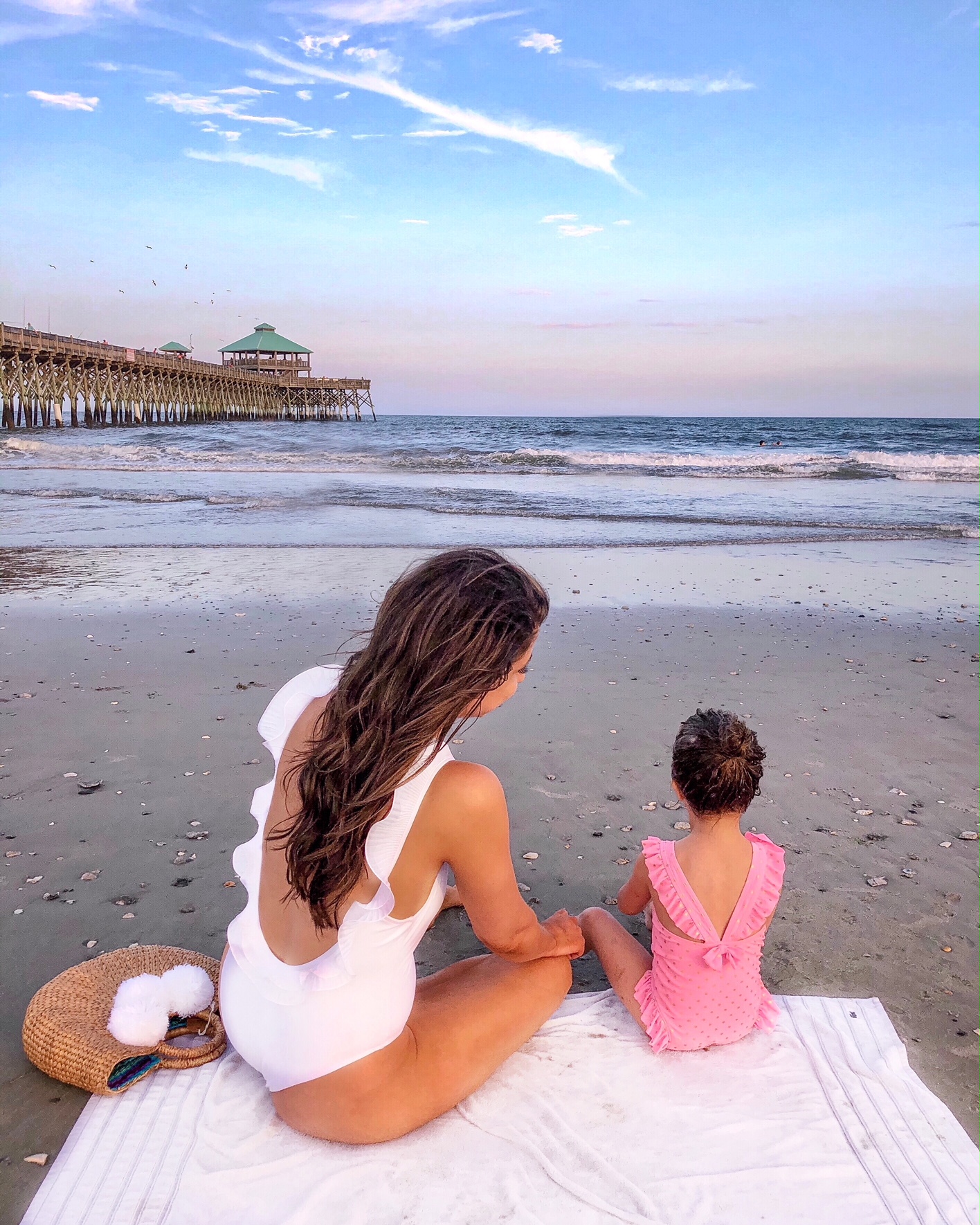 On me: Suit // Straw Tote (similar for less here)
On Juliana: Suit
4. Indulge in the food

There are SO many good places to eat in Charleston you really can't go wrong. A few of the best known are Magnolias, High Cotton, Hominy Grill, Poogan's Porch (for brunch) and Jestine's. These will probably turn up in a quick 'where to eat in Charleston' search (they're amazing), but one of my favorite lesser known places is Blind Tiger Pub. If you have a sweet tooth, check out Glazed for gourmet doughnuts and Sugar Bake Shop for the best cupcakes. A great way to try lots of different places at once is by taking a food tour. Charleston is the best city to possibly do this type of thing!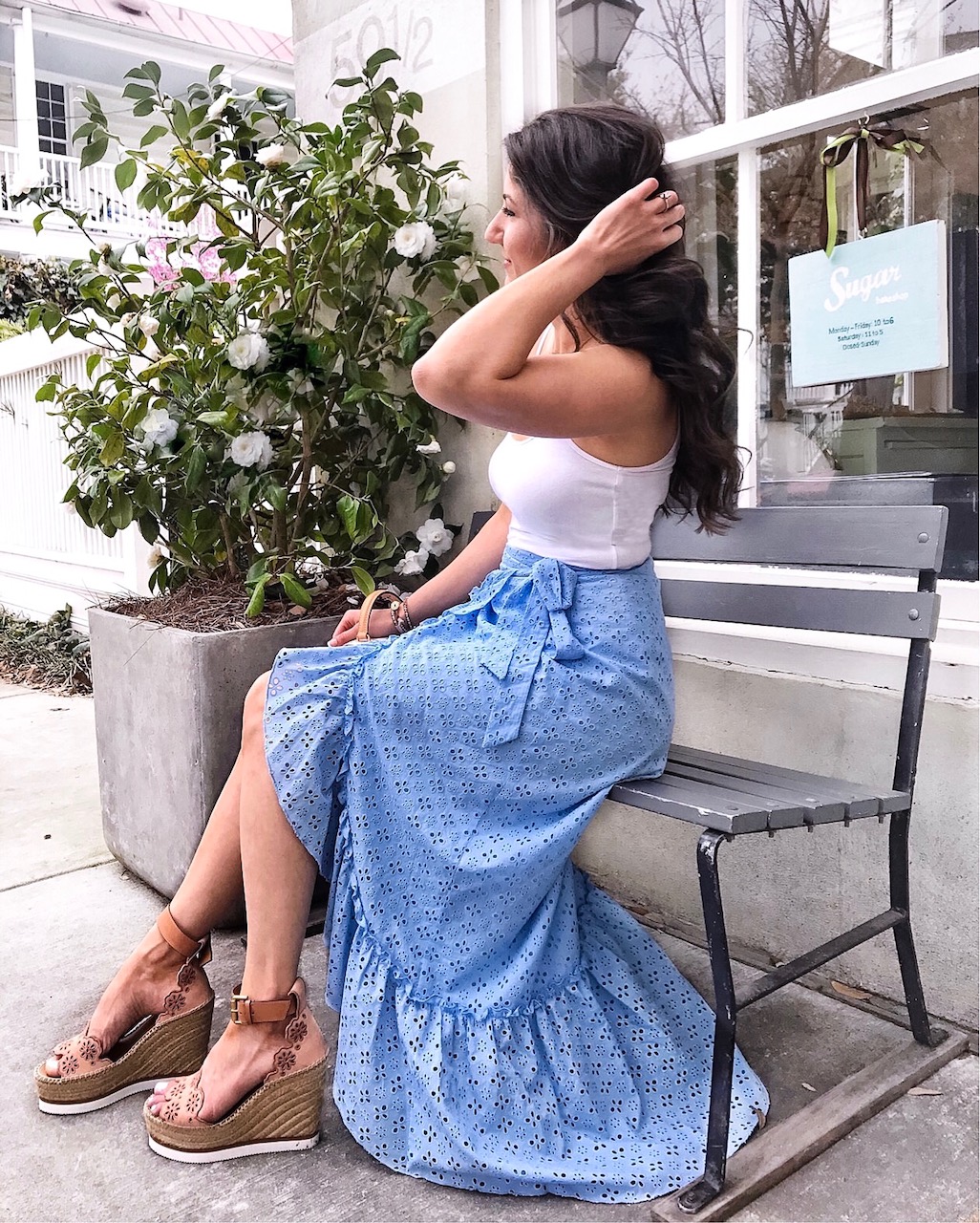 wrap skirt // espadrille wedges here and here (flat version here)
5. Take a Ghost Tour
Walking tours are popular in Charleston and if you like a little bit of a thrill this one is the best of both worlds. There are a few options if you want something more or less frightening. I learned a LOT about Charleston when we took this tour, and boy does this town have a crazy past!
Where to Get the Best Pictures in Charleston:
Charleston is so picturesque I can't even handle it! Of all the spots I've tried, these ones are pure magic:
The marble steps on Church Street between Tradd and Water Streets.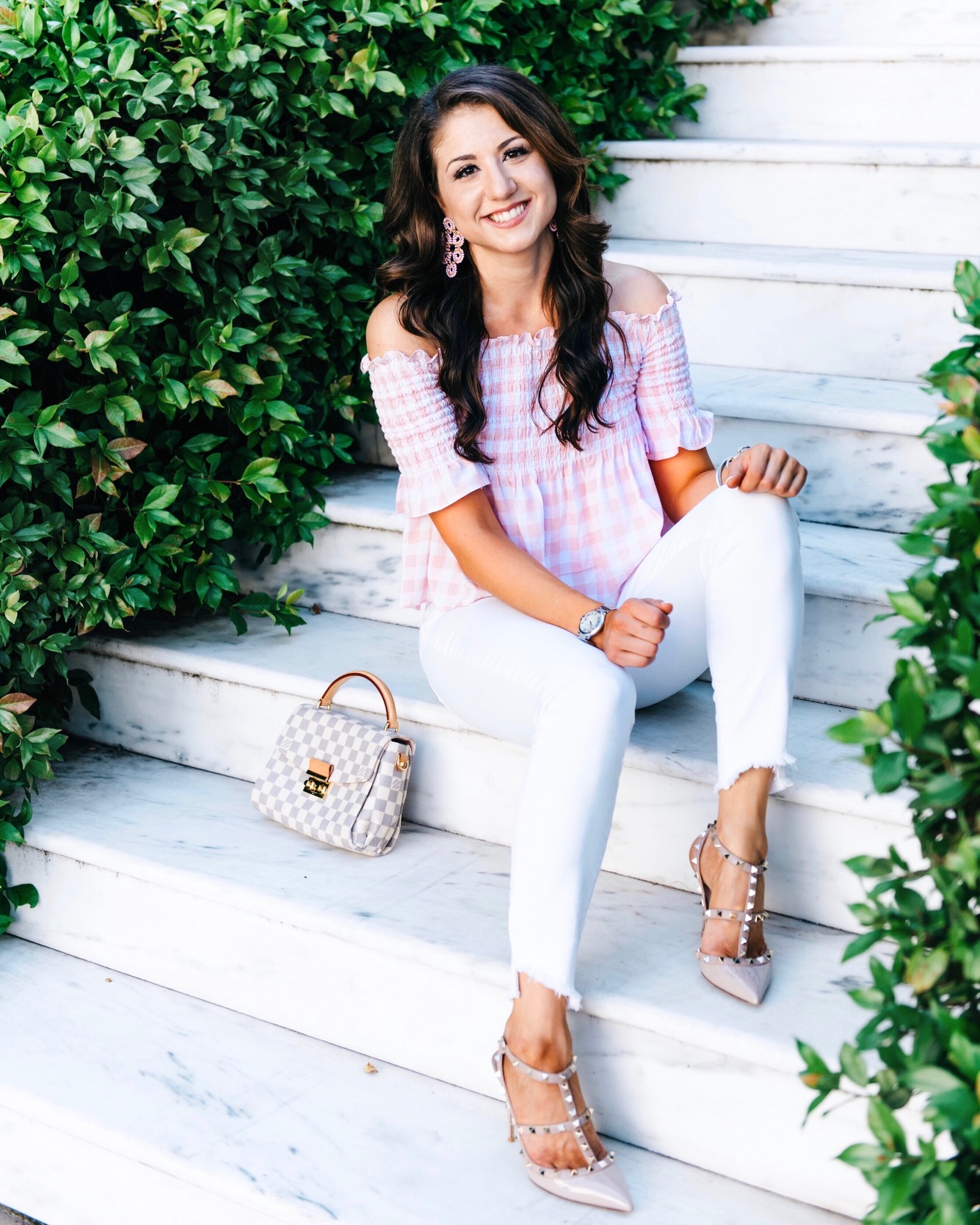 Top // Raw Hem White Jeans // Earrings- Lisi Lerch // Heels – Valentino; similar here and here
Chalmers Street– in addition to some of the prettiest homes, this one also has the best cobblestones in Charleston!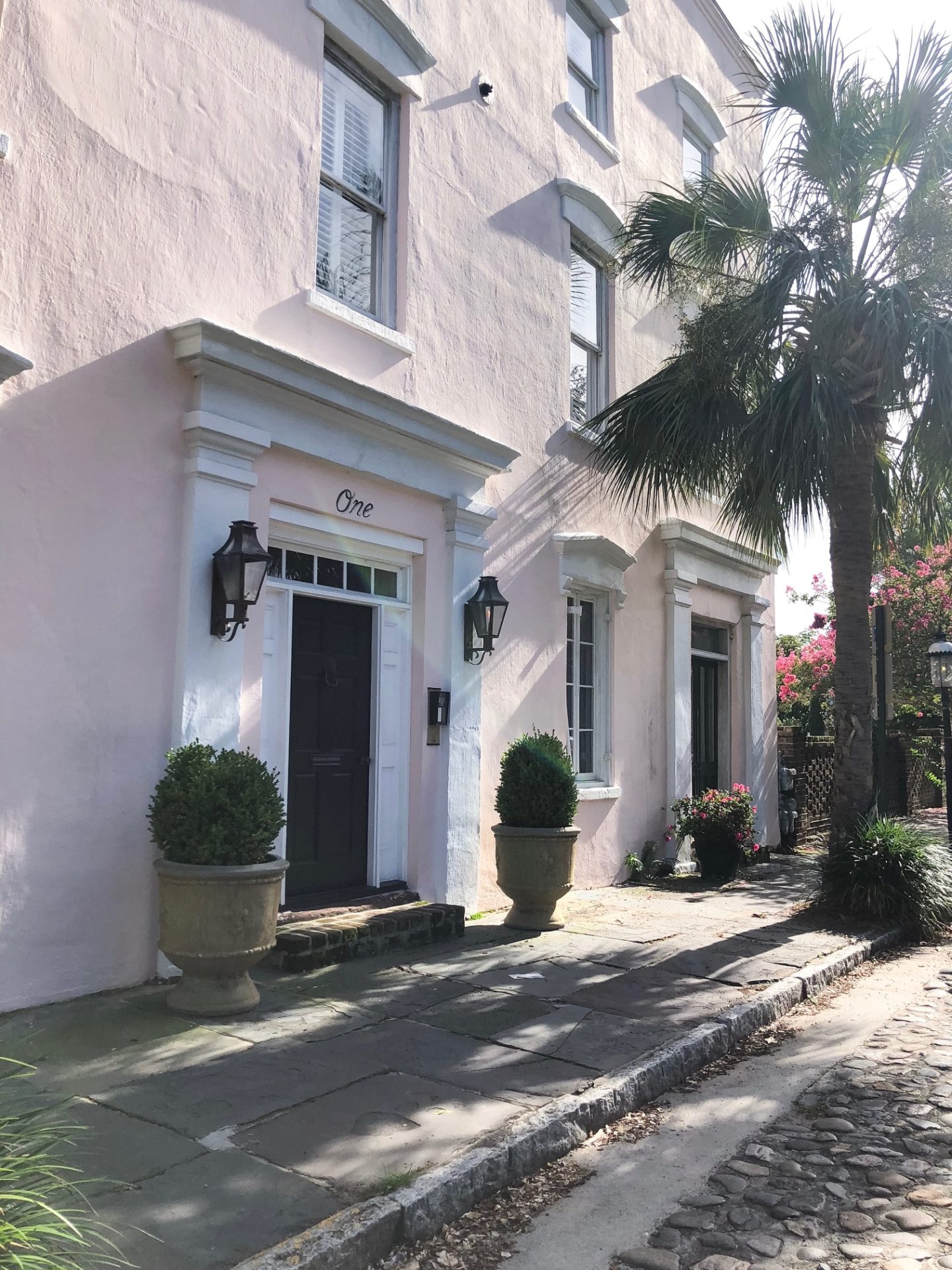 Tradd Street. Chances are you've seen pictures of Rainbow Row, the brightly painted row home on East Bay Street. There's a street perpendicular to East Bay called Tradd Street. I've always wondered why this street isn't the famous one instead. The houses are even prettier and it's got that quiet, sleepy neighborhood feel Rainbow Row doesn't have.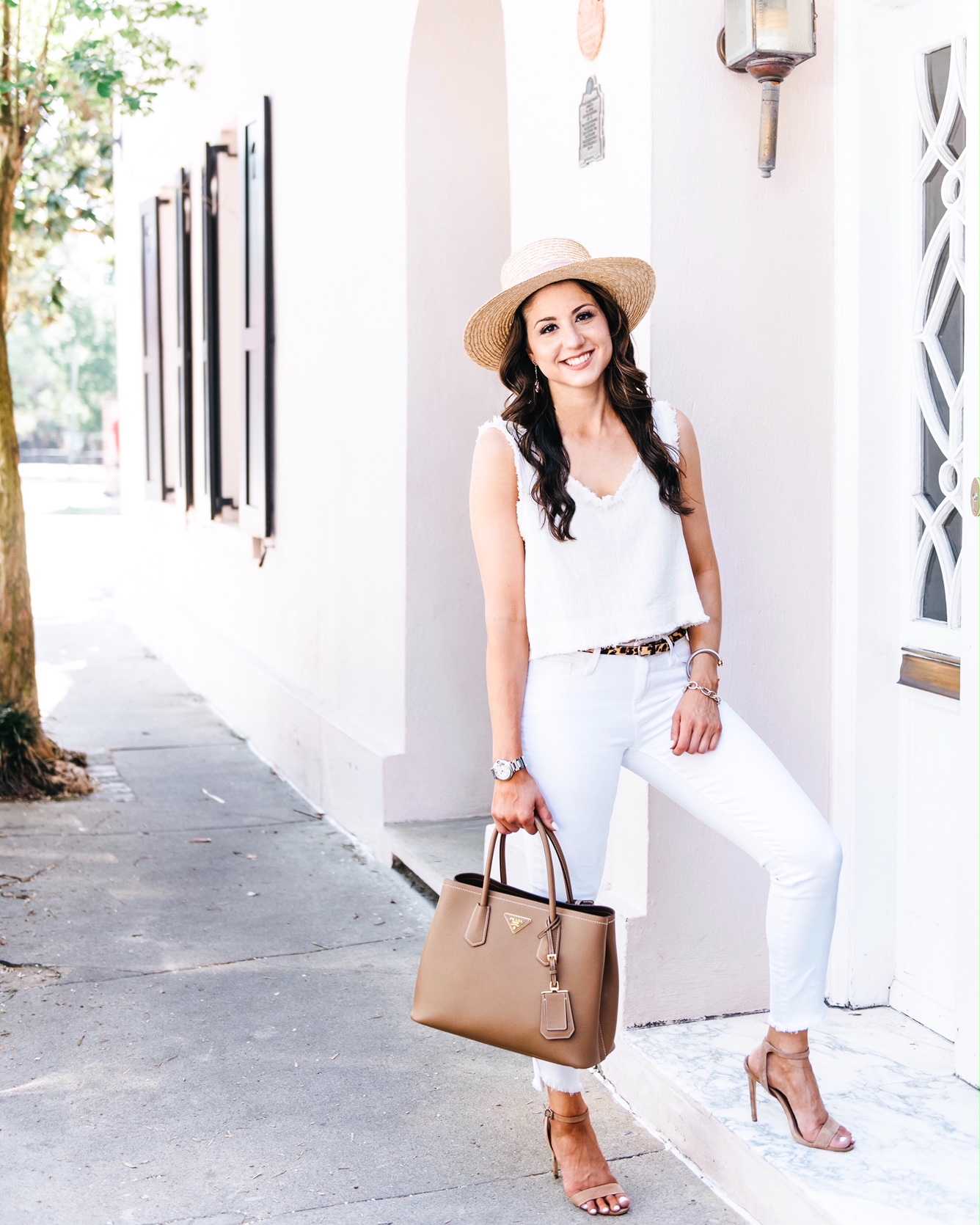 Linen Top // Raw Hem White Jeans // Sandals // Leopard Print Belt // Straw Hat // Bag (Similar) // Bracelets here and here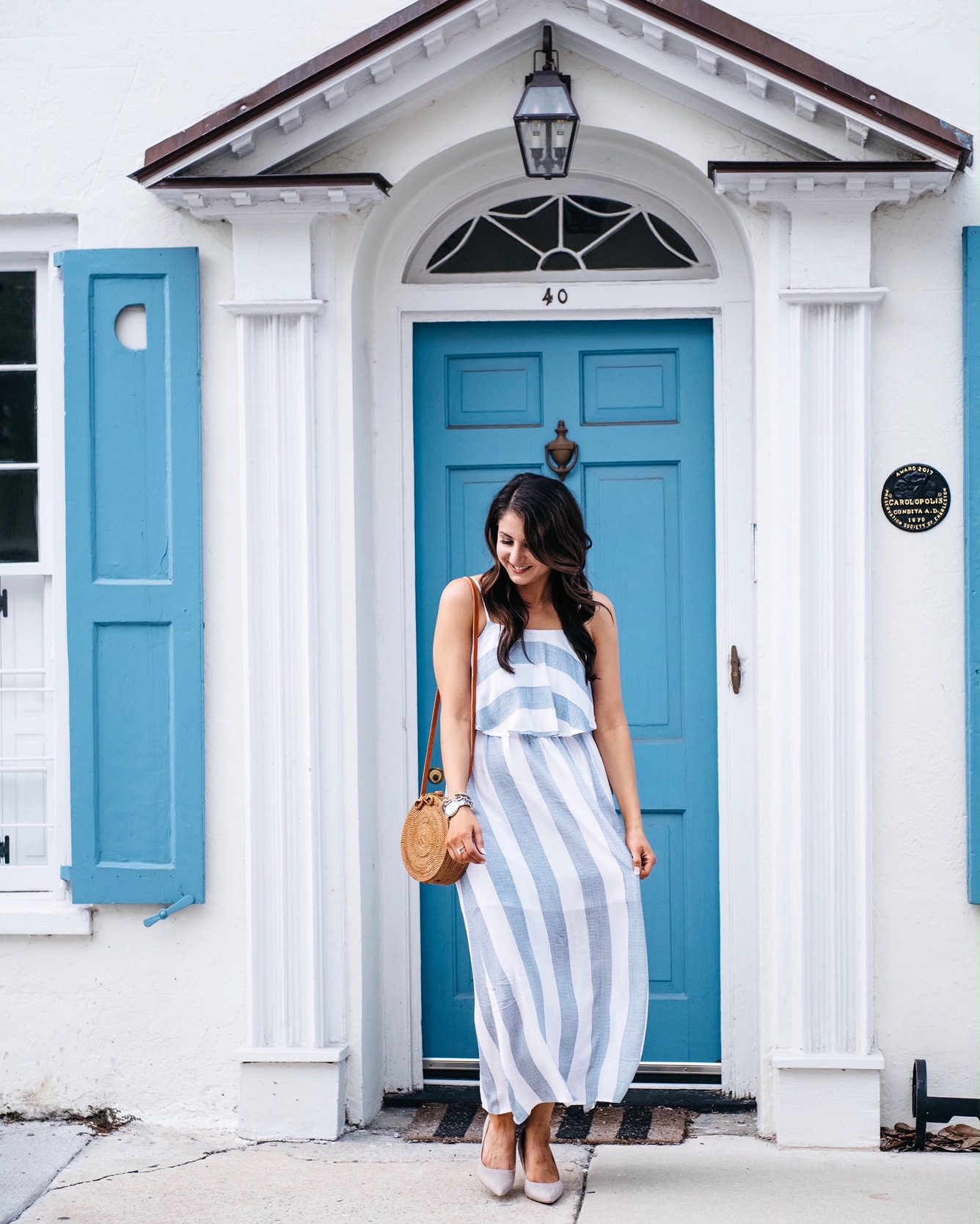 Dress by Vici Dolls
Meeting Street Inn. This is one of the prettiest hotels in Charleston (for me it's a tie with Two Meeting Street) It's a really pretty pink and has some of the best lighting, especially during the golden hour.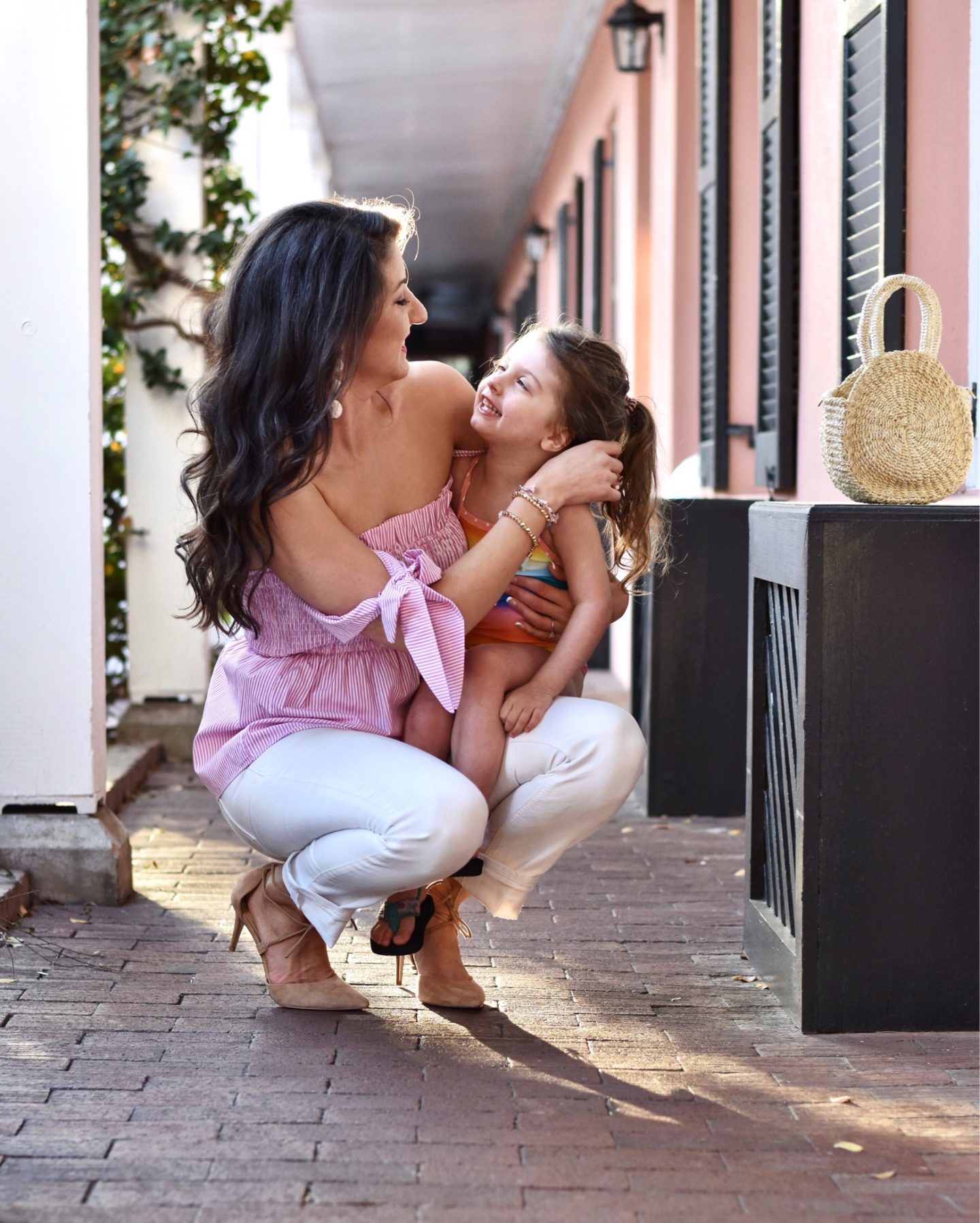 The Rise Coffee Bar. If you want a really good coffee and an equally pretty picture of your #coffeeart against the perfect marble slab, then this is the place to go.
There's so much to do in Charleston I could go on and on, but this is already longer than I meant for it to be. Feel free to send me an email (fifteenminutestoflawless@gmail.com) or message on Instagram anytime if you're visiting or planning to visit and have any questions on where to go or what to do in Charleston!
XO,
Terra
Shop the Post
A huge shoutout to the City of Charleston for sponsoring this post!