Some good friends got married the other week and a few months back my friend's mom asked me to help her find a dress (I always get SO excited when you guys reach out like this!). Anyway, as the Mother of the Groom her dress was specific but it got me thinking about what to wear to a Winter wedding and I thought this could be a fun topic to share.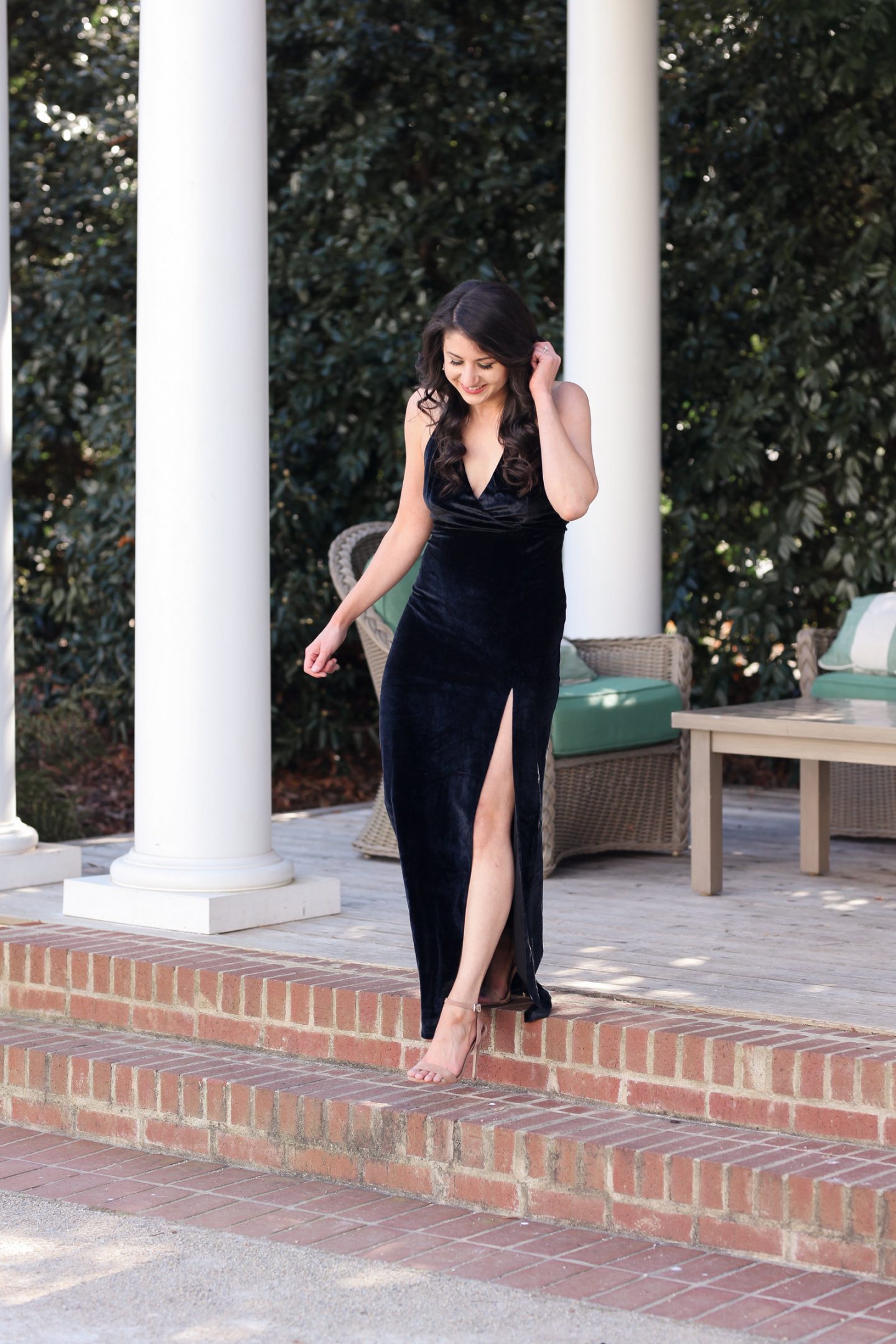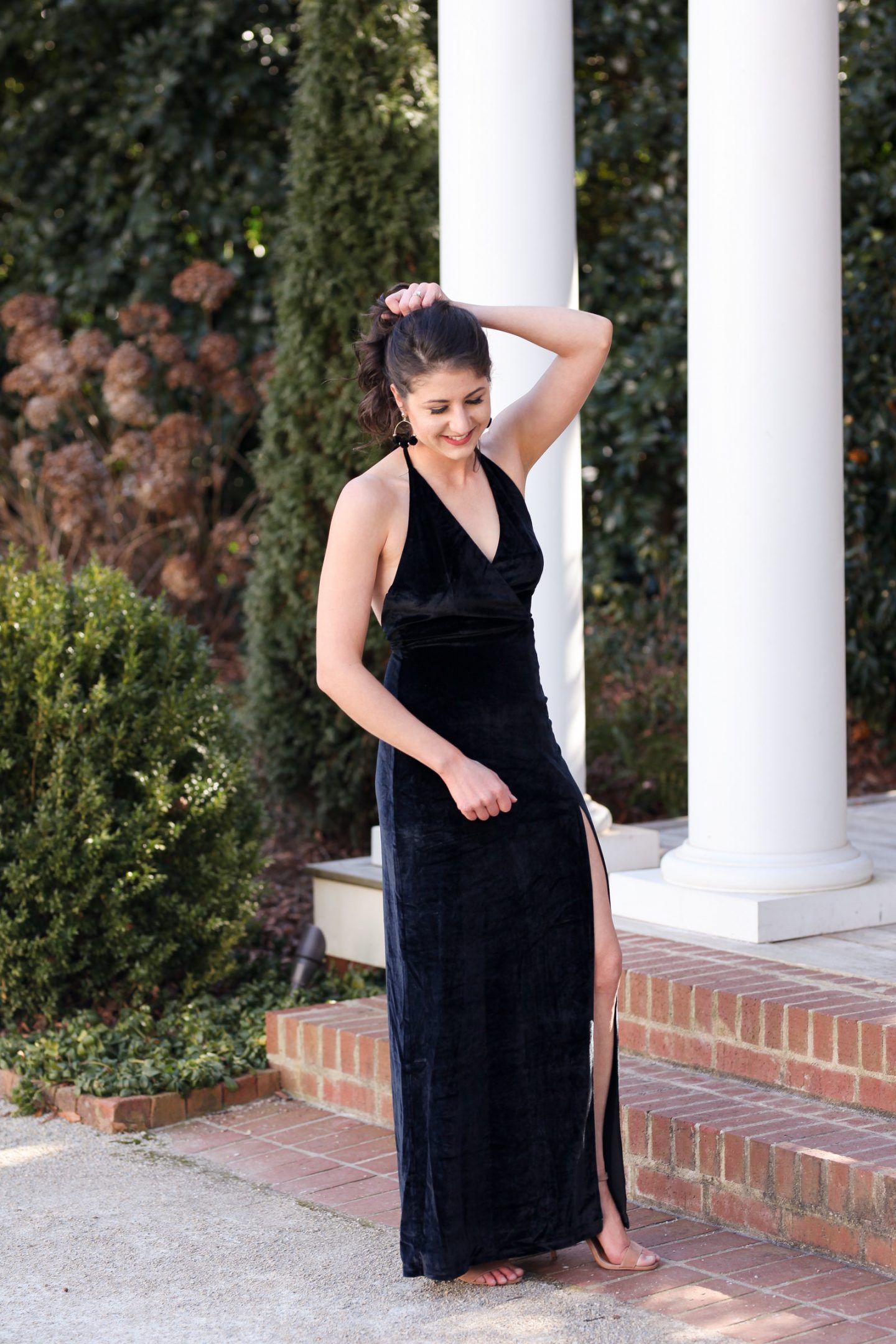 This velvet dress stole my heart when I saw it on Shop Tobi. Velvet might be the biggest trend this Winter and while it's on everything from sweatpants to sneakers I've always thought it looks best on dressy pieces. The first thing you might notice about this dress is the color. Funny story, but until two years ago I had no idea whether black was ok to wear to a wedding. I was going to a Winter wedding and the only "dressy" dress I had in my closet was black, so I asked some friends and then Pinterest and Google. Contrary to what I thought, most of what I got back said it's totally acceptable to wear black to a Winter wedding. Who would have thought!
Here are a few other do's and don'ts for Winter wedding attire:
Do:
Pay attention to the dress code. I've found that some brides and grooms can be very particular about this while others are much more lax. If dress code is specified on the wedding invite materials, this is a strong indication it's a more formal event.
Accessorize with fur/faux fur. Not only does fur give off a luxe vibe, it can also be incredibly warm. Next time you get an invite to a Winter wedding, consider a fur coat, cape, or even muff.
Go for jewel tones. While black is universally flattering, jewel tones are also a great option. I've always found jewel tones to be flattering, particularly on more fitted dresses- plus they're on trend every Winter.
Don't:
Wear white. Y'all probably know this one and it definitely applies year round. 🙂
Show too much skin. Sheer dresses and cocktail dresses aren't a good idea, nor is anything too low cut. Beyond this, a lot depends on the venue and wedding party itself and it's always best to err on the side of caution. Depending on the wedding, I might sew the side slit and neckline of this velvet dress just a little.
If you have any questions on what to wear to a wedding or need help finding the right dress, feel free to email me anytime (fifteenminutestoflawless@gmail.com) :).
…And on a totally different note, I hope y'all don't mind me bearing my soul a little with you tonight.
To be honest the first two weeks of 2018 have been tough and yesterday was a struggle to stay positive. Since the start of the new year, I have felt pulled in all directions, totally overwhelmed and like I'm failing at everything. Feeling overwhelmed has been a pretty common thing for me since becoming a mom and starting FMF, but with stepping into a new job at Turkey Hill and moving this month it feels like life out of control.
I'm so thankful for Juliana, my day job and blog but lately it feels Iike I'm failing ALL of them for so many reasons. To top it off, when I was feeling this way yesterday I went on Instagram Stories and all these amazing lives flashed before me—one girl was visiting Hawaii, another was sharing her gorgeous new master closest and a third was finishing dinner at a famous sushi place. Maybe it should have inspired me but it just left me feeling even more down. When I started thinking about it though I realized these girls have ups and downs like you or me and this isn't really their life, it is their highlight reel. And while it made me feel like crap, they aren't doing it for that reason- they're sharing the "good stuff" since it's what people want to see.
Maybe it is…but what if it isn't? To be honest, I didn't want to see it because of how it made me feel.
Realizing that made me think about what I share with you gals and what affect it could possibly have. I always want you to leave Fifteen Minutes to Flawless feeling inspired and better about yourself than when you first stopped by. I want to have a positive influence on your life.
My biggest fear and the last thing I ever want is for you to get down about your life or your circumstances because I'm sharing the high points of my day or week. Blogs can be beautiful and inspiring but I think it's a fine line between creating something beautiful and presenting a "perfect" life that's disconnected from reality.
As I write this, I'm on an airplane back to Charlotte from Baltimore. I'm feeling guilty I won't be home to Ridge and Juliana till late, guilty I'm not catching up on work, and still plain old overwhelmed. But what helps so much is knowing I'm coming back to a beautiful home, not because we have a sick walk in closet (we don't), but because Ridge and J will be at the door waiting.
And I know when things get crazy I need to reminder myself that in the end, that's all that truly matters. <3
XO,
Terra