Quick poll: how many of you are also beauty product junkies? 😉
Ever since I can remember I've loved to visit Sephora or Ulta and get lost trying out beauty products. After having Juliana, I started reading more about beauty products and ordering them online. Since my teenage years I've tried dozens of brands and hundreds of products, but of all the ones I try each year there are just a couple that make me go "wow!"
I used to wonder if I was a little "dense" when it came to beauty products…I'd get a mascara that promised "3x the volume" or a foundation that claimed to stay put for 18 hours and when the claims fell flat I always wondered if it was me. Maybe I didn't apply the mascara properly? Does my foundation not cover 5 hours later because I didn't prime right? But I found over time it wasn't me: some beauty products work and others don't- and this applies to almost every brand I've ever tried.
Over the last few months I've added a few more products to my "holy grail" list. These are the ones I use every time I do my makeup and can't leave home without. They're the ones I buy over and over because simply put, they're that good!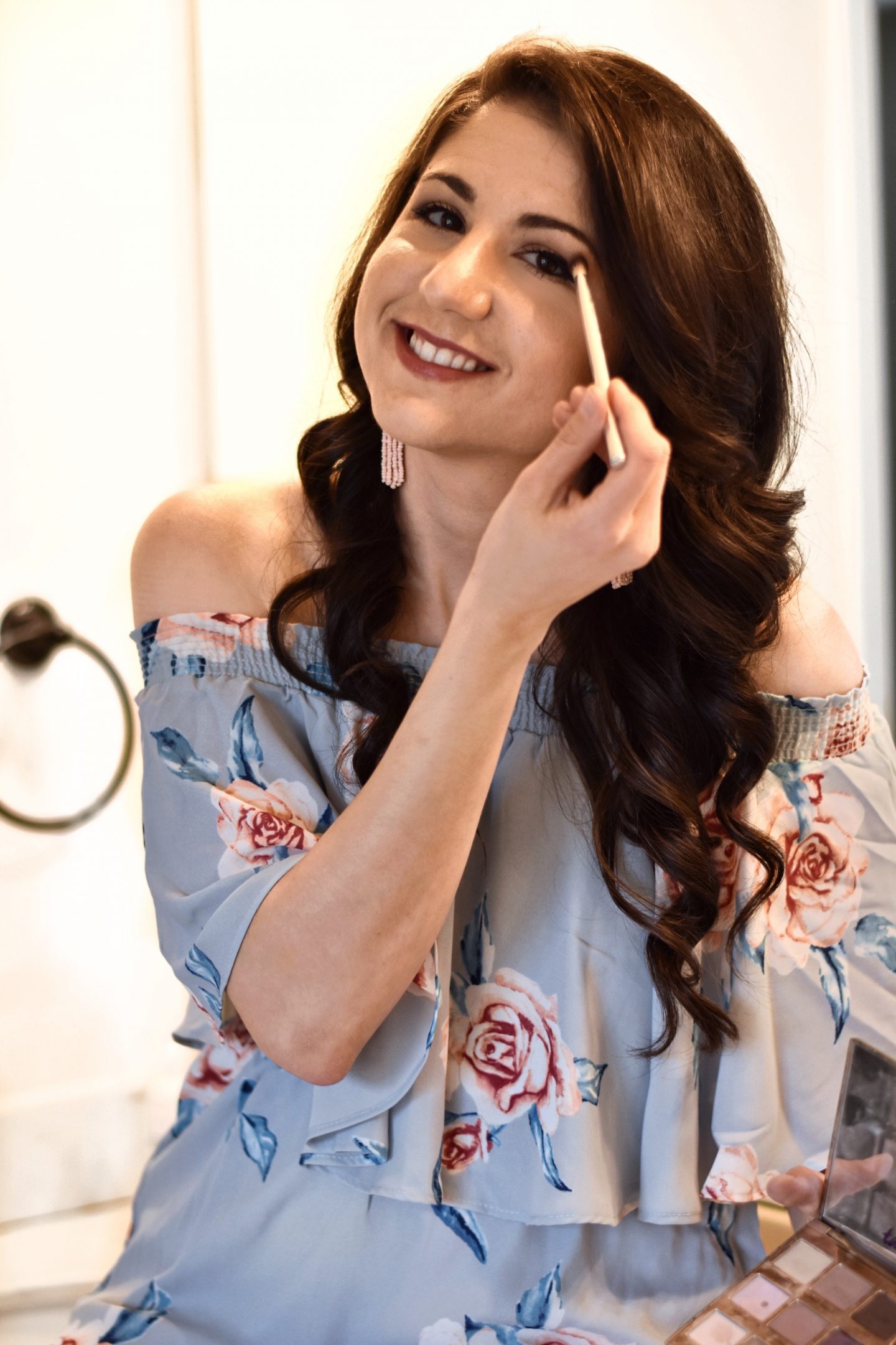 It Cosmetics Your Airbrush Masters Brush Set. Ok, so these first two are actually makeup applicators but I wanted to share them because a discovery I made is that what you use to apply your makeup matters as much as the makeup itself. While I do still like these brushes, the It Cosmetics ones are a whole new level of wonderful. The contour brush in particular makes contouring easier than I ever thought.
Beautyblender 'pro' Mekup Sponge Applicator. I had the regular Beautyblender before, and this one seems to work just a little better. I use it for blending my foundation, under eye concealer, and to apply cream contour to my cheekbones when I want a more pronounced contour effect. The way my foundation sits on my face with and without the BeautyBlender is night and day. I know it's a little pricey for what's essentially a sponge, but trust me it's worth every penny. The key with this one is to "bounce" the product into your face, rather than wiping it across your face- the tool plus this technique is what gives a flawless finish.
Smashbox pore minimizing photo finish foundation primer. This primer is so easy to apply and does a fantastic job filling the pores I have from past struggles with acne.
Giorgio Armani Power Fabric Foundation. Simply put, this foundation is amazing. It has the best coverage I've found and doesn't make your skin look "cakey" like many other full coverage foundations I've tried, stays on all day and does an incredible job concealing any blemishes I have going on.
Tarte Shape Tape Contour Concealer. This is my favorite beauty discovery of 2017. It's does a wonderful job concealing blemishes and brightening the under eye area, and I just started using a slightly lighter shade for a little contouring too. I love running a line of it down the front of my nose for the prettiest highlighting/slimming effect.
It Cosmetics Je Ne Sais Quoi Complexion palette. This kit contains a bronzer, blush, highlighter and the It Cosmetics Bye Bye Pores powder in a pressed form. All four are great, but the one that's INCREDIBLE is the highlighter…it gives the most gorgeous, subtle glow.
Urban Decay Shapeshifter contour palette. I originally went into Sephora for the Kat Von D contour palette after hearing amazing things about it, but since it was sold out I tried this one and immediately fell in love. I love that it has both the cream and powder sides. I usually start with the cream contour shade to get a really chiseled effect, then use the powder contour for a more blended look.
Hoola Bronzer by Benefit. After hearing so many good things about this one, I finally gave it a try…my only regret is that I waited all this time! This is the most amazing bronzer I've tried- it gives your skin a perfectly bronzed, sunkissed glow. It's also really easy to apply- you can over do it and it won't look over-done like some other bronzers. I go overboard with this one pretty much every day. 😉
Lancome Monsieur Big Lashes mascara. I've shared with you guys how much I've loved this mascara for what it does to my lashes. While I still love it, the only thing that's bothered me a little about it is the way it flakes under my eyes (raccoon look= not so cute). Well, last month I found this mascara that works just as well but doesn't flake over the day! One time I was talking to a girl at Sephora and she said how much someone's mascara flakes is largely dependent on their eye shape. I'm surmising from that my eyes are prone to flaking, but this is the first mascara I've found that virtually eliminates the problem for me.
It Cosmetics Bye Bye Pores Translucent powder. This is another one I got after hearing a lot about. In the reviews, people said it gave their skin a smooth, flawless-looking finish. I personally don't feel it smooths my skin that much, but what I LOVE is how it stops my skin from getting oily over the day. I forgot to put it on recently and within a few hours my skin felt oily and my makeup heavy. I love that when I use this product I forget I'm wearing makeup at all.
NARS blush in orgasm. While I do like the blush in the Je Nai Sais Quoi set, this one is still my all time favorite blush. A gal at Nordstrom recently told me it's their #1 selling beauty item, across all products and brands. I believe it!
Maybelline Master Precise liquid eyeliner. I recently tried the Stila eyeliner after hearing so much, and honestly I like this one better. It's so easy to create a sharp, dark line with and easy to use on my lower lashes, which I find unusual for liquid liner. It also stays put all day which is important to me since I rarely touch up my makeup with life being as busy as it is!
Smashbox Be Legendary lipstick in Primrose. This is a BEAUITFUL neutral shade and the lipstick I wear 80% of the time. It does such a great job of enhancing my natural lip. I know everyone's lip color is slightly different, and the Be Legendary line has a few shades that are various neutrals.
Anastasia Beverly Hills brow pomade. It seems like every fashion/beauty blogger and YouTube vlogger has this product (=why I tried it!). I know I've talked about it before, but it really is the BEST brow product I have yet to discover. I used to apply it with this brush but lately I've been applying it with the small angled brush from the It Cosmetics Airbrush Masters set.
Exuviance Bioactiv Wash. One time at Sephora, one of the girls told me that once you start to wear more products from "this side of the store" (gesturing to beauty products section in the front) it's super important to invest in "this area of the store" (pointing to the skincare section in the back). She went on to say it's not "natural" to put makeup on your skin, so the more you do that, the more you need to take care of your skin to avoid clogged pores, breakouts, etc. For years I ignored the "back end" of Sephora and only got beauty products, but this past year I finally started investing in my skin. I discovered Exuviance at Ulta in November and have been hooked on their BioActiv Wash since. This face wash has been a game changer- it's cleared up my acne for good and has given my skin a noticeably smoother texture. It's also helped eliminate under eye wrinkles.
Whew, long post! If you guys made it all the way down, thanks for sticking with me! I hope you found it helpful and feel free to email me any beauty questions (fifteenminutestoflawless@gmail.com) you've got.
Love always,
Terra
Shop the Post