How to get a bombshell blowout?
We all want that gorgeous just-left-the-salon hair, but the quest to get it can feel like chasing a unicorn. Blowout bars exist for this reason…we want those waves so bad we'll even plunk down $45 to get them.
I'll be the first to admit, I've been there. And don't get me wrong, I love Drybar. But our bank account doesn't and it never will. After years of trying various things I've finally found a quick and easy system to mimic those luscious locks. If you follow me on Instagram, this is how I've been doing my first day hair lately. I added a video tutorial on my Instagram on the last step (called "2 Min Curls") since this step may be the most important.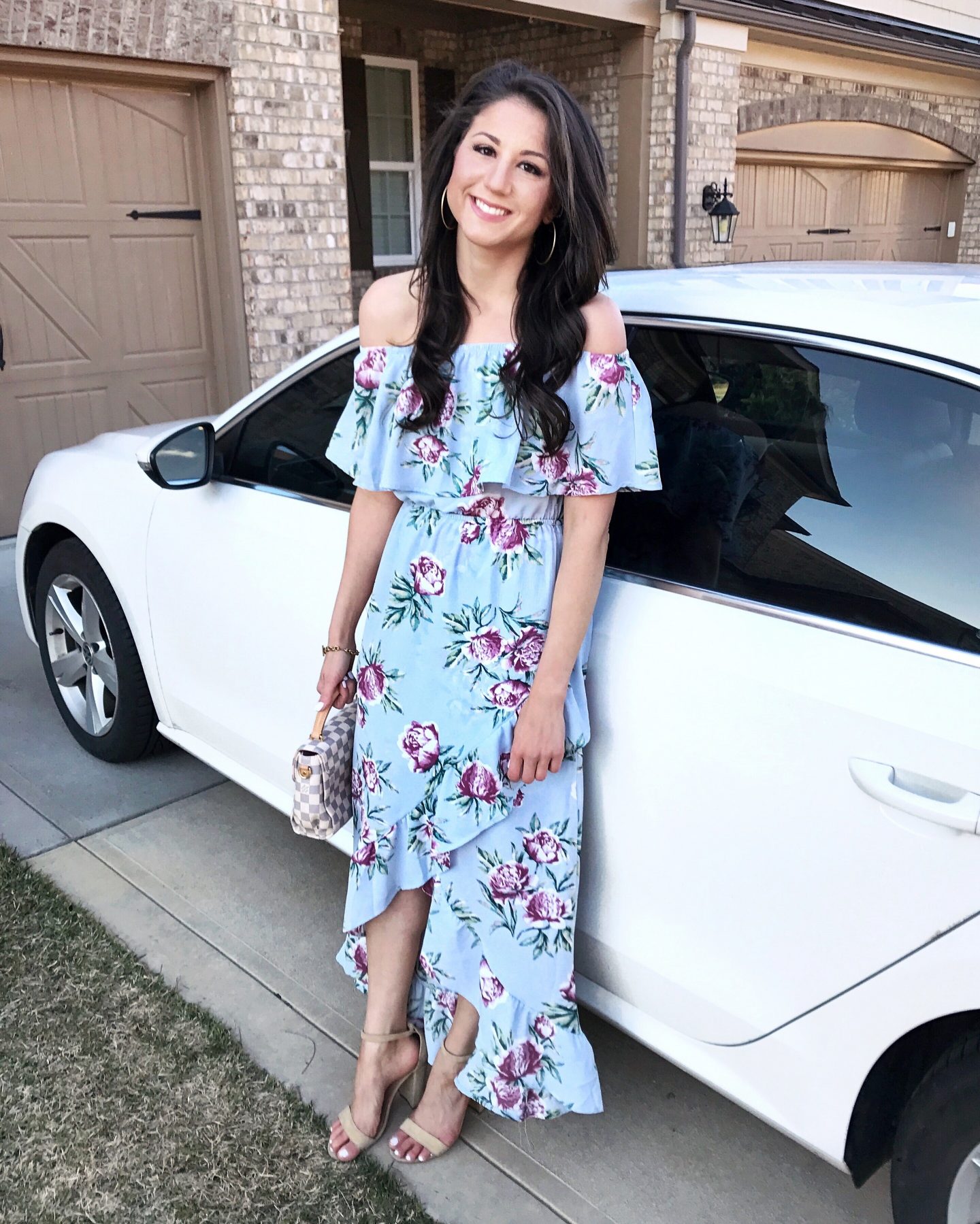 dress (under $50) // sandals // earrings
Let your hair air dry about 70% of the way

I used to make the mistake of towel drying my hair after getting out of the shower til I read this book and learned that's a big no-no. The texture of the towel "roughs up" the cuticle of your hair. Rough cuticle = frizz! After you've combed your hair through and applied leave in conditioner, let it dry 65-70% of the way before hitting it up with the dryer.

Section your hair and put the top half up

This might sounds basic but I'm including since I didn't do it for the longest time. Not putting the top half up means drying your upper sections more than once as you work through your lower layers. This applies more heat than needed on the top layers, contributing to dryness and split ends.

Start with the dryer under your hair to amp up volume

Place the dryer underneath the working section then shoot the warm air up towards the root. Then flip and dry as you normally would. Finishing with the dryer on top gives the smoothest result but starting at the root underneath kicks up the volume. When blow drying the sections on the top back of your head though, you can actually dry those entire sections on the underside by flipping the hair up towards your face. This will give a slight volume "bump" at the back crown.

Maintain tension on your hair the entire time drying

This one's important if you're frizz-challenged like me 🙂 My natural tendency is to hold the brush somewhat but not totally taught when blow drying, but I've found keeping tension the entire time make such a difference in smoothness and shine.

Hack those bombshell waves at the end

I've seen a lot of YouTube videos that use rollers to achieve pretty, natural looking curls when blow drying but I haven't been able to make that work. Instead, when I'm done drying I put my hair in a loose ponytail (super counterintuitive!) then curl 4-5 large sections. Remove the elastic and brush it out.

Voila- you just gave Drybar a run for their money. 🙂
Here's a few more examples of how this technique looks.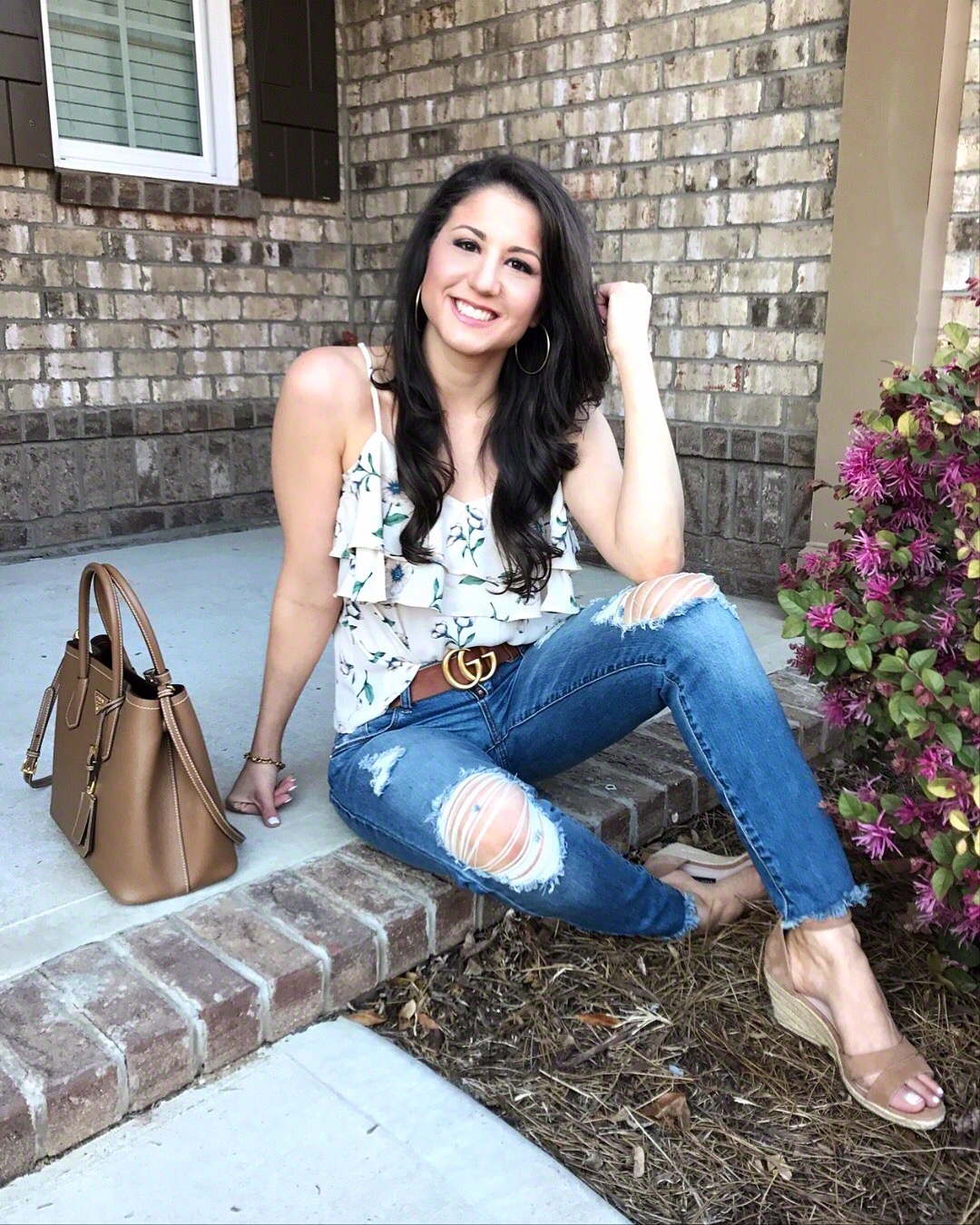 top (under $30) // jeans ($65) // wedges // belt (similar for less) // bag (similar)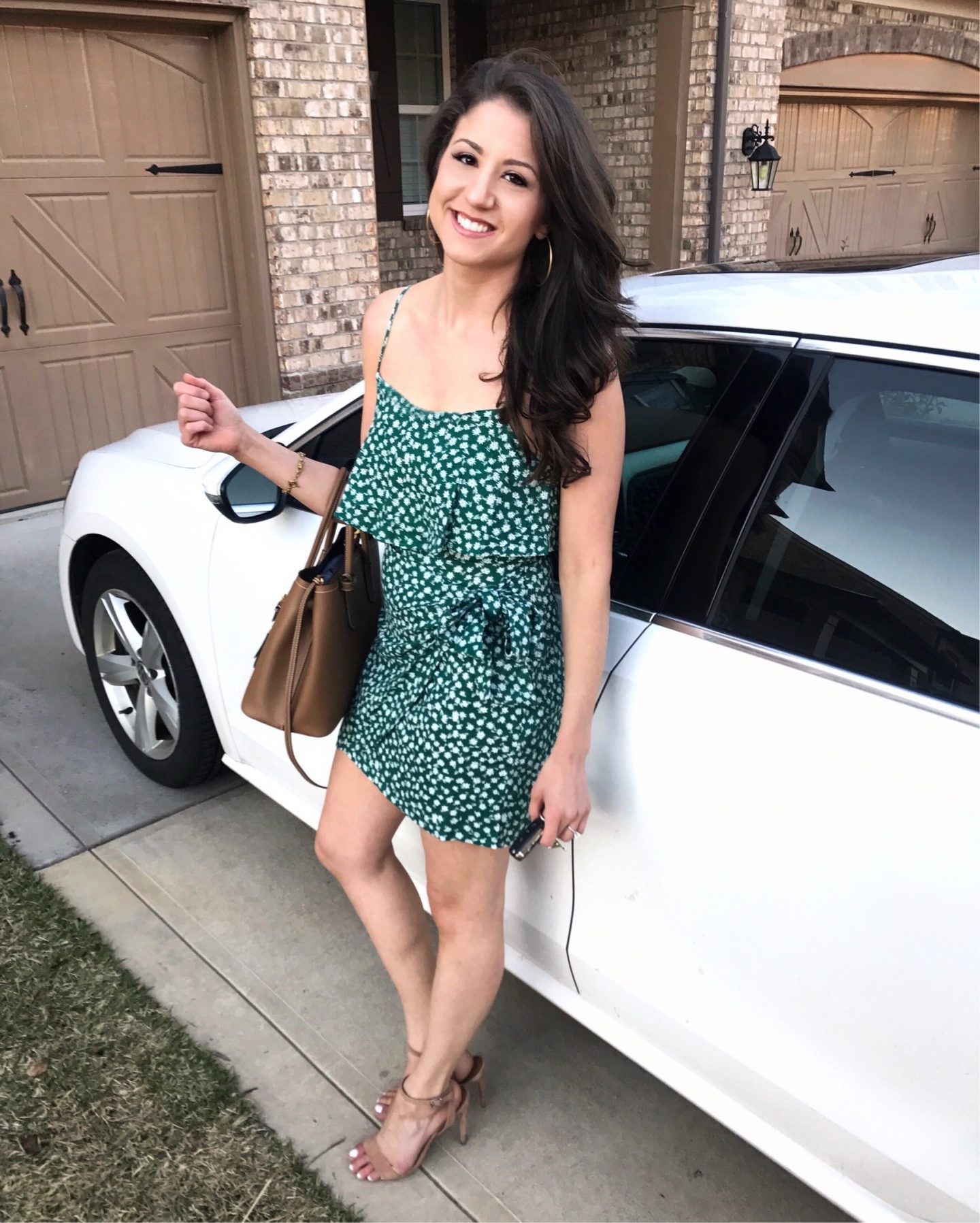 dress // sandals // bag (similar) // earrings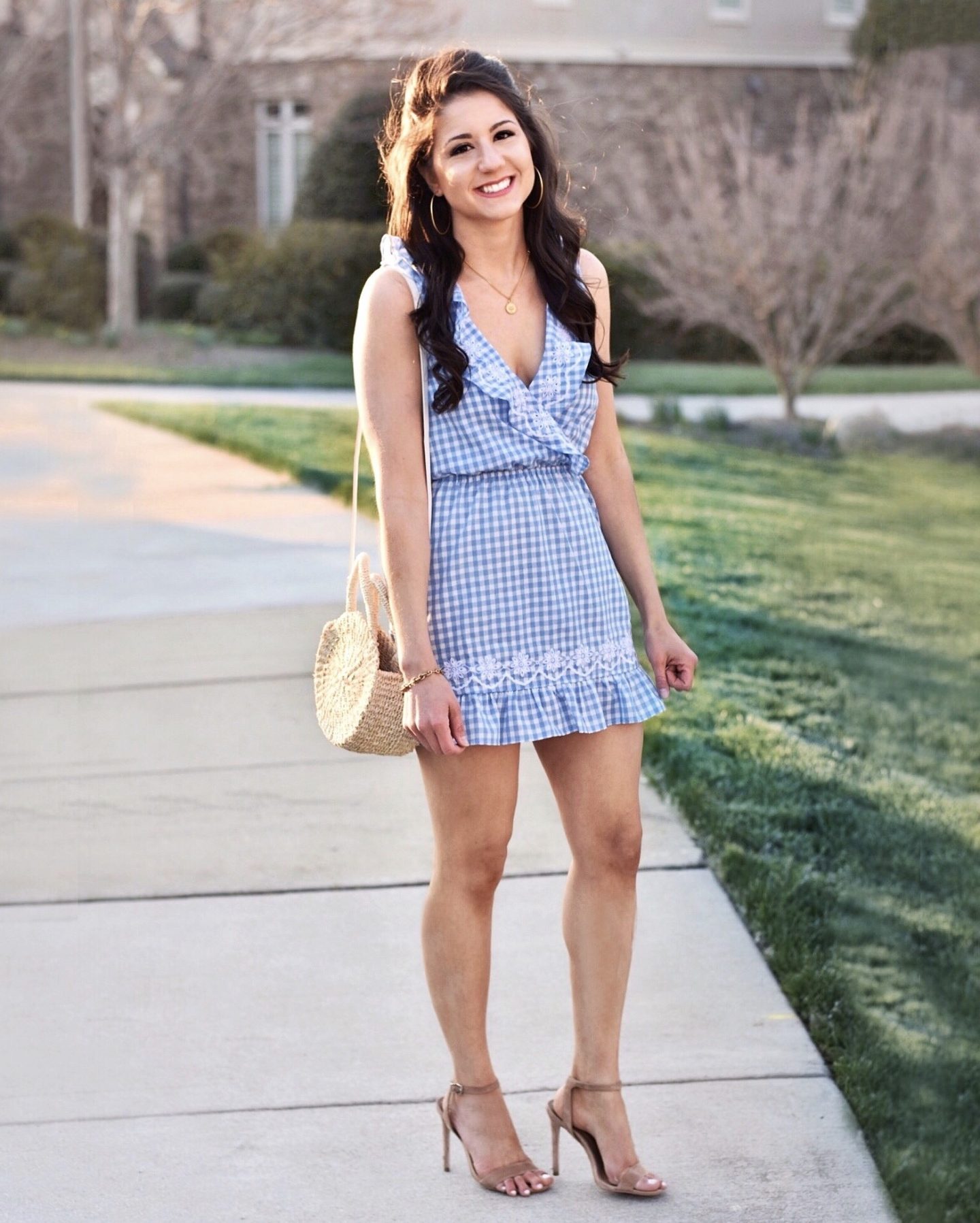 dress // bag // sandals // necklace // earrings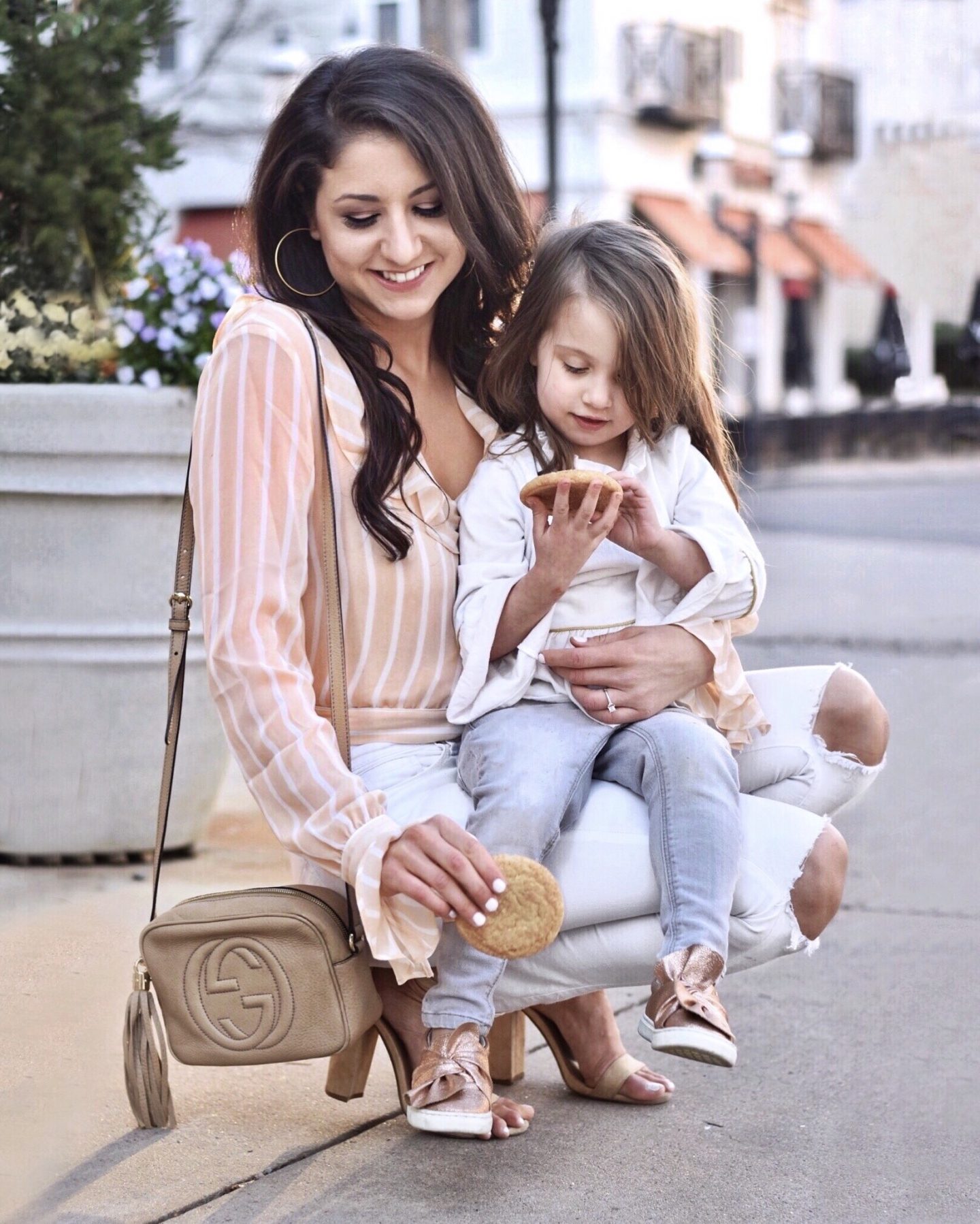 top // jeans (similar) // sandals // earrings // Gucci disco bag
on Juliana: top // pants // sneakers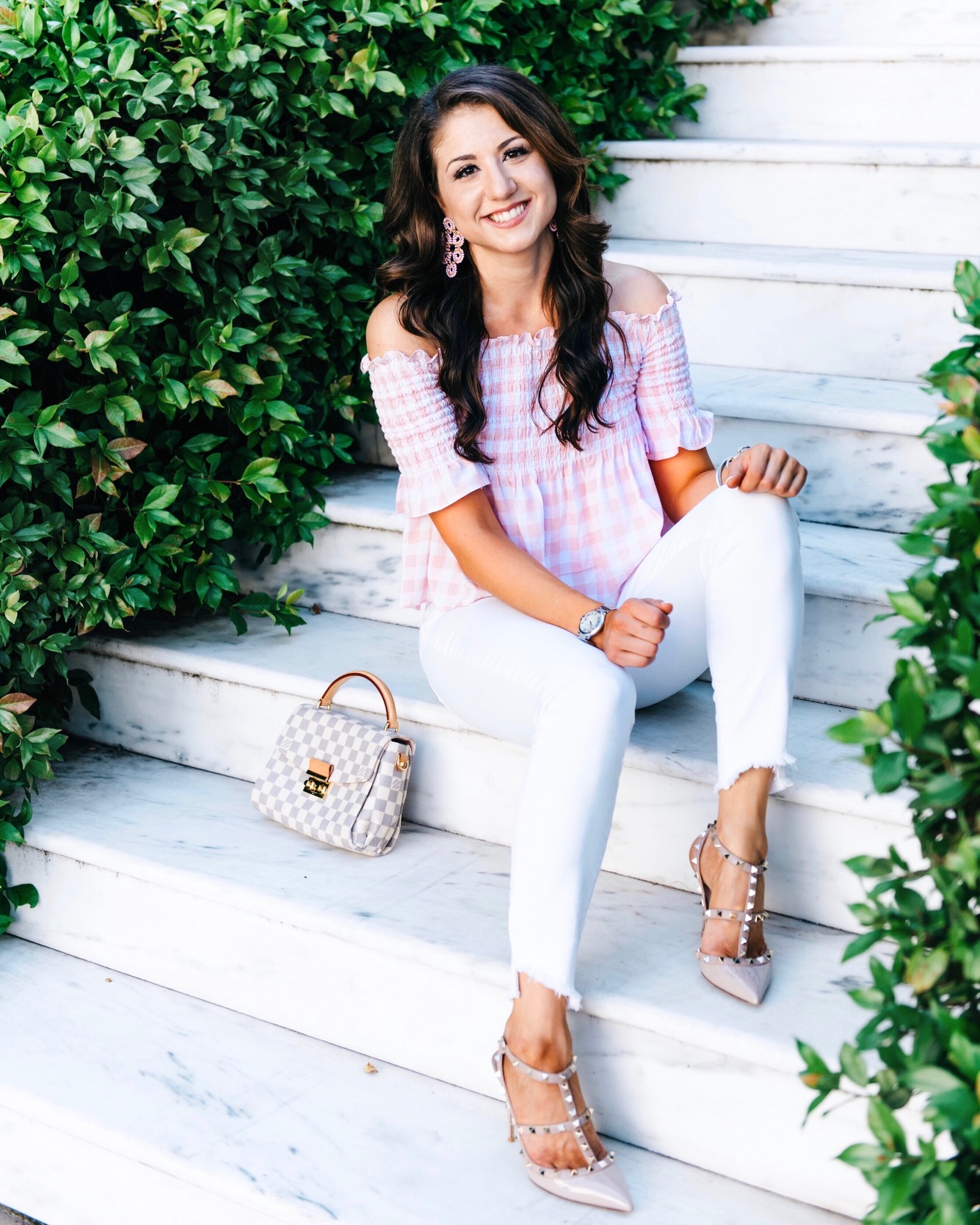 Top // Raw Hem White Jeans // Earrings- Lisi Lerch // Heels – Valentino; similar here and here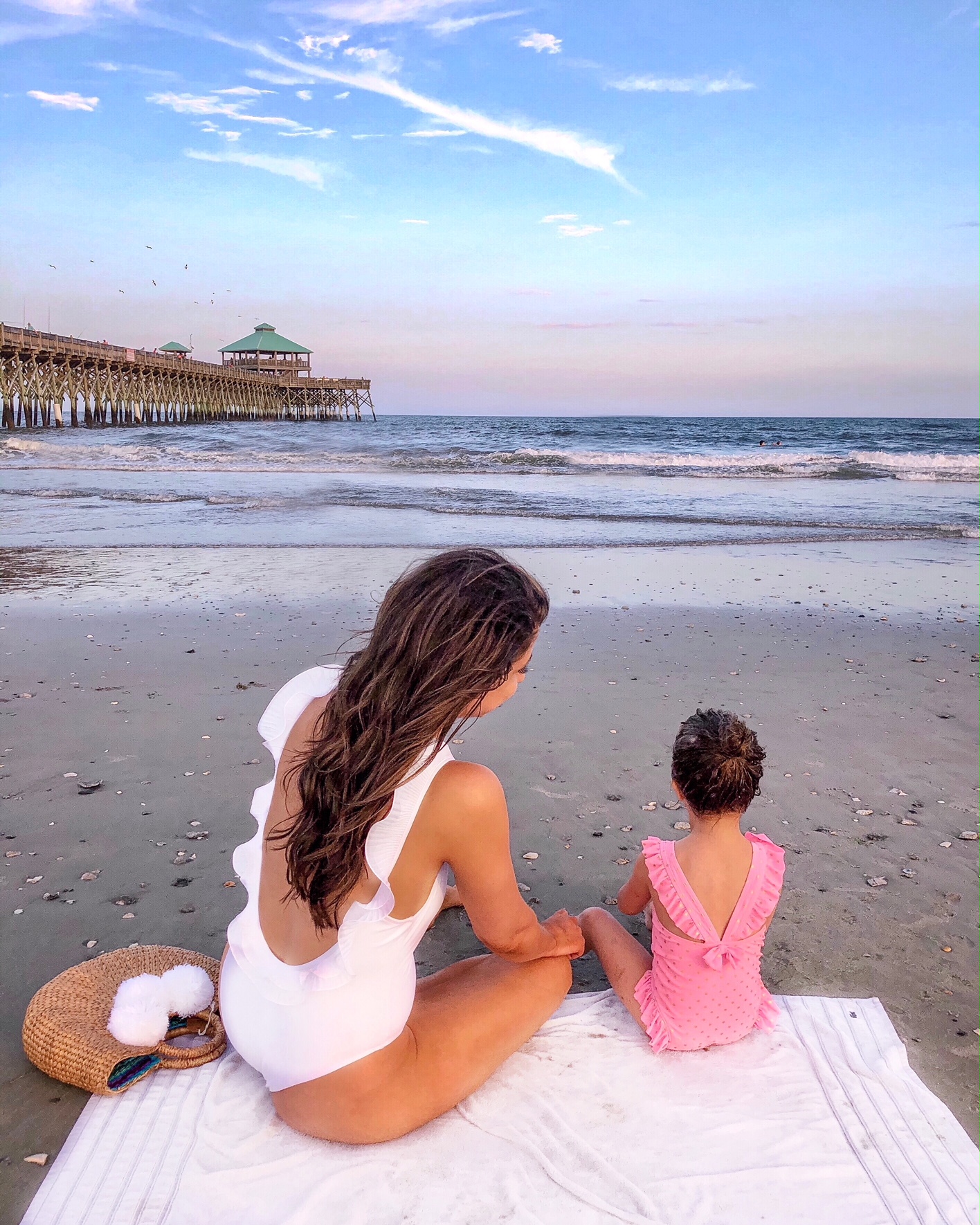 On me: Suit // Straw Tote (similar for less here)
On Juliana: Suit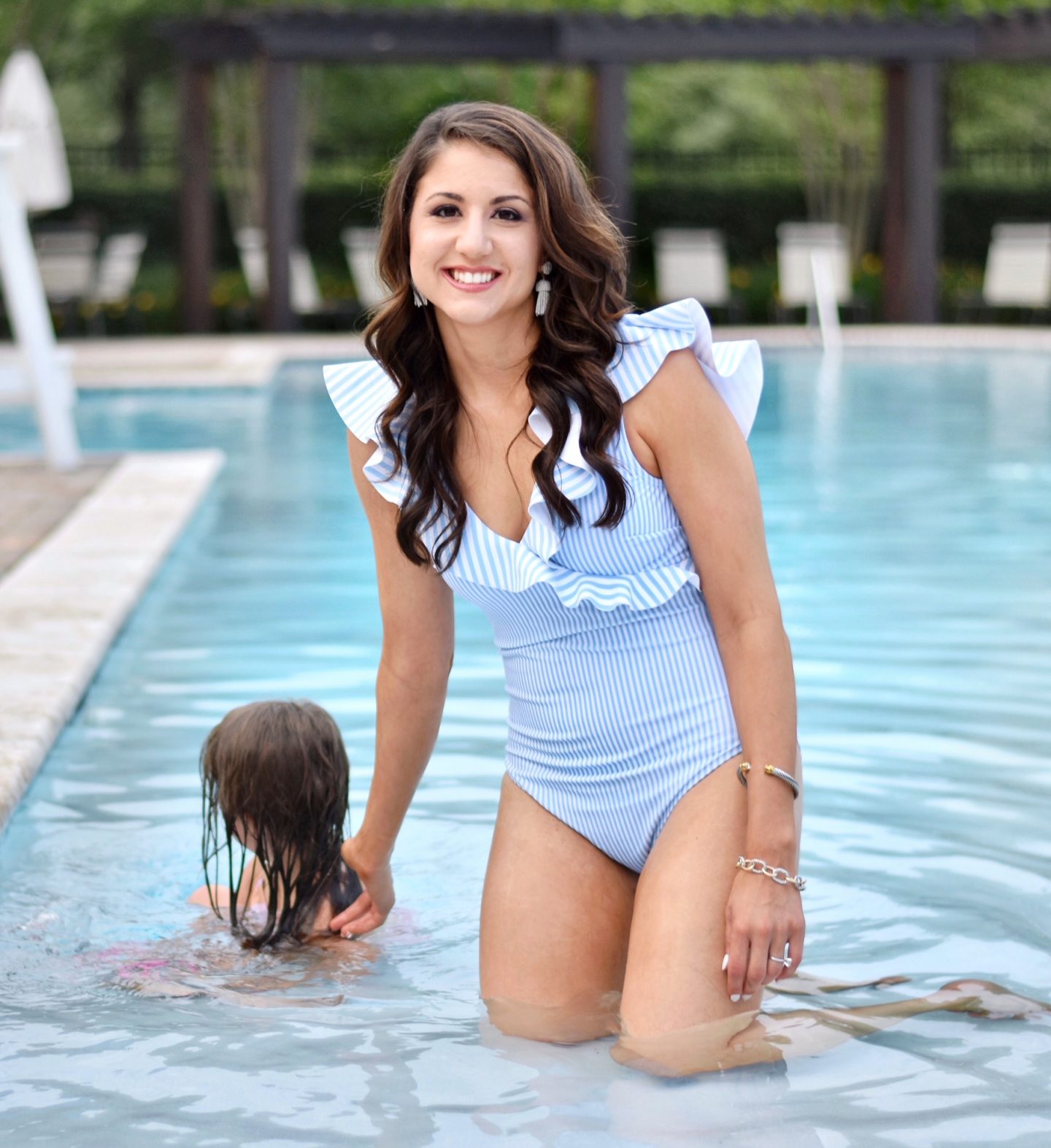 Suit (other ruffled suits here and here!) // Bracelets here and here // Earrings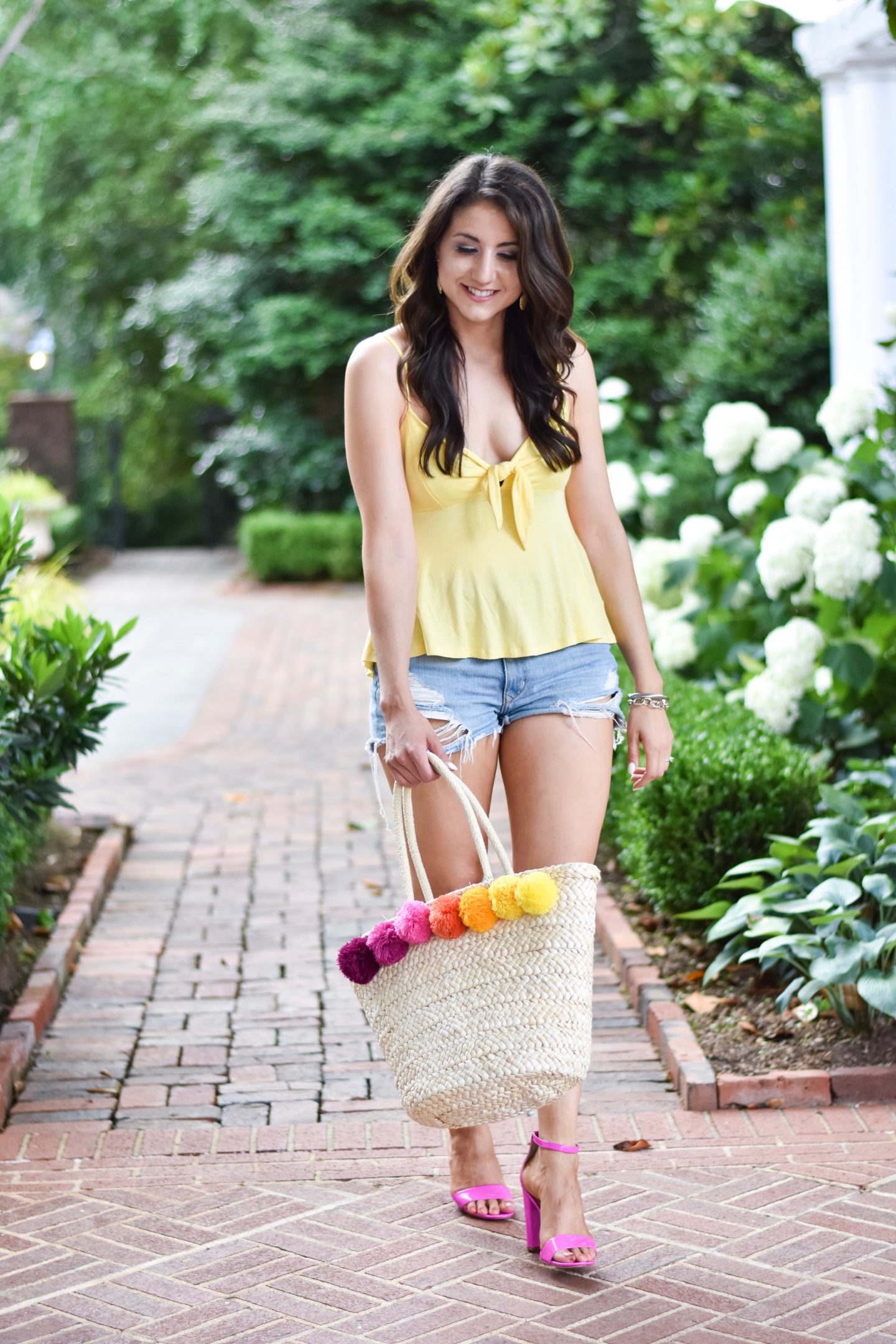 Knot Front Cami // Shorts (closet staple…absolute favorite!) // Pink Sandals // Earrings // Straw Tote // Bracelets here and here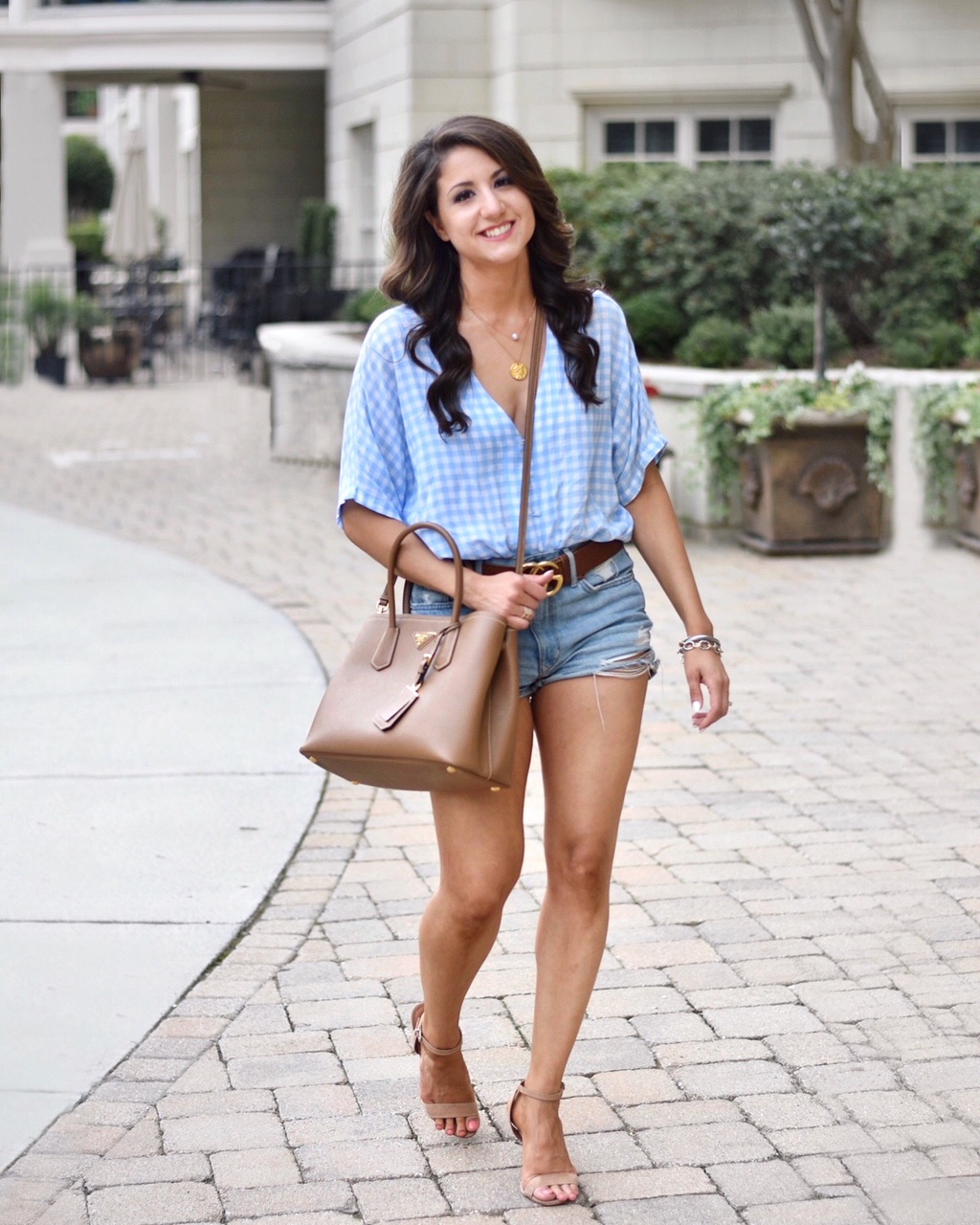 gingham top // shorts // necklaces here and here // belt // bracelets here and here // similar bag // sandals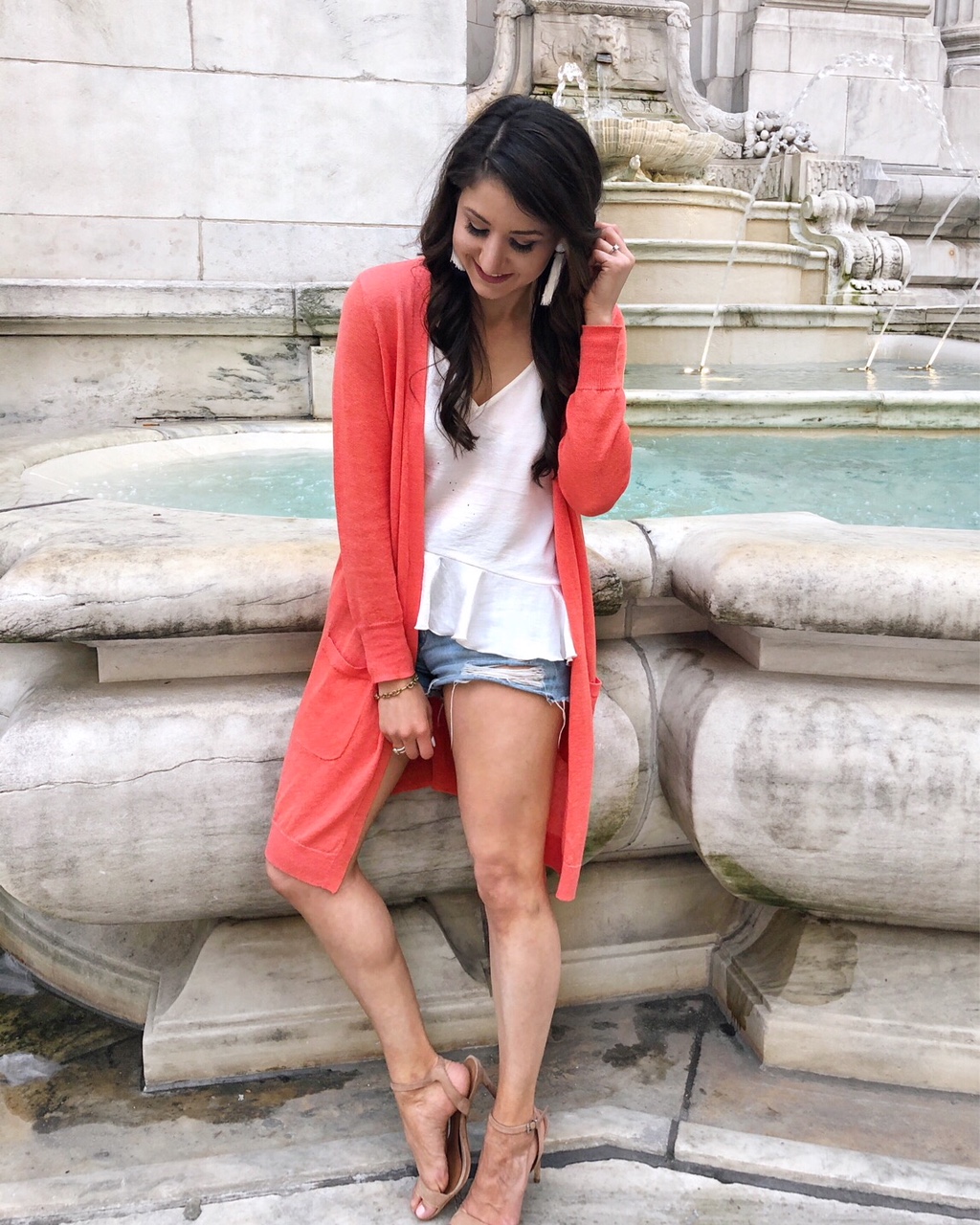 shorts // cardigan // ruffle cami // sandals //earrings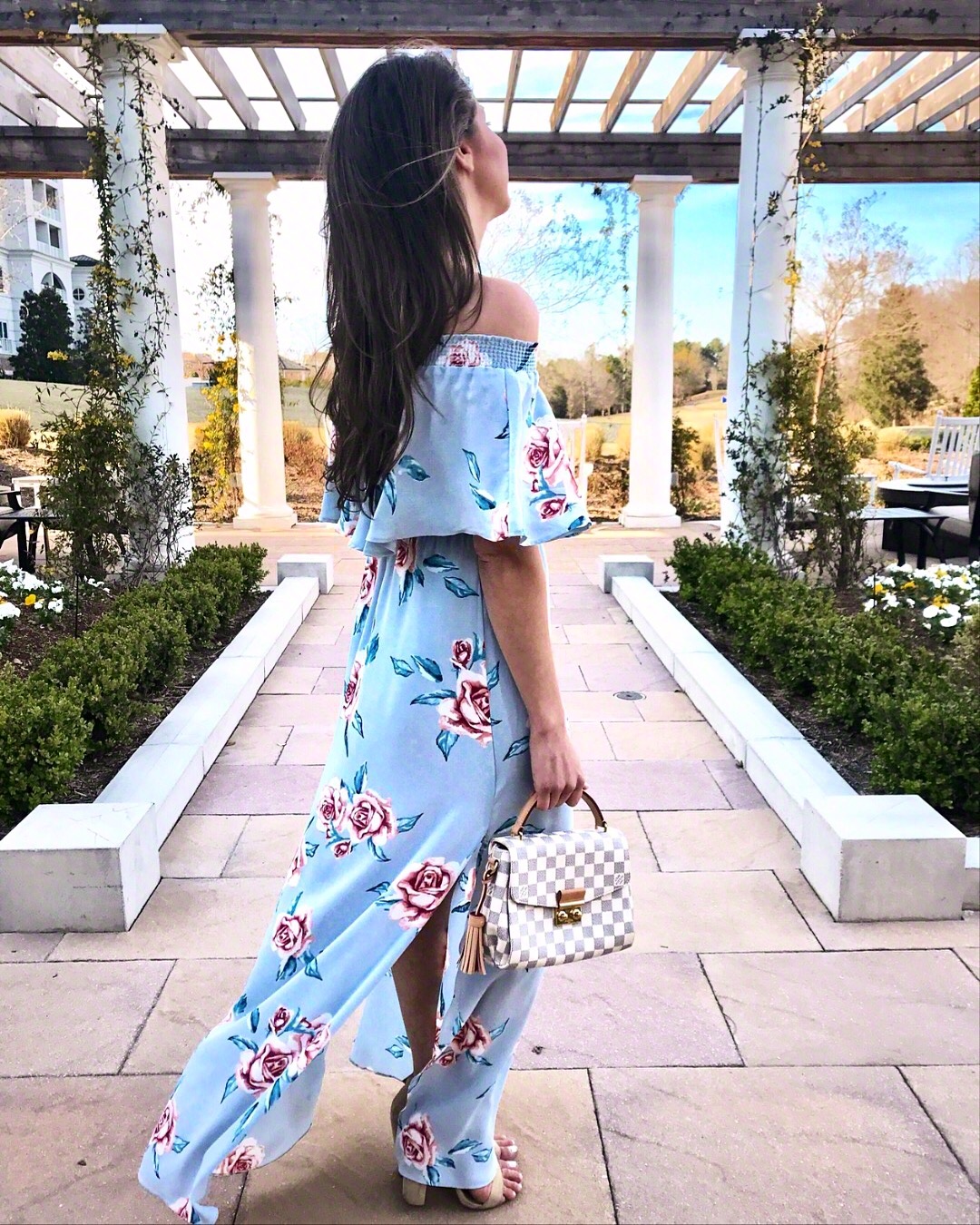 Love always,
Terra
Shop the Post